If you've got backyard or balcony space that's in need of some love, we highly recommend considering a hammock. Not only are hammocks stylish and fun, but they come in so many shapes, sizes, and materials that you're sure to find one that looks and feels perfect in your outdoor space.
Hammocks are also an ideal location to relax and unwind after a long day gardening or doing yard work. They are comfortable, cozy, and a perfect place to nap in the sun. It's always a good idea to know how to hang a hammock so it stays in place and offers you the best of the outdoors, however that looks to you—in full sun, underneath a deck for shade, or between deck posts. Here are a few things to keep in mind before you buy.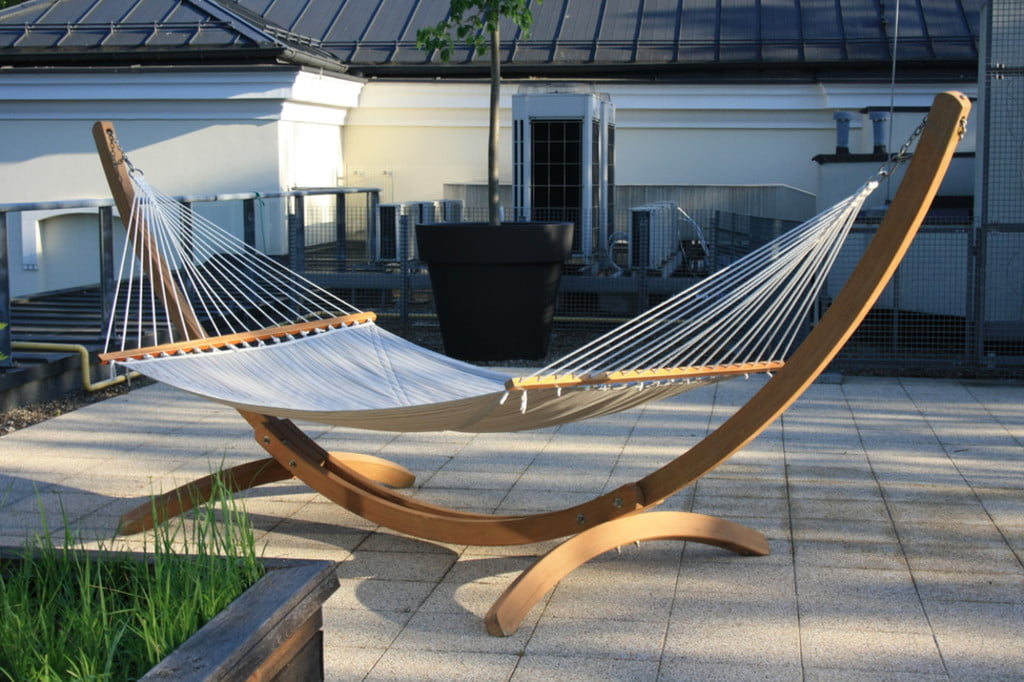 What types of hammocks are on the market for outdoor use?
There are many different types and materials to choose from when it comes to outdoor hammocks. You'll want to consider the hanging type, weight capacity, material, and type (I.E., chair, lounger, portable, etc.).
If you want to use your hammock in multiple locations for things like camping trips or hiking in a national park, you'll want one that's adjustable and has straps to hang from trees.
If you want your hammock to stay safe and secure in the same location in your backyard, one with a sturdy base like a spreader bar is a good choice.
Finally, if you plan to spend time napping and reading, you'll want a hammock made from breathable, weather-resistant fabric such as cotton.
Once you decide on a hammock that feels right to you (we recommend feeling various fabrics and textures to find the perfect one), make sure you clean it regularly to extend its life.
What is the proper way to hang a hammock?
If you want your hammock affixed in a semi-permanent way to your outdoor space, you can secure them using a variety of mechanisms, including ring buckles, J-hook wall anchors, S-hooks, and a chain; the exact items you choose depend on how long your hammock is and its weight capacity. You can use these items to adjust the tension of your hammock. You can also use a rope knot if you don't want to permanently place a hammock; ropes are also easier to travel with if you want to bring your hammock along on your next fishing trip.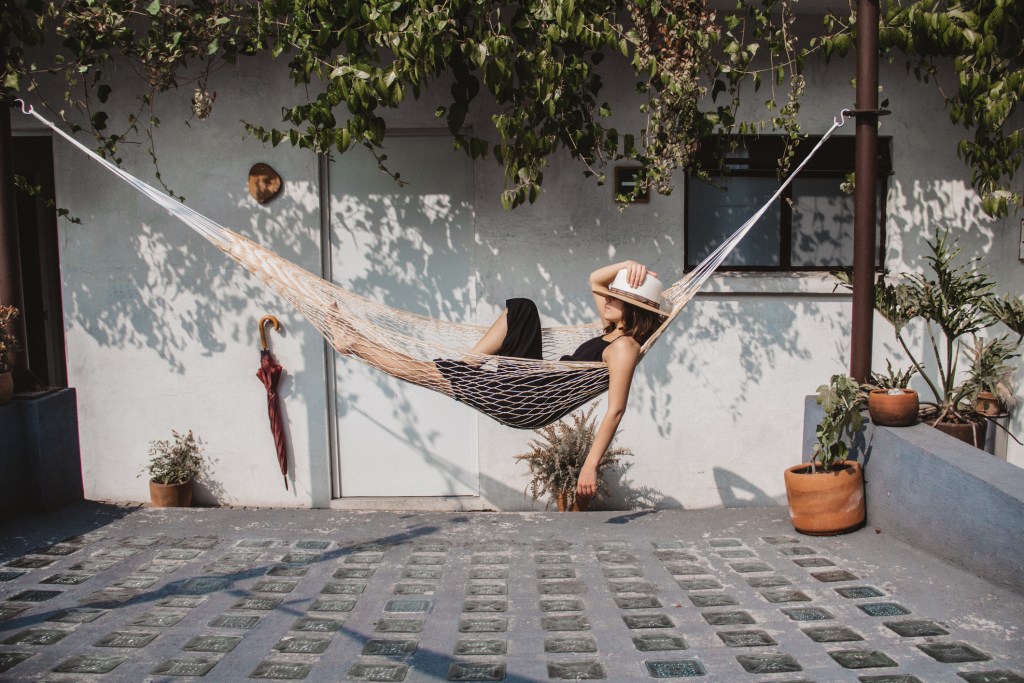 How do you hang a hammock between two posts?
How far apart should posts be to hang a hammock?
For most standard hammocks (9 to 10 feet long), you will want your posts to be 4 feet apart. For longer hammocks 11 to 15 feet in length, you will want to read the manufacturer's suggestions to ensure the hammock is properly secured between posts 4 to 6 inches apart. If possible, hang a patio hammock from an overhead beam on one side for additional support.
How do you hang a hammock with straps?
If you're planning to hang your hammock from trees, you need a hammock with straps so as not to damage the tree and to make the hammock easy to remove. These types of hammocks are adjustable and compact, making them perfect for trips outdoors. You'll need approximately 10 to 15 feet between the trees, depending on the hammock length and style. Hang the hammock 18 inches from the ground and make sure it has enough tension to hold your body weight. Always consult the hammock's instructions, and look for some tutorials on YouTube if you need a visual guide.
Hammocks are a great way to turn your outdoor space into a cozy, tranquil oasis. They're versatile and ideal for those warm summer months when you want to kick back and relax. If you have a partner, kids, or pets, you might consider a hammock that's built for more than one person because they tend to be irresistible to passersby.
Many people even choose to sleep in hammocks during their outdoor travels because of just how comfortable they can be. If you are planning to sleep in your hammock, research models that come with accessories like pillows, canopies, and quick-dry material.
Of course, you may find that when winter hits, you've gotten so used to relaxing in your hammock that you want to bring it indoors. Because of their portability, you can do just that and enjoy it indoors for as long as you need, provided you have the space and hardware to hang it. The possibilities are endless, and the countless styles, colors, and designs available make the hammock a must-have for your backyard this summer.
Editors' Recommendations