Fall and winter are now staring us in the face, and though there are many things to look forward to during the holiday season, ragged entryway floors aren't one of them. Entryways have to deal with incoming mud, snow, leaves, and a lot of wear and tear from people coming in and out, so it's best to ensure the flooring you choose can stand up to the elements. Everyone has their personal design and aesthetic for how they want their entryway floors to look, but there are a few things to consider when deciding what will work best the longest.
Flooring isn't cheap, so we've broken down the best flooring for entryway areas to ensure your investment doesn't go to waste.

Tile
Tile of all kinds is a popular choice for entryways because it's easy to clean and comes in a variety of sizes and colors. So what's the best tile for entryways? We love large tiles because they visually expand the space and can create different designs that match your home's overall design aesthetic.
Pros:
Tile is easily cleaned with water and a mop.
Tile is relatively easy to lay yourself.
Pricing is reasonable so if you're on a budget, you can find a material that works for you.
Porcelain, ceramic, and slate are highly durable.
Cons:
You need to regrout and reseal your tile every few years to keep it pristine.
It can get slippery from the rain and snow if you don't have an entryway runner.
Light-colored tile can show dirt and grime.

Concrete
The short answer is — yes! Concrete is a great option for an entryway, and it also comes in a variety of colors and pattern options. It's also become very popular over the past several years because of its durability.
Pros:
Concrete is scratch- and dent-proof.
Styling it with dyes and etching creates a unique entryway.
Concrete is easy to clean.
Concrete can stay warm and dry with heating slabs.
Cons:
Concrete is very hard and may feel uncomfortable to those not wearing shoes.
Concrete is expensive to install, especially if there is design work included.
Because of its hardness, it may crack over time due to temperature and settling.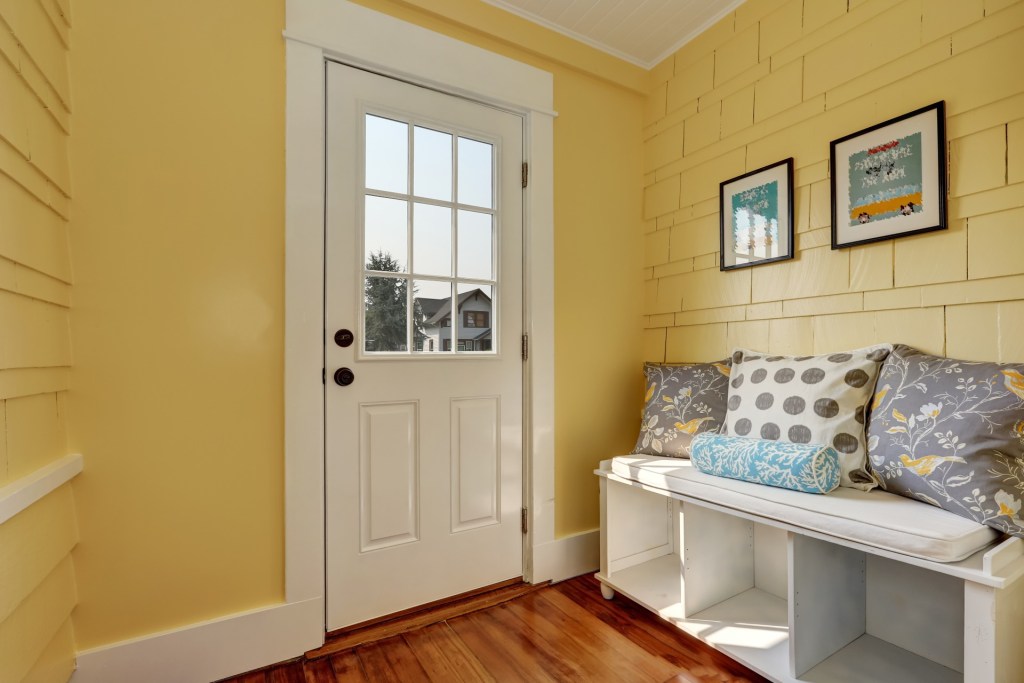 Wood
Wood is stunning no matter where you lay it, and it's an investment that will only increase the value of your home as long as it's well protected from excess moisture and scratches (we recommend buying an absorbent entryway rug). If you're wondering whether wood flooring is a good idea for a heavily trafficked entryway, here are a few pros and cons to consider.
Pros:
If you're using wood throughout the rest of the home, adding it to the entryway makes the entire space feel connected.
Wood absorbs sounds better than tile or concrete.
Wood is durable.
Wood gives a sense of warmth and coziness when welcoming guests.
Cons:
Wood flooring is expensive, especially if you have a large entryway.
Wood doesn't hold up to moisture as well, so it can buckle and rot.
Wood requires diligence when cleaning and caring for the floor.
If you love the look of wood but need a more durable option because of kids, pets, or general wear and tear, try out tiles that look like wood. This will maintain the aesthetic of hardwood, and although it won't feel as warm underfoot as real wood, it will be much easier to maintain and clean over time.
Regardless of which option you choose, there are so many colors, sizes, and patterns available with tile, concrete, and wood, so your entryway will look stunning no matter which you choose. It really comes down to being honest about the effort you're willing to put in to care for the materials and how often you are willing and able to do so. If you're looking to install the flooring yourself and aren't an expert, do your homework before purchasing anything. Tile is the easiest to install yourself, but if you're choosing an intricate pattern or design, be sure to lay them out beforehand so have an airtight plan to follow. Winging it may leave you with a pattern or shape that's not quite what you imagined.
Our advice is to talk to an expert at the flooring supply store to learn a few helpful tips and tricks on installation, upkeep, and options for cleaning in the future. They are experts for a reason, so use their knowledge to your advantage before landing on a final decision.
Editors' Recommendations