First impressions last. This is why it's so crucial for your entryway to impress your guests and give them a taste of your interior design style and personality. Whether it's a grand foyer or a small mudroom, you can make your entryway pop.
One of the best ways to create a stunning entrance is to change the flooring in this area. Odds are, your flooring needs an update anyway. Because it often gets the brunt of wear and tear as people track through the home, your entryway likely needs a renovation. While you're at it, why not create a stylish space that makes a statement?
We've scoured designs online to bring you some of the best entryway flooring ideas on the web. Any of these options are just about guaranteed to make your guests stop for a minute to admire your front stoop a little bit longer than usual.
Bring on the pattern
Choosing a tile or cement with a pattern will inject a little character into any size space. It works especially well in smaller entryways because it forces the eye to take in the entire area from top to bottom, preventing your guests from mindlessly passing through. If you're not big on patterns, ease into the idea with this floor tile from Wayfair. It's subtle and neutral enough to not overwhelm the space, but it still gives the floor, and therefore the whole entryway, more personality. For those who favor the bold, check out this Vivace porcelain tile in a dramatic black and white diamond pattern that's sure to wow any visitor.
Beach pebble floor tile
To bring the summertime into your home regardless of the season, install a whimsical pebble floor tile. This style is reminiscent of the beach, immediately bringing feelings of relaxation and good vibes. This Thassos white marble pebble tile is light, bright, easy to clean, and will welcome guests to your home in a more unique way.
If you have the time and budget, consider hiring a contractor to bring in actual stones and lay them by hand. While this option is more expensive, it will look much more authentic.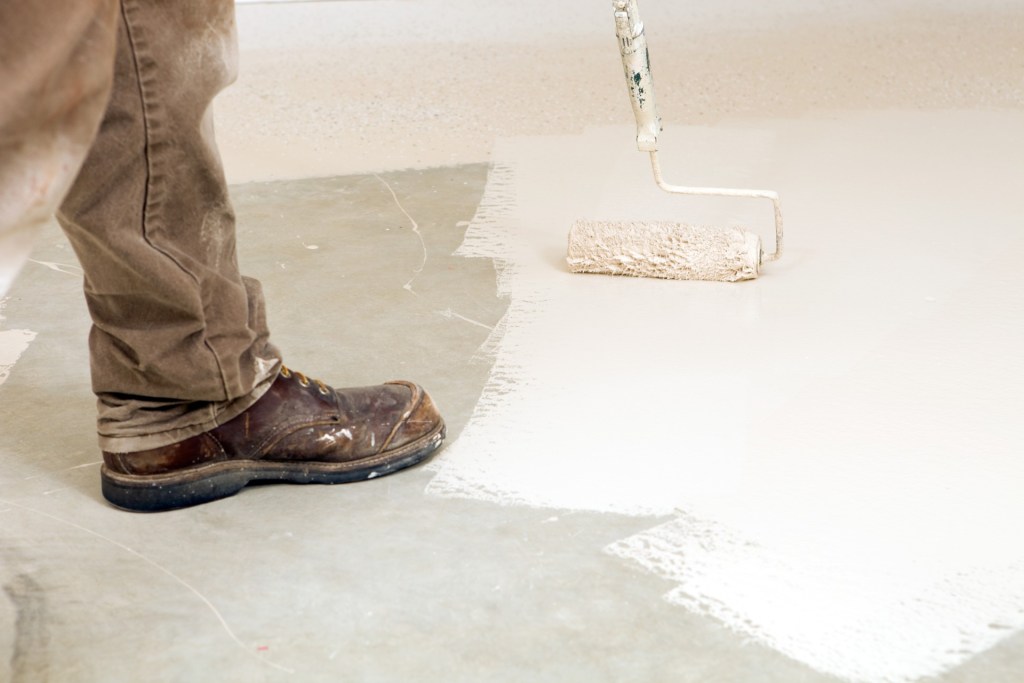 Floor paint
Stain isn't the only way to update your hardwood floor. Go bold and paint your floors using wood-safe paint that's durable and easy to clean. Go for patterns like diamonds or stripes, or paint the entire area one hue for a more modern, monochromatic look. If your entryway is small and dark, choose ivory or other white hues to brighten up the space. If it gets a ton of natural light, choose a deep blue or even black that will add a little drama. Keep in mind, however, that these colors show more dirt and dust.
Bring in the brick
Brick is another fun way to bring the outside in and add traditional, rustic elements to the home. This type of flooring, common in southern homes, can make any entryway warm and inviting. This durable material is also super easy to clean, doesn't show dirt, and actually gains character with wear. Maximize the farmhouse aesthetic by pairing this brick flooring with warm tones and rustic decor on the walls. For even more texture, try your hand at installing the brick in a chevron pattern.
Regardless of your home's style or the size of your foyer, these ideas will give your entryway a much-needed face lift. Create a space that your guests won't just pass through, but rather one that will make them want to stay awhile. An entryway remodel may not have as large of an impact on your home's look and value as an upgraded kitchen or covered patio, but it's a fairly easy upgrade that will add just a touch of charm to a typically overlooked space.
Before beginning any renovations, do your homework. Be sure to read reviews, speak to previous customers (if hiring a contractor), set a budget, and thoroughly plan out the project before you break ground. Finally, once the new floors are complete, don't forget to top it all off with seasonal or thematic wall decor, a shoe rack, and a bench. Then, sit back and admire your new and improved entryway.
Editors' Recommendations