Designing your dream bathroom is a hefty task, but the reward of creating your own personal oasis is well worth the process. From moody and elegant to bright and restorative, bathroom showers come in all sorts of styles to reflect your personality and the aesthetic of your home. So, whether you are in the midst of a bathroom renovation or looking for some refreshing bathroom shower ideas, we've got six stunning looks that you don't want to miss.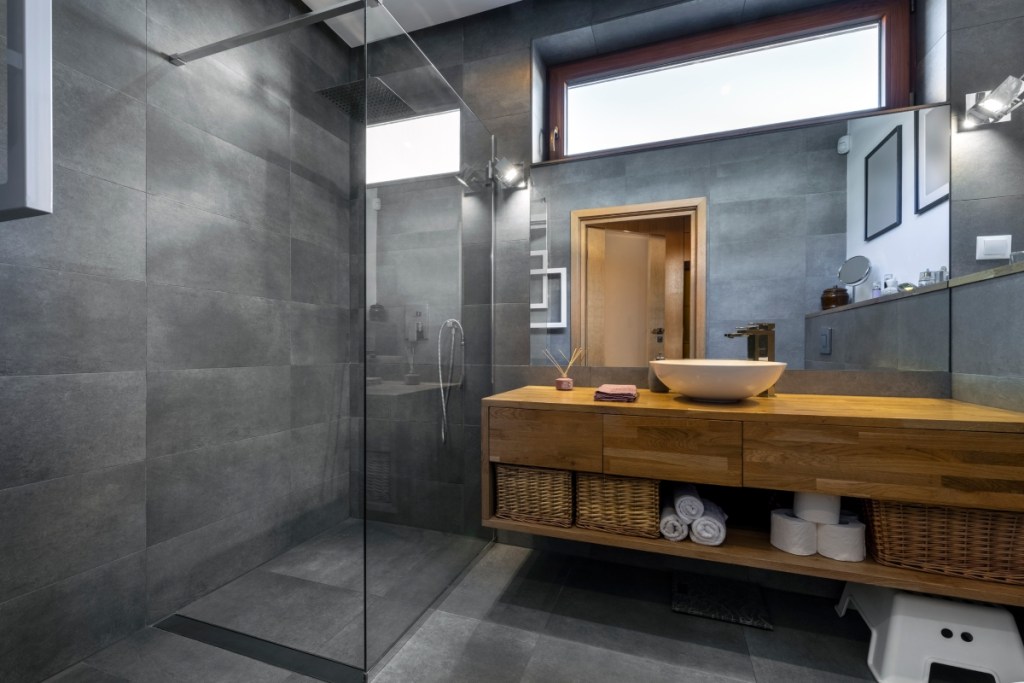 What is the best color for a bathroom shower?
Depending on your design style and the needs of your home, choosing a bathroom color can be tricky. However, this is a vital step in creating the bathroom shower of your dreams. So, take extra care to pick a satisfying palette to nail the look you want to achieve.
For small bathrooms
If you have a small bathroom, there are two paths you can take for generating the perfect color palette. First, you can opt for light and bright with white or cream-colored tiles that will expand the look of the space. Light colors are perfect for small bathrooms because they reflect the available light, making the area appear larger.
Alternatively, some small bathrooms can become more grounded with the use of dark and moody shower tiles. Black fixtures like faucets and sconces can also add a new level of sophistication to your design. Pair these fixtures with an equally dark tile, and you can create a small nook or relaxing hideaway for your small bathroom.
For low-lighting bathrooms
If you're working with a low-lit bathroom or a bathroom with no windows, it's best to keep your color palette light and bright. A good trick to make the bathroom feel more expansive is to use light colors like whites and beiges with a pop of color like pink, green, or blue to create more excitement in your design. Mosaic tiles can also add interest to your small shower, and glass tiles refract the light in the space.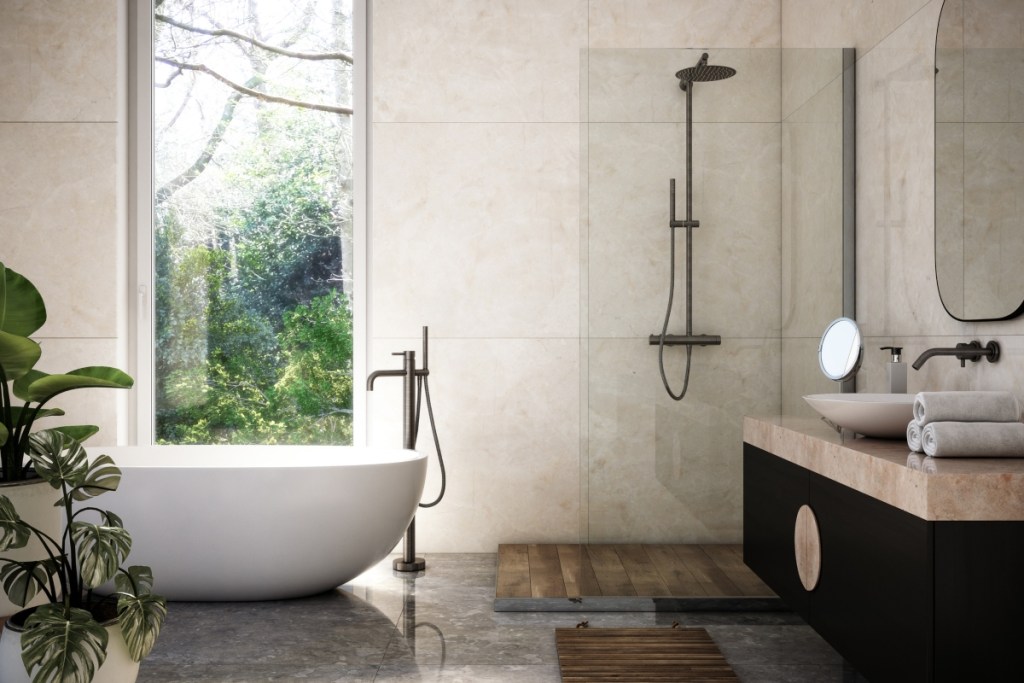 What is the best shower for a small bathroom?
Once you've chosen your color palette, you'll need to consider which style of shower will look good in your space. Here are a few ideas.
Frameless glass shower door
Typically, glass shower doors or dividers look better in small bathrooms than traditional shower curtains. This is because shower curtains create a division in the room and cut off the additional space, making the room look smaller. Rather than hiding your space, show off your shower by using a frameless glass shower door.
Frameless glass doors look sleek and modern. They create the illusion of more space in your tiny bathroom and allow for more visual flow and dispersion of light. If you don't love the frameless look, opt for a chic black metal frame that doesn't detract from the glass doors' natural beauty.
Large tiled shower walls
Another tip to create a gorgeous bathroom shower is to use larger tiles on the wall and floor. Large tiles create the illusion of more space, thanks to their sheer size. They can make your small shower look grand and expensive, helping to add to that oasis feel that many homeowners dream of. For a seamless look, carry this same tile through the rest of the bathroom flooring to create the appearance of one big cohesive space.
Acrylic
This material is popular for many homes thanks to the material's durability and resistance to mold and mildew. Acrylic is applied all at once, often performed by professionals who can perfectly fit the material to your shower. For families or homeowners looking for a long-lasting and scratch-resistant surface, this is a great choice.
Heated floors
Heated shower floors have also become a popular choice for many homeowners. There's nothing more jarring than stepping onto chilly tile floors when you're aiming for a relaxing, warm shower. By using heated flooring, you can create warm tiles that feel exotic and comfortable, making your showering experience more luxurious. Especially if you're planning to install heated floors in your bathroom, consider extending that to your shower experience.
Creating the perfect shower is about blending functionality with design. A glass shower door, for example, is fantastic at keeping the water contained within the shower while also creating the look of openness in a small space. Likewise, large heated tiles appeal to the look of the room while also offering you a touch of paradise in your home. So as you embark on your next bathroom renovation or change up the look of your shower, keep these six bathroom shower ideas in mind to create a gorgeous space.
Editors' Recommendations