Although all rollers do the same thing — soak up paint from a tray and apply it to surfaces with the use of a roller handle — they're not all the same. Surface texture and type, paint type, and desired coverage are key considerations when choosing a roller. Strongly consider one of these paint rollers for your project.
There are many types of paint rollers, such as nap rollers for ceilings, drywall, and smooth surfaces; foam rollers for walls, wood and metal; and microfiber rollers for light- or medium-textured surfaces. One of these paint rollers is sure to do the job when a painting job beckons.
Bates Paint Roller Set
Best overall
A solid overall choice is a multipurpose roller, and to up the multipurpose ante, consider a roller set. The Bates Paint Roller Set is a smart buy. It comes with a tray, 9- and 4-inch roller frames, two large and two medium-sized roller covers, a 2-inch Angel paint brush, and a high-density foam brush. Synthetic filaments in the paint brushes are designed to hold more paint to save time and provide an attractive finish.
Purdy 14-inch Wire Mini Paint Roller
Best mini paint roller
Not all paint rollers are alike when it comes to applications in small, hard-to-reach areas. Enter a mini roller. The Purdy 14-inch Wire Mini Paint Roller is a top choice, providing smooth rolling action and superior coverage. A lint-free roller cover and ergonomic comfort-grip handle make the roller easy to use and easy on hands.
Precision Defined Self-Lock Paint Roller
Best auto locking paint roller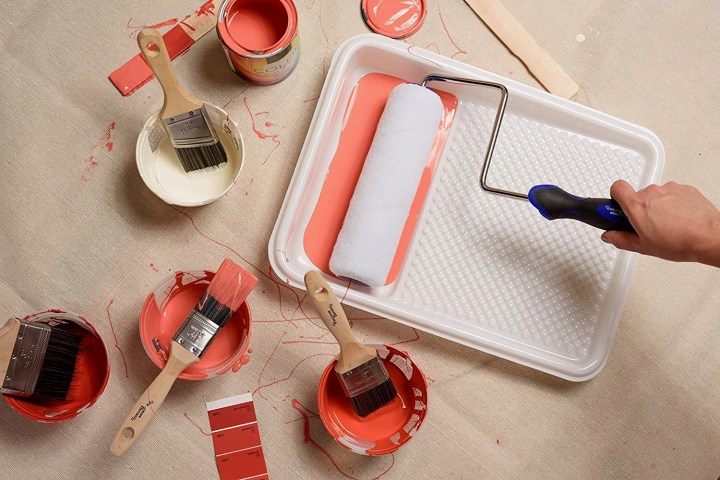 Many times, a paint roller tends to slip off a roller frame or handle while in use, making some painting jobs a frustrating experience. An auto-locking device can help prevent that. Look no farther than the Precision Defined Self-Lock Paint Roller, which features a built-in lock feature to keep a roller cover in place throughout a job.
If ease of use, comfort, and performance are the objectives for your next painting project, then consider these paint rollers. One or more of them will help make a room or ceiling much more attractive.
Editors' Recommendations