Eco-friendliness has never been as fashionable as with collapsible metal straws. These unique and elegant accessories are the most portable and safest option to be green with unparalleled durability.
Metal straws can be used over and over again to successfully eliminate the use of plastic in our everyday lives. With their collapsible design, the items on our list are safe, convenient and easy to use no matter where you go. Incorporate our top picks to your low-impact lifestyle and do your part to keep plastic waste out of landfills.
Flyby Portable Reusable Drinking Straws
Best Overall
The Flyby Portable Reusable Drinking Straws are made from premium food-grade stainless steel that is ideal for hot or cold beverages. Their portable design is modern and convenient, with an aesthetic dispenser and attached carabiner for greatest portability. It includes its own cleaning brush with silicone tip for ease of cleaning.
Vantic Portable Telescopic Metal Straw
Best Budget
Eliminate the use of plastic straws and save cost on paper straws with the use of these high-quality yet inexpensive stainless-steel straws. Use your portable straw daily with all of the style and none of the guilt.
Kaitse Reusable Telescopic Travel Straws
Best Design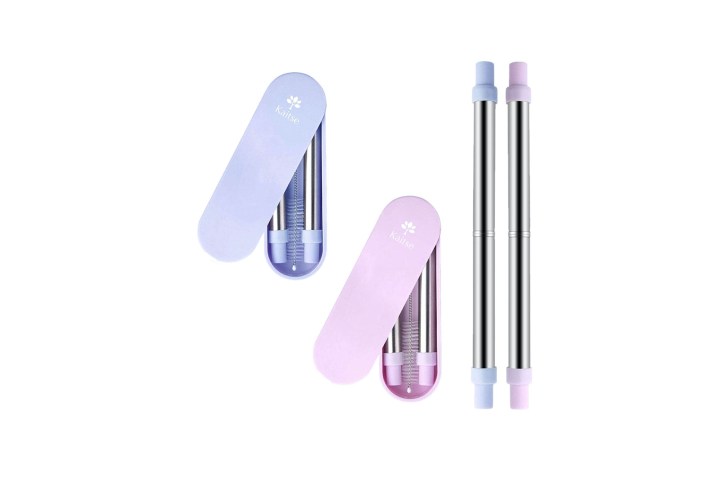 Design and quality meet with the Kaitse Reusable Telescopic Travel Straws. These sleek straws are made from food-grade 304 stainless steel and food-grade silicone for a healthy sipping experience that is BPA-, lead- and metal-free. Compatible with 12-40-ounce cups, these straws twist together so your drinks travel quickly and more efficiently from the cup to your lips.
Help eliminate environmental pollution from plastic straws and do what is best for your body with collapsible metal straws. These chic accessories help you look great while you make the eco-conscious choice to incorporate reusable straws to your lifestyle. The items on our list have a modern appearance and a green mission to conserve the environment.
Editors' Recommendations