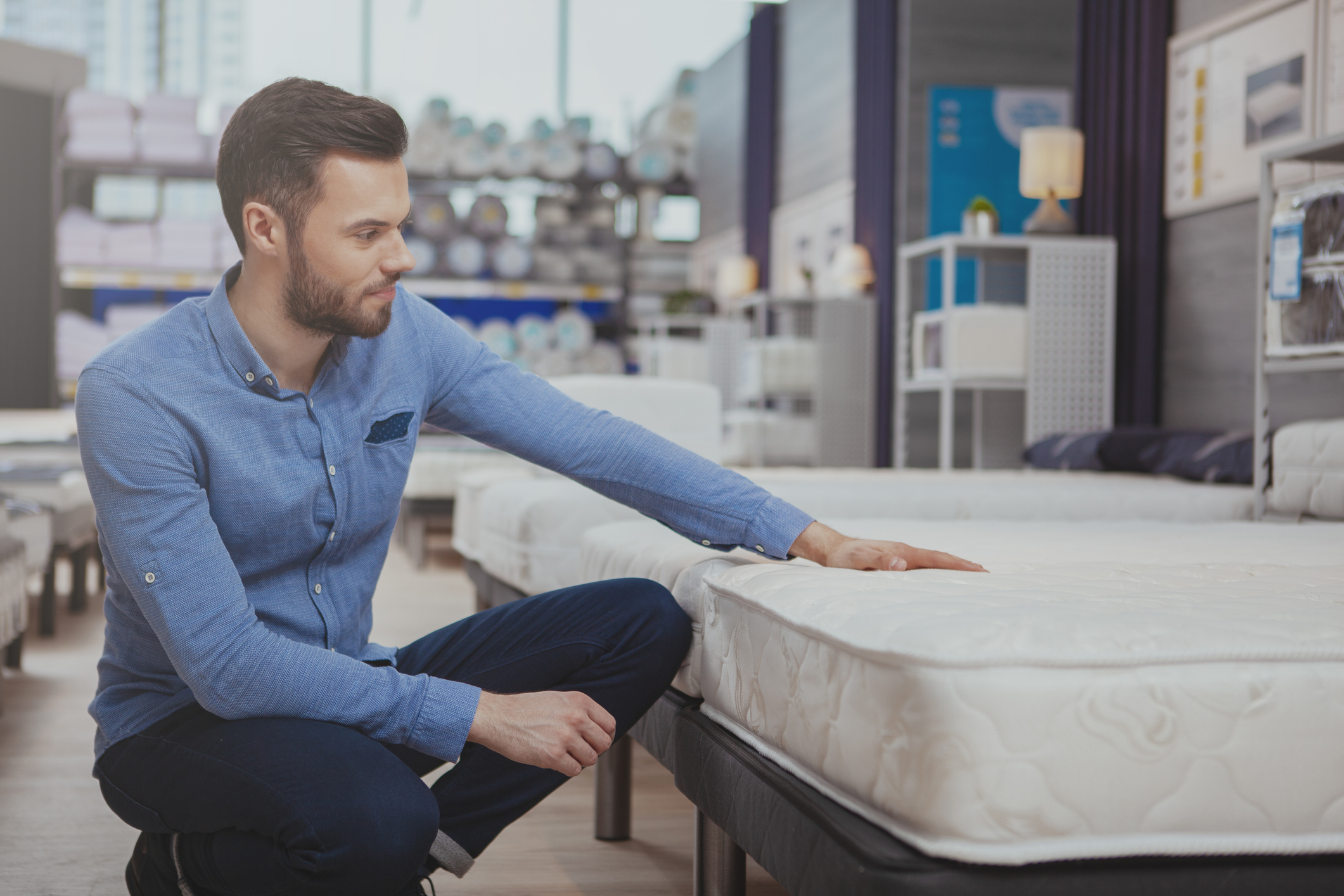 When you start shopping for the right mattress, it may seem like an overwhelming choice. Each aisle you venture down comes with new, confusing descriptions, and even shopping online gets daunting after a few websites. So what should you do when in need of a new mattress?
Since we sleep on them for almost a third of our lives, mattresses are sort of a major purchase. They may not cost as much as a car or house, but they'll likely be with us almost as long. And considering everyone has a preferred sleeping position, unique issues with back pain, migraines, or joint aches, etc., as well as concerns about the safety of various materials, there's a lot to keep in mind while hunting for the perfect mattress.
Start with the basics
The best thing to do with a decision like this is: Start simple. According to Dr. Arya Nick Shamie of Santa Monica UCLA Medical Center, the first area of mattress shopping to consider is support. Your mattress should be able to give sufficient support to the spine and keep the rest of the body properly in alignment as you rest. This means it must be the perfect balance of firm and soft.
Shamie underscores the importance of this, stating, "If the mattress is too firm, it will push on … pressure points and take you out of alignment. If it's too soft, those pressure points won't be properly supported, so your whole body flops back." Sleep expert Michael Breus, Ph.D., agrees, confirming that "the right mattress … is one on which you feel no pressure, almost like you're floating in air."
The next aspect to consider is mattress material. What is your favorite type made from? If you don't know, try them out and find out which of the following comprised the most-comfortable options:
Memory foam: The most popular types of mattresses you're likely to find currently involve at least some amount of memory foam. It's designed to conform to the contours of your body, which is said to alleviate stress on the body's pressure points. Good-quality memory foam springs back to its original position quickly after you stand up or move away from it.
Innerspring: These include a series of supportive steel coils in the core of the mattress that absorb the weight of the body and provide a bit of "bounce" when pressed on. The innerspring is the oldest, most well-known mattress type on the market.
Hybrid: This type is a combination of the previous two, including both memory foam layers (or sometimes latex) and innerspring coils with the goal of blending the types for optimal comfort and durability.
Latex: Considered to have more "bounce" than other types, the latex mattress is also resistant to dust mites, mold, and mildew, with hypoallergenic properties. These are also known to remain quite cool, and are popular with those who tend to "sleep hot."
Consider which of these works best with your sleeping position before you go shopping.
Visit a mattress store to try some mattresses, or look for sleep trials online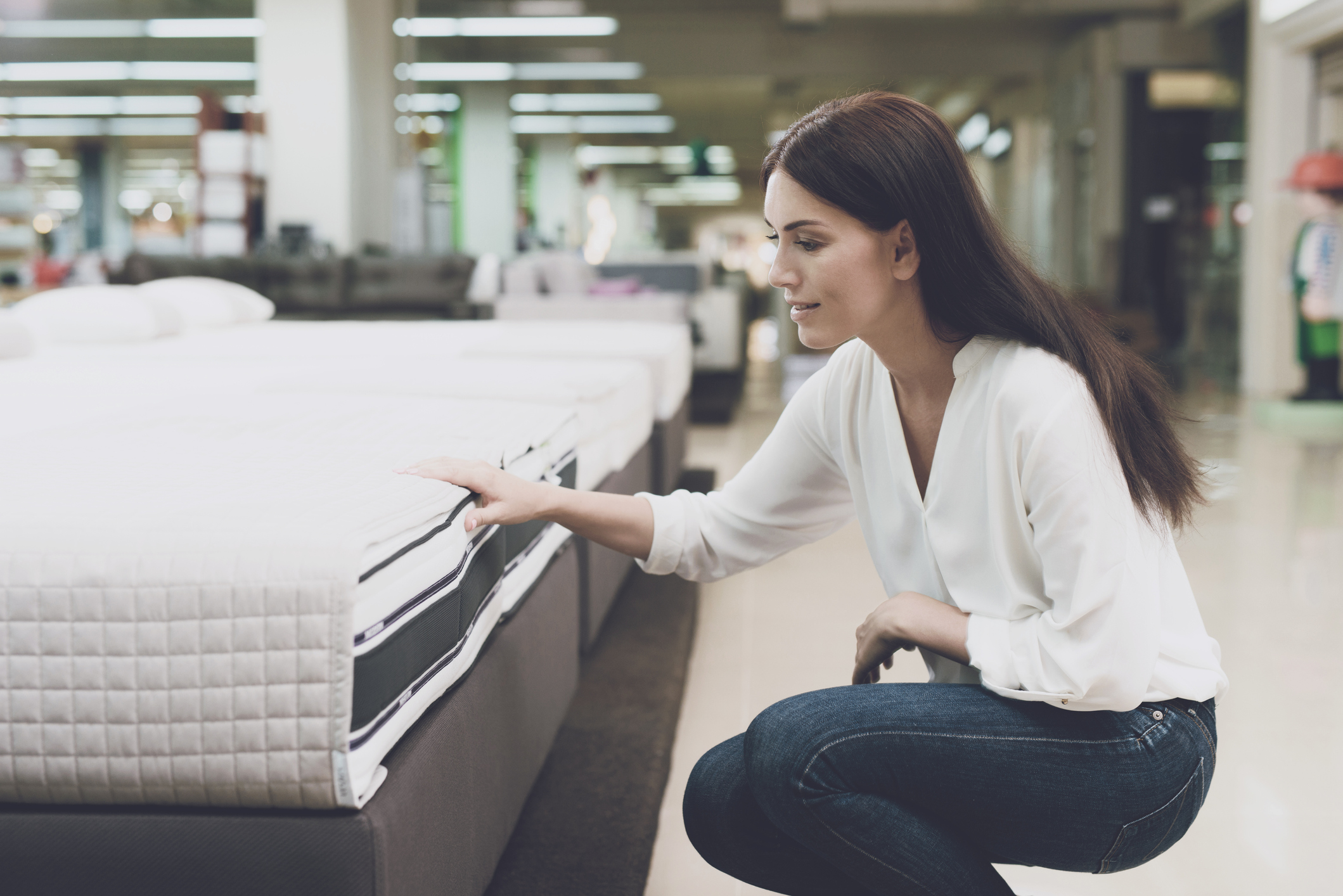 If you're able to physically go shop at some brick-and-mortar mattress stores, you can try out the mattresses to see how they feel. How should they feel? If your neck and lower back are in a neutral position together while you're lying down on the mattress, you're in proper spinal alignment.
If you can't go shopping at the brick-and-mortar stores, look for decent sleep trials online. These are usually offered by mattress-in-a-box businesses, or similar direct-to-consumer mattress companies. They allow you to sleep on the mattress for an extended period in order to see how you like it over time, with the promise of a refund if you decide you don't.
The best sleep trials should run for at least 100 days up to an entire year, and include language explaining exactly what to do if you no longer want your mattress at the end of the trial (sometimes this is found in the FAQs).
Look for natural materials as often as possible
While there are confusing labels that don't necessarily indicate eco-friendly materials have been used, others are fairly sure to be legitimate. If your mattress has 100% natural, GOTS organic cotton covers, made with OEKO-TEX certified organic wool, is GREENGUARD certified, and is made with foams that are CertiPUR-US certified, you're probably looking at a high-quality product. Be sure to look up each term used, however, as some companies are attempting to greenwash the mattress industry with fake eco-friendly processes and certifications.
Read some reviews
If you can confirm they're legitimate, reviews from past customers are worth gold when shopping. While most are probably real, there are always fakes around, too. If you think something sounds too good to be true, run the URL through fakespot.com. It can tell if the reviews are fake and let you know.
Check the warranty
Before purchasing, make sure there's a warranty and that you actually understand it. High-quality brands offer warranties of at least several years promising full replacement for manufacturing defects or problems that occur during normal use. (Hint: If you spill wine on it yourself or break it doing backflips off the second-floor balcony, the warranty doesn't apply.)
Skip the box springs unless you really need one
Depending upon the mattress you're considering, the box spring may or may not be part of the deal. It may be necessary to include it in order to get a certain sale price offered. However, if it isn't, you may not need a new one. Your old box spring may still work just fine, or you may not need one at all. Give it some careful thought before spending money on a new one unnecessarily.
Once you've given all of this your best effort, you should be ready to make a decision on your mattress. Which one do you think you'll get? Remember to look at any deals on sheets and bedding before you hit the checkout, too. You may end up with a whole new, cozy set for your new bed after all.
Editors' Recommendations