If you're a renter and want to make your space feel more "you," you may be encountering a significant challenge: the color greige. Many rentals often have bland greige interiors. While this gray-beige color and similar muted tones can appeal to renters looking for a clean and modern space, it doesn't make for an aesthetic or cozy backdrop. And as a renter, you might not be able to just paint over the greige wall color. So today, we're giving you some solutions to make your greige rental more aligned with your personal aesthetic.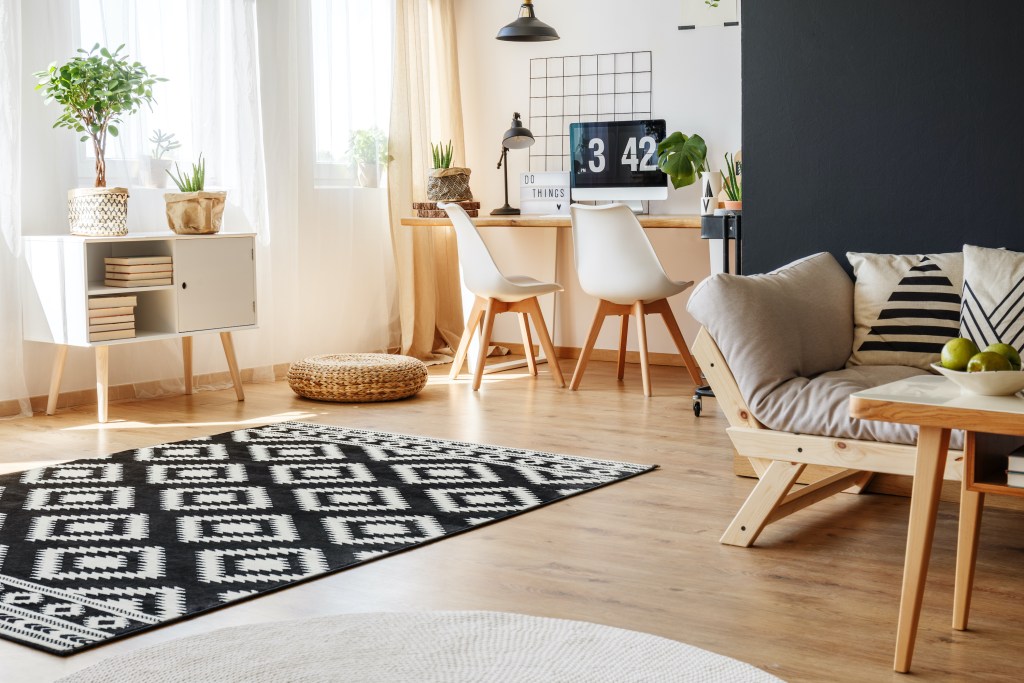 Use rugs for added color and texture
If you're a renter working with greige walls and floors, rugs are going to be your best friend. Rugs come in all sorts of colors and patterns, making them versatile items to add to your space. And the best part is that it's a rental-friendly solution that doesn't require any nails or permanent paint to use.
If you want to add more color to your space, consider choosing a rug that suits your palette and design style. A large rug covers a bigger area, hiding any boring greige carpet or flooring. Choose something with an interesting pattern, warm tones, and unique texture to really break up the monotony of your space.
Experiment with colorful furniture
Colorful furniture like painted side tables, a uniquely colored couch, or sculptural pieces can also bring more color and life into your space. If you're feeling bold, opt for a sofa that doesn't adhere to the usual brown or black palette, like a blue or orange piece.
Or, if you want something more subtle, consider painting your side tables or other small furniture pieces to invite more color into your space. Wood tones and browns can also be a way to uplift a greige interior without feeling like you have to use colors you don't feel comfortable with.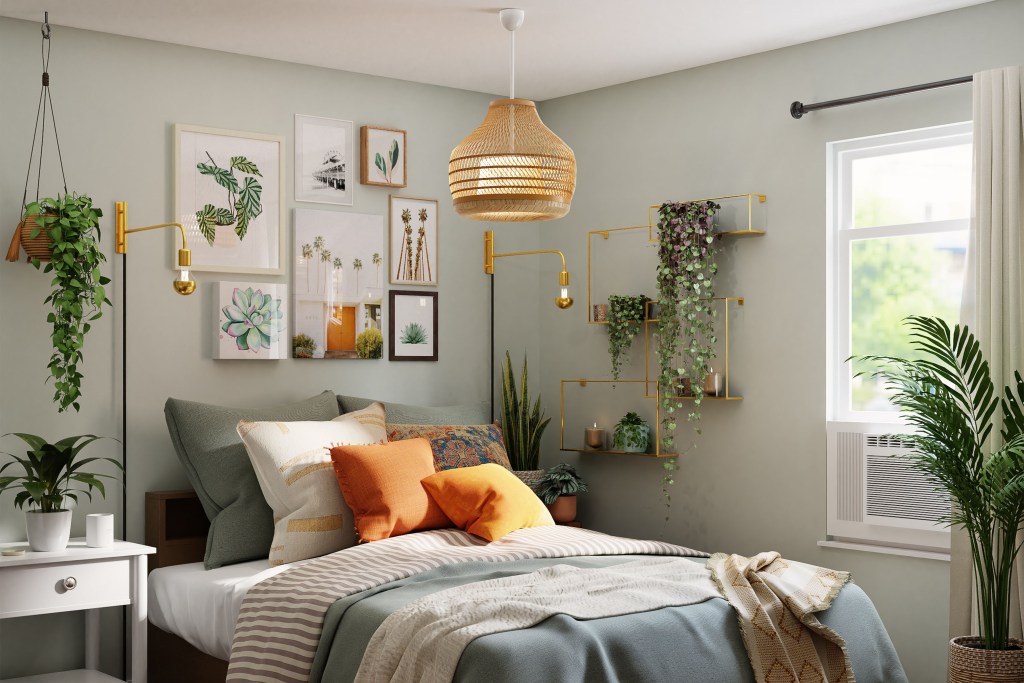 When in doubt, plants are always a great solution
For many renters, it's not possible to paint the walls, paint the kitchen cabinets, or even nail frames or shelving into the walls. If you're facing this dilemma, an easy way to add more color and visual appeal to your space is through plants.
Potted plants are a great way to add more color and texture to a space. Large plants can add interest to a blank wall, while small potted plants by a window can invite more color to your home. This is also a great way to work your preferred color palette into the space by choosing tones and textures on the pots that will work best with the look you're going for.
Hang colorful photos and paintings if you can
If you can hang photos or paintings, we recommend you take advantage of that! Adding colorful photos and paintings to your greige walls can really transform the space and add more personality to your home. Movie posters, family photos, and landscape paintings are some ideas on how you can bring color into a bland, greige room without having to paint the walls. And because you can choose whatever frames or images you like, you can customize the space to best reflect you and your personal style.
Avoid cool tones and white
Greige interiors often appear very cold and uninviting. One way you can bring more warmth into your space is by avoiding cool tones and white. Instead, bring black accents, warm copper or bronze tones, wood textures, and pops of bold colors into the space.
Focus on hues with red or orange undertones or find brown colors that blend nicely with your preferred palette. Of course, warm-toned blues and greens can look just as nice. The goal is to avoid adding more cool gray colors onto an already dull backdrop.
Renting a home can bring a lot of challenges, especially when it comes to redecorating. You might not be able to add a coat of paint to your walls or change up the flooring. But that doesn't mean you have to be saddled with a boring interior! Use these tips to bring more warmth and personality to your space without having to alter the property in any permanent way.
Editors' Recommendations