When purchasing smart furniture for your home, it can be challenging to know which items will benefit your space. With so many high-tech gadgets being introduced to our spaces, we have to be aware that not every new invention will suit our needs. So, rather than choosing just any smart furniture piece for your space, we've gathered everything you need to know to find the best fit for you and your lifestyle.
What's defined as smart furniture?
Before we jump into some of our favorite types of smart furniture, it's best to understand and define Smart furniture. Smart furniture is typically items with built-in tech like USB charging ports, motion-activated lights, speakers, and touch screens. These are all the more common enhancements made to furniture. Whether added to a bed, couch, or table, smart furniture aims to create more ease and accessibility when it comes to design. The goal is to develop multipurpose pieces that benefit your home and help enhance your lifestyle.
Types of smart furniture
Below are some of the most common types of smart furniture. While this is not an exhaustive list, it does cover some of the most popular smart furniture pieces people are inviting into their homes.
Reclining sectionals with charging ports
Reclining sectionals are a beloved addition to many homes. Capable of blending wonderfully with most design styles, reclining sectionals offer a unique way to enhance entertainment.
However, beyond the reclining functions, many modern sectionals come with additional storage units, cup holders, and, most importantly, charging ports. When relaxing at home or watching a movie, it's likely that your phone is nearby. Unfortunately, getting up and hunting down a charger can ruin your viewing experience. So, many sectionals now come with available USB charging ports or charging pads that allow you to connect your phone without any hassle or cord hunting.
Smart desks that focus on tech
As many people began working from home or spending more time in their home office for school or other important endeavors, a growing issue presented itself. Desks simply weren't built with high tech in mind. So, manufacturers raced to create some fantastic smart furniture solutions to aid people in their work-from-home environment.
Smart desks come with additional outlets, USB charging ports, built-in charging pads, hidden cord storage, and adjustable settings for monitors. Other unique features can include lightboxes for artists and designers, LED light strips to aid in dark environments, and other adjustable solutions to create a more ergonomic workspace. With so many capabilities, smart desks allow homeowners to find what they need to help them create the best working environment.
Beds with built-in motion-activated lighting
It can be a pain to get up in the middle of the night and fumble around in the dark for a light switch. What's worse is that there is always the chance of stubbing your toe or angering your partner. So, beds with built-in motion-activated lighting have come to the rescue. LED light strips are connected underneath the bed frame to allow for additional lighting when needed. Often adjustable, the tone, brightness, and frequency can be changed to suit your needs. Furthermore, motion-activated options enable you to sleep peacefully in the dark while still having the ability to get up and navigate the room without searching for a source of light.
Sofas with built-in speakers for surround sound
Surround sound has become a vital aspect for many homes. And recently, with pandemic lockdowns and other outing restrictions, people have opted to create their own home theaters where they can enjoy the latest movie with cinematic quality. Some sofas and sectionals now come with built-in speakers that can be connected to your TV via cord or Bluetooth. Once connected, these speakers can amplify your viewing experience and provide a unique surround sound feel without purchasing additional and often clunky speaker systems. Forget the ugly soundbars or speaker stands. With this multipurpose piece of furniture, you can have a comfy couch and quality surround sound all at once!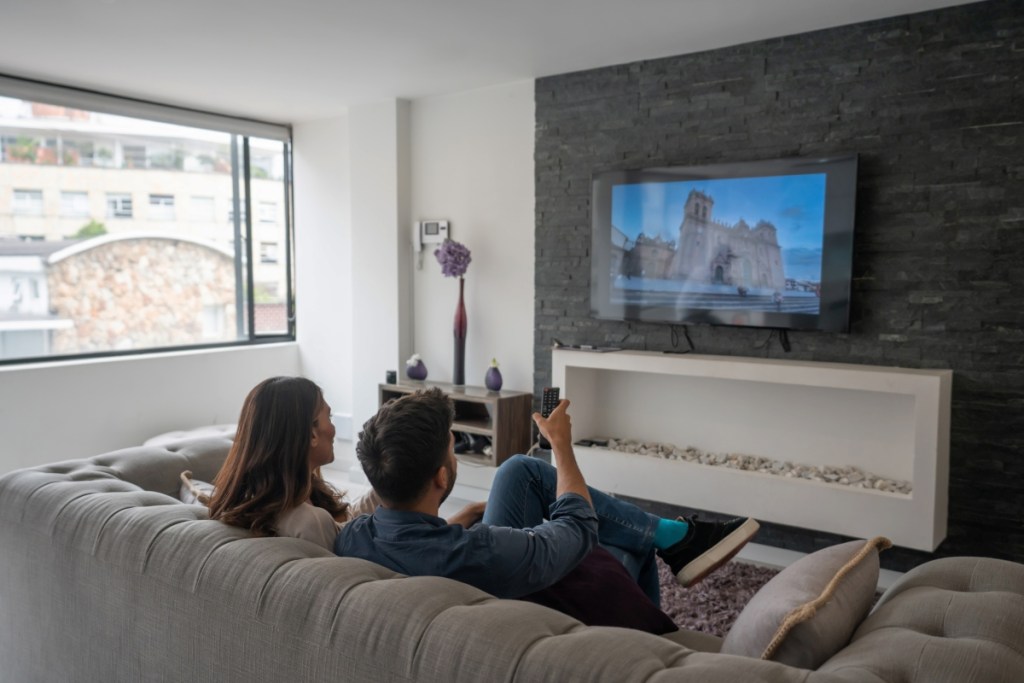 What smart furniture items are worth it?
It's safe to say that determining whether or not a smart furniture item is worth the cost is dependent on your lifestyle. While some homeowners who host frequent movie nights will find built-in speakers a major plus, others will find that they hardly watch movies and therefore don't need that enhancement. Alternatively, some people may thoroughly enjoy motion-activated lighting to help them navigate the room without flipping on the light switch. But homeowners with pets may find the constant change in lighting annoying. Knowing what to get when looking for smart furniture is entirely up to you and your household needs. Do some research to figure out what furniture pieces would benefit you and which may go unused or become a hindrance.
Smart furniture is built to add more ease to our lives. While not every function can benefit your home, plenty of smart furniture options are available to find what you need. So whether you need more cup holders for parties or an adjustable desk tabletop, you can rest assured that there is a furniture piece out there waiting to be added to your home design.
Editors' Recommendations