Looking for one-of-a-kind furniture to match your eclectic style? Secondhand shopping is the way to go! Whether you're exploring a giant flea market or your local thrift store, it's easy and fun to find vintage pieces that fit your unique style and will look great in your home. But shopping for used items is slightly different than going to a furniture store; it requires more research and effort. That extra work pays off, though, when you score a deal on the piece of furniture you've been dreaming of. Here are a few tips to help you find secondhand furniture that's stylish, functional, and affordable.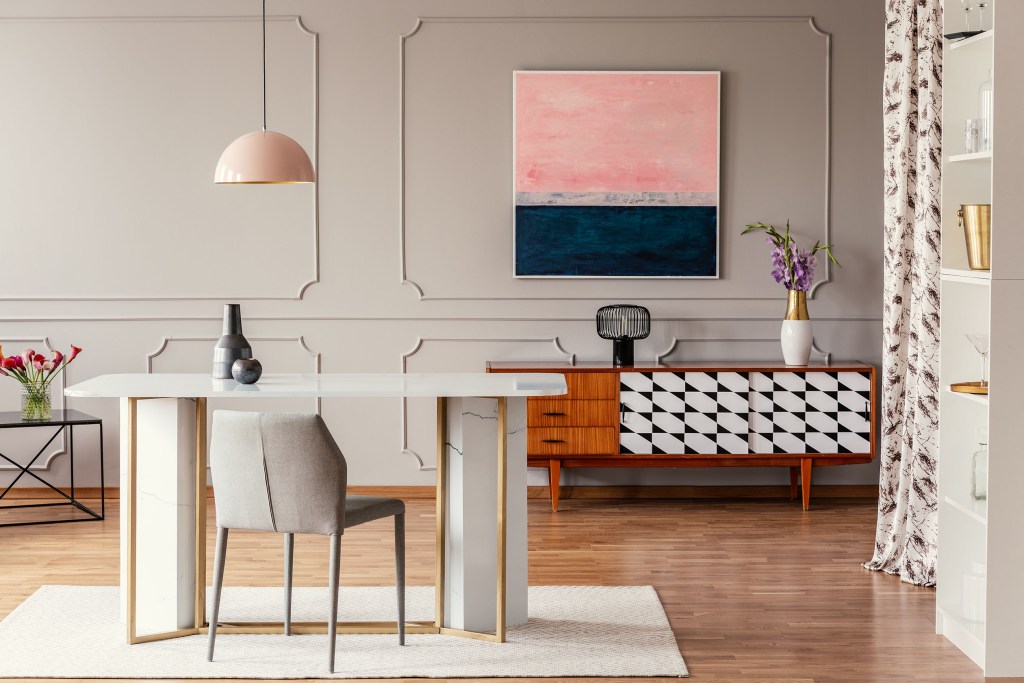 Know what you're looking for before you go
Whether you're at a secondhand shop, yard sale, or flea market, the sheer volume of available pieces can be overwhelming. Especially for thrift shopping beginners, it helps to have a plan. Decide what type of furniture you're looking for and what design styles would look best in your home. You should also take measurements ahead of time so you don't purchase a piece that doesn't fit your space.
Check tags and labels
When you find a piece you like, the first thing you should do is check the price tag, as well as the label or stamp on the furniture. This will let you know who manufactured the furniture. If you're not familiar with the maker, do a quick online search to learn more about the manufacturer, the piece, and its value. This information is crucial to determining whether you're getting a good deal or if you should keep on walking.
Look for signs of damage
Before taking furniture home, inspect it carefully for irreparable damage and unpleasant odors. Avoid pieces with pest-damaged or rotting wood, as this kind of structural damage is difficult and usually not financially worthwhile to fix. Water damage and burn marks can also be challenging to handle without the help of a professional. With fabrics, look for tears, stains, and unpleasant odors. Some smells, like smoke or pet messes, can linger. And while upholstery can be replaced, stuffing and filling can also be impacted by scents.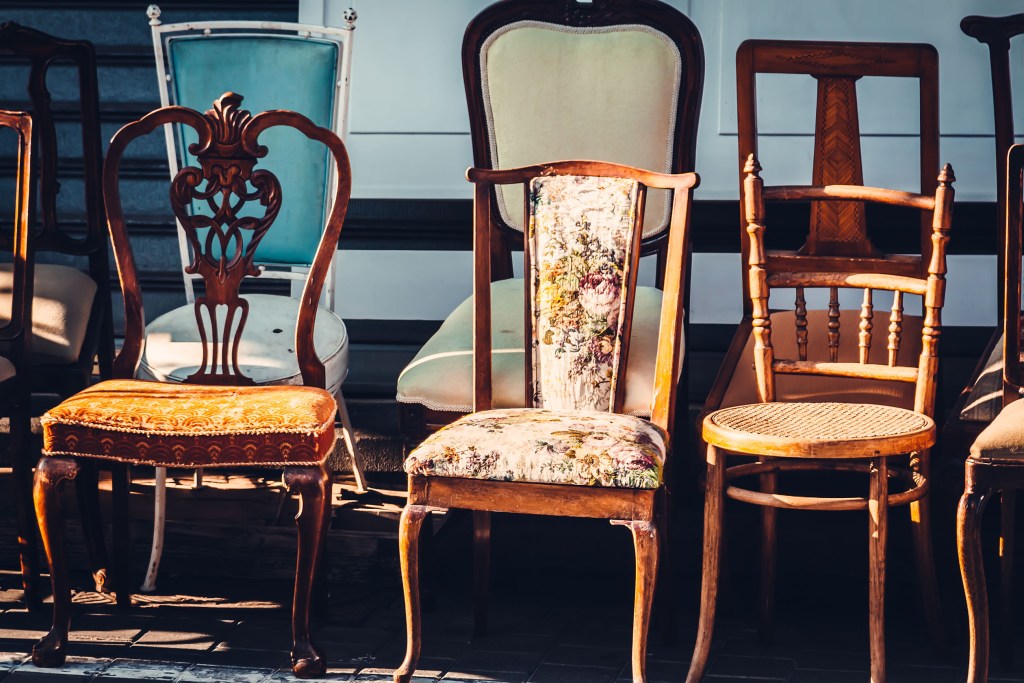 Try it out
If possible, you should always test items out before you buy them. Sit on chairs and benches to see if they're comfortable and stable enough to support your weight. Test out dresser drawers to ensure they open with ease. For tables, shake them a little to see if they wobble. A piece may look great at first glance, but if it's not functional, there's no place for it in your home.
Don't get swept away by a cheap price
When you're exploring a flea market or secondhand shop, it's all too easy to get carried away by the low prices. But getting too excited can often mean buying pieces that you don't need, won't look good in your home, or require too much work to fix up. Before handing over the cash, take a step back and ask yourself if you really need the furniture.
Embrace DIY projects, but know your limits
Don't let scuff marks or ugly paint keep you away from your dream furniture. Pieces that show minor signs of wear can be fixed up with ease to look amazing in your apartment. If you see furniture that needs a little TLC, include the upgrades in your budget, so you don't end up overspending. That said, DIY projects aren't always the right choice. Before deciding to take on a new project, make sure you have the skills, time, and focus to get the job done right.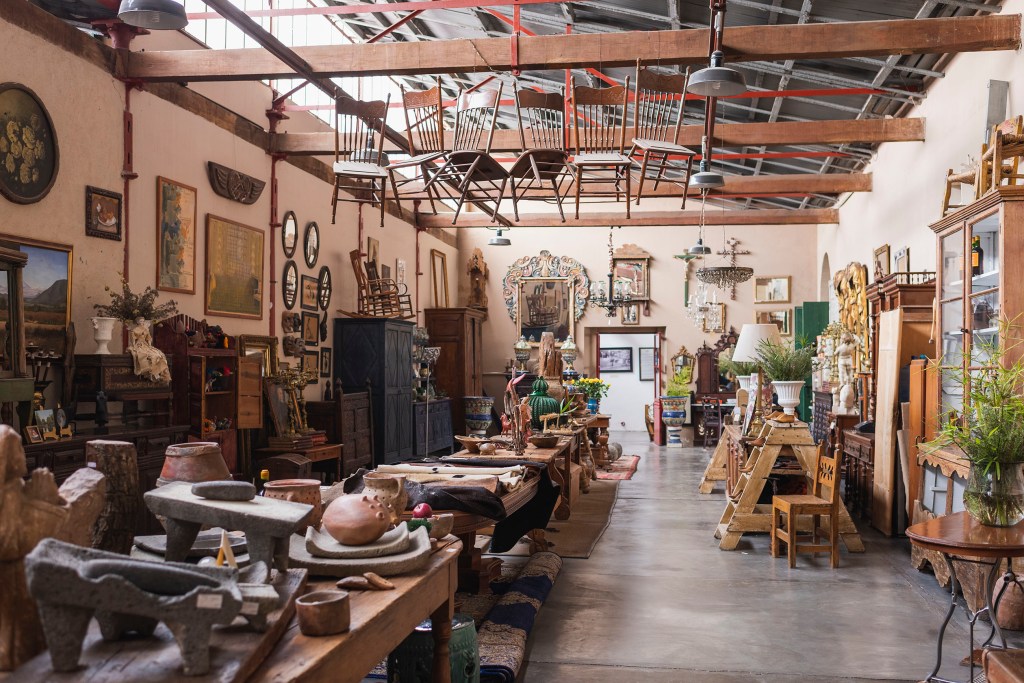 Never buy these items used
Buying secondhand can be a fantastic way to find unique and eclectic furniture at a low price. But there are certain items you should never buy used. It's wise to avoid mattresses since it's difficult to tell how clean they are and they could pose health hazards. Bed bugs, dust mites, and bodily fluids can lurk within fabrics. The same goes for upholstered pieces unless you know how to reupholster. You should also avoid purchasing car seats, cribs, and other baby furniture that can have hidden issues or may have been recalled.
Keep an open mind and have fun
While we do recommend having a plan for secondhand shopping, it's vital to keep an open mind, too. Part of the fun of thrifting is not knowing what you'll find. Keep an eye out for hidden gems of all kinds, and remember to have fun with it!
When it comes to furniture, "used" doesn't necessarily mean outdated or poor quality. You can find tons of excellent pieces of preloved furniture at thrift stores, yard sales, and flea markets. Though some pieces may need a little extra work before they're ready to be displayed in your home, it's often worthwhile when you find a deal on furniture that you love. The key is to know what you're looking for, recognize when a piece is damaged beyond hope, and accept the limits of your DIY ability. With the tips above, you'll become a secondhand shopping pro in no time.
Editors' Recommendations