Rustic baby room ideas are all the rage right now, but there's more to it than earth tones and farm animals. Trendy nurseries also incorporate some luxurious or modern touches to create the perfect balance in your little one's world. Rustic decor, though simple, gives a calming vibe and provides a connection to the outdoors.
That being said, a natural style isn't just brown wood and forest green anymore. Today's rustic looks will give you a new way to look at vintage furniture and paintings of colorful trees. From rustic glam to log cabin style, we love these four rustic nursery aesthetics, and we think that you (and your baby) will too.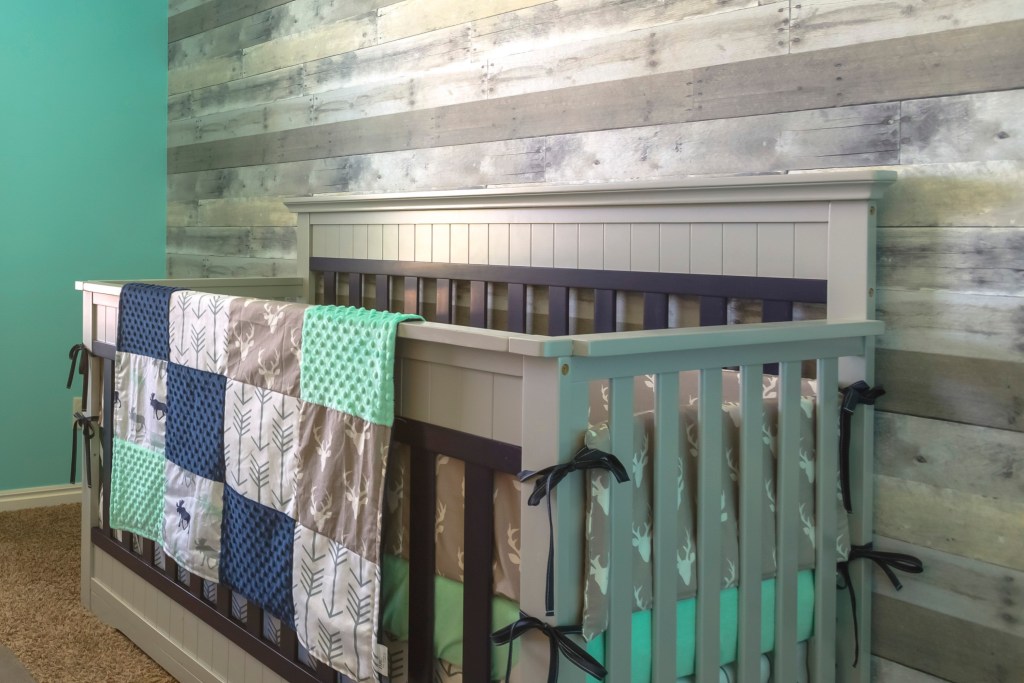 Modern log cabin
To achieve a log cabin-inspired look, you're going to need a wooden wall or two. Shiplap is extremely popular and comes in all different styles and colors, and it's a doable project for moderately experienced DIYers.
Just one wooden wall is enough to give your nursery the log cabin vibe you've been dreaming of. If you don't want to install real wood, opt for themed wallpaper instead, which can give you a similar look.
Adding decorations like antlers or antique pieces of furniture can also round out the log cabin look nicely — just make sure you babyproof the decor so they're all free of hard edges.
Incorporating animals commonly found in the woods, like bears, moose, and deer, can bring the needed playful element to the room, so consider painting a mural or adding some plush toys to add a few of these cuddly creatures into the space.
Rustic glam
Rustic glam, also known as rustic chic, is quickly rising in popularity, so you shouldn't have a hard time finding decorations for your nursery. The key to achieving a rustic glam look is using pieces that you would find in your grandpa's cabin and adding some expensive-looking elements and materials:
An average deer silhouette won't do, but a shiny gold one can accent your shiplap wall beautifully.
A wooden peg rack to display booties or tiny outerwear can add earthy tones without being overpowering.
Adding grey or light-colored wood here can also create a more contemporary design.
Just be sure to add a few pops of color so you don't create a monochromatic decor — it is a kid's room after all. Even a simple project like staining the trim a dark brown can add a rustic vibe that's elevated with a bit of glam.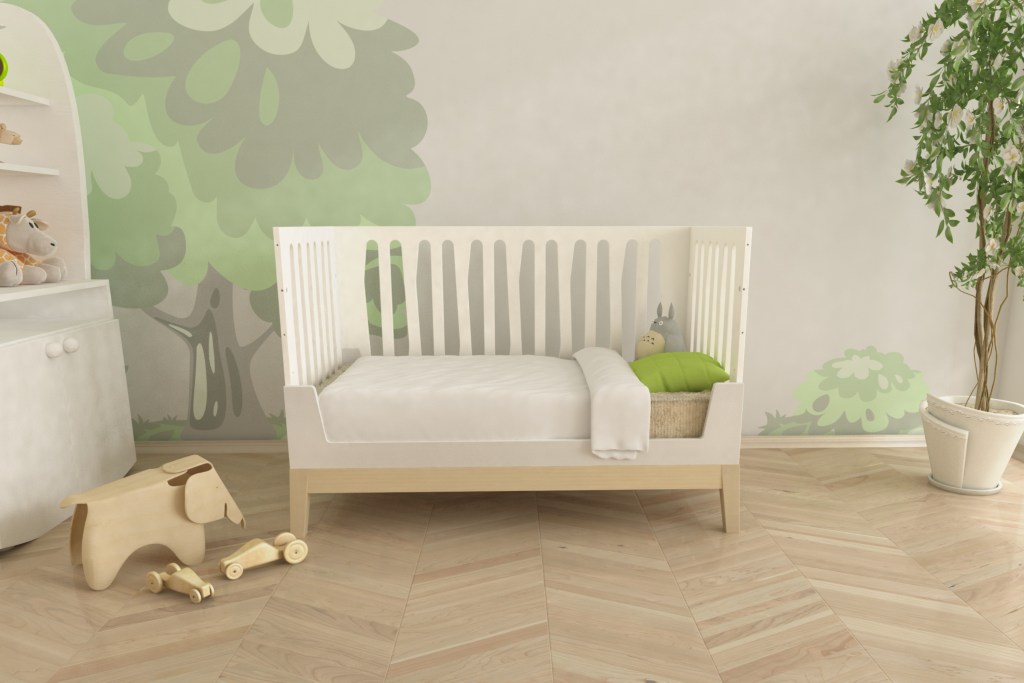 Nature-inspired
Nothing says nature like a look filled with baby woodland animals and plenty of plants.
Snuggly tiny versions of big scary animals make a nursery inviting and entertaining for your little one. If the woodland animal design doesn't speak to you, go exotic and choose safari animals, like giraffes, zebras, and lions, and then you can incorporate desert colors and decorations to complete the look.
Try your hand at painting a mountain mural on one wall or hanging live plants from the ceiling to add a jungle feel. The possibilities here are really endless, so use your creativity to fill this faux habitat with trees, mushrooms, leaves, beaches, waterfalls, etc.
You can find all sorts of mobiles, bed sheets, wall art, and stuffed toys that will fit with your chosen nature theme, so keep an eye out for cute accent pieces during your next trip to the home decor store.
Mix it up
If you can't decide on one theme for your nursery, don't be afraid to marry two design styles to create a look that's all your own:
Blending rustic pieces with contemporary wallpaper is a great way to balance out the look.
You can brighten up an otherwise dark room with marquee-style lighting above the crib.
Industrial-style light fixtures and hardware go great with rustic decor – think iron curtain rods and brass cabinet pulls.
Pick a few pieces of furniture that combine rustic and modern quite well like a vintage trunk-style chest of drawers that you can use as a changing table or a high-contrast bookshelf.
Creating a sanctuary for your pride and joy is essential — the nursery should be stylish, functional, and, most importantly, comforting. Warm and rustic colors and decorations can create a welcoming environment for your little one without being too dark or dingy. As long as you pay attention to the lighting and include pops of color, you can create a nursery that's as fun as it is aesthetically pleasing.
Editors' Recommendations