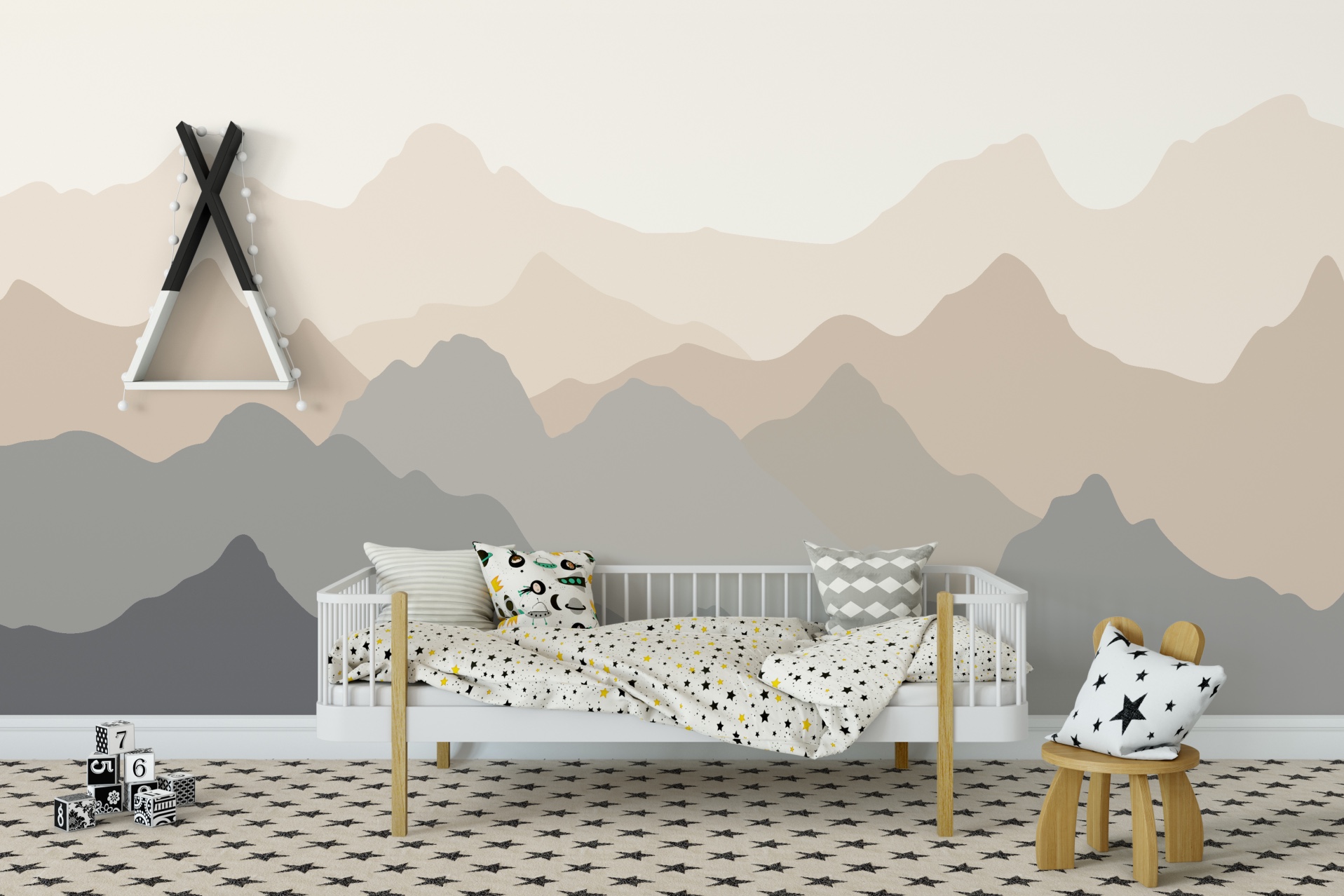 Couples are opting out of the pink and white or blue and yellow gender-specific nurseries and going for a more modern option. But modern should not be interpreted as sterile, plain, or boring. It means having a chic nursery with clean lines and elements and a lack of clutter. Honestly, once your baby gets to the toddler stage, you will have plenty of clutter on the floor so take advantage of a clutter-free environment while you can.
There's plenty of ways to design a modern nursery that still feels warm and cozy.
Color palette updated
If you are going with a neutral palette, texture will be your friend. With your creamy walls and natural wood floors, an area rug with nubby texture and small stripes or flecks of brown and tan will do the trick. Get a white wicker rocking chair with a soft, plush throw and a faux fur pillow. Put toys and small items in wicker baskets.
A white leather pouf or a fluffy pouf would be nice and get some big, textured throw pillows with tasseled ends for the floor.
Tweak the natural palette by using saturated colored throws and pillows instead of textured neutrals.
To go a little more into the boho-chic area, amp up the organic and bring in some nice, big green plants and more wicker. How about a big wicker clothes hamper?
You'll also need to increase the size of the patterned elements—like a bigger pattern on the rug, a patterned lampshade, and jewel-tone colors in the throws and the pillows.
Throw in something unexpected like a sparkly chandelier as a light fixture.
Pick an anchor
Anchor the room and the style with either an area rug or an accent wall. Choose a deep green or navy or even a black wall. No, a black wall will not mean your immediate arrest by the fashion police. A black wall, like a navy or deep green wall, adds depth to the room. You can use removable wall decor on the accent wall but use it judiciously—a spray of pastel bubbles across one corner of the black wall or maybe some stars.
The wondrous thing about removable wall art is, well, it's removable. As your child grows up, they might not want stars or bubbles, they might want flowers or trucks or sea creatures, and you can do that!
If you want to stay with neutral walls, get a patterned area rug that covers a good part of the center of the room. If you've decided the color palette is black and white, use geometric shapes on the rug to tie together the other elements in the room. Get a white crib and a comfy chair upholstered in white and black.
Larger removable wall murals can be used as your accent wall. Pick a theme like woodland, floral, geometric, rustic, or black-and-white, and you can find a mural to suit your taste and space. Woodland could be a green leafy forest and you can continue those colors into the other furnishings. Rustic could be branches with tiny birds.
With any of the themes and color palettes, you can decorate with what you know you will have—clothes and toys. Put shelving in an area and put toys, including stuffed animals and blocks, out for color accents.
Hang clothing on hangers on pegs on the wall for storage and decoration. Use toddler-sized hats and the shoes you received as a gift that they are going to grow into.
Bring on the color
For those who want the stimulation of color, go ahead; you can go full-on rainbow and still be contemporary. Use neutral walls and a neutral rug. Get a colorful shade for the lamp and stack colorful children's books on the shelving along with blocks, trucks, dolls, pull-toys, and stuffed animals. As long as the shelved items have space between them, you will still maintain an uncluttered feel. Get a patterned, upholstered, comfortable chair with an ottoman. Pot your plants in colorful planters.
Use negative space in your wall art to balance out the color. Frame bright pictures with large cream matting and use small frames. Black and white photos and framed reproductions of vintage ads featuring baby products are great additions to a modern nursery.
If your home decorating theme is modern or transitional, your nursery can be decorated to fit in, and still be a cozy space for your baby.
Editors' Recommendations