If you're looking for a fresh aesthetic to brighten up your space, then rustic Mediterranean interior design could be just what you need. Based on light neutrals, fun colors, and a laid-back vibe, rustic Mediterranean is a style fit for homeowners looking to create a relaxing environment in their homes. We're giving you everything you need to know to help you curate this lovely design style in your space. Below are our best tips on creating this unique style to take advantage of all of the joy and rejuvenation it has to offer.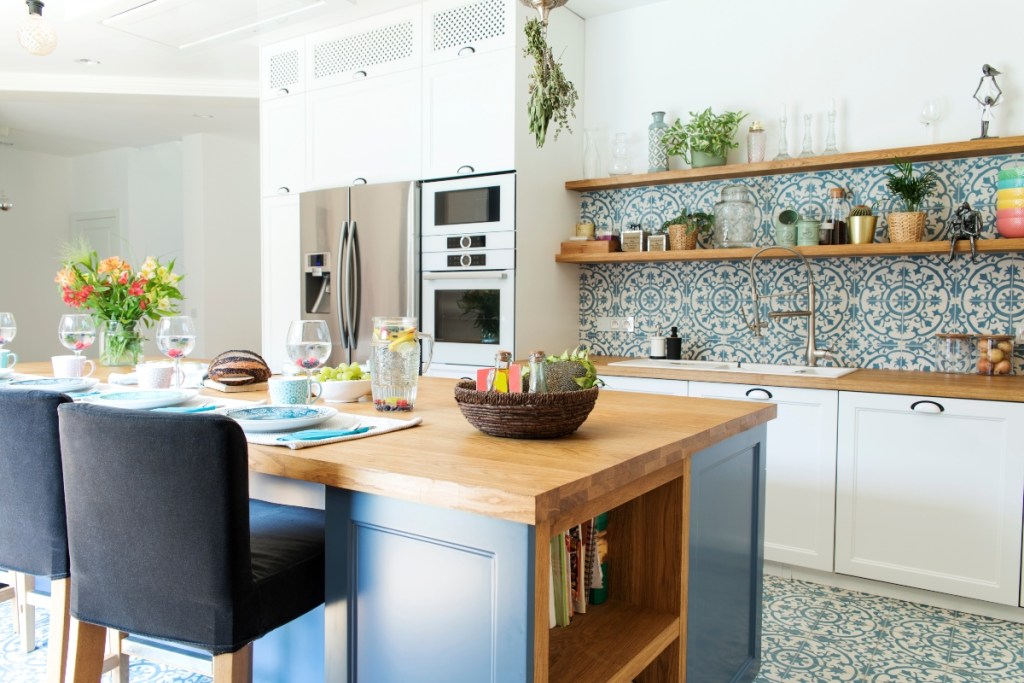 What is rustic Mediterranean interior design?
Rustic Mediterranean style was born from a blend of both rustic and Mediterranean influences. Mediterranean style heavily influences this interior design approach with its light neutrals, tile and stonework, and bright pops of color. Inspired by interiors surrounding the Mediterranean sea, this style boasts cobalt blues from Greece, terra cotta and tile work from Spain, and light colors and textured walls from Italy. With so many striking cultural influences, Mediterranean style is an exciting and relaxing style perfect for homes in need of a lighter and brighter feel.
The rustic aspect of this unique design style helps add a down-to-earth touch that makes the design feel grounded and comforting. With darker hues, raw woods, and a more organic approach to its design, the combination of rustic and Mediterranean influences allows this quirky design style to feel comforting, relaxing, and rejuvenating for many homeowners.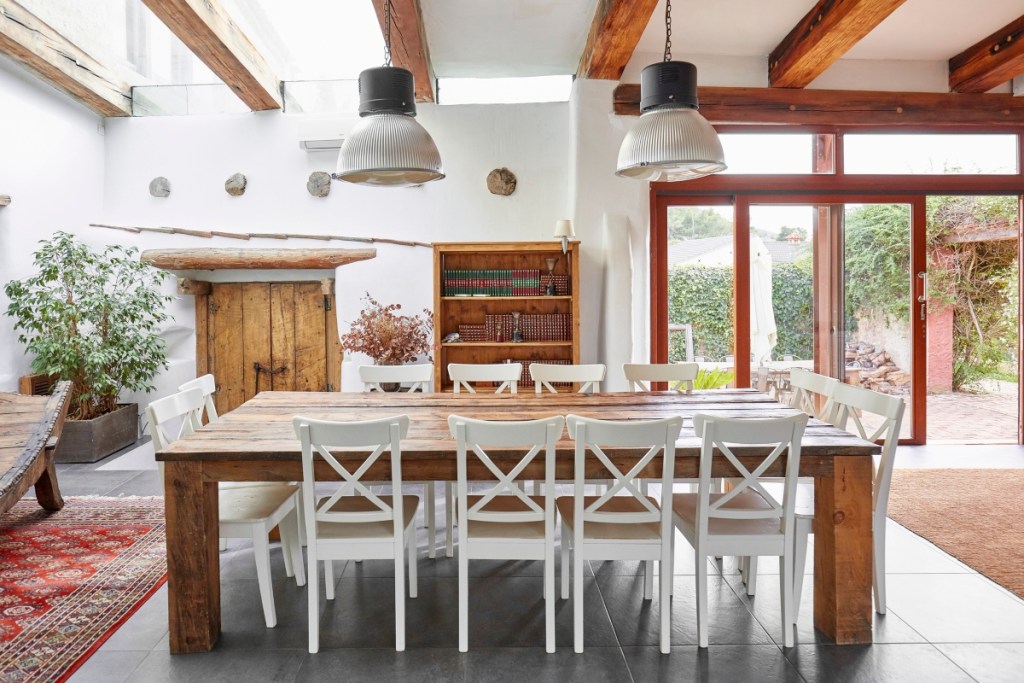 How to achieve a rustic Mediterranean look in your home
If you adore the look of rustic Mediterranean design, then we highly recommend bringing this style into your home. Below are some of the key features of rustic Mediterranean design and how you can incorporate it into your space.
Start with neutrals and earthy tones
Neutral color palettes and earthy tones are at the heart of rustic Mediterranean design. This style favors bright white or cream walls, pale yellow tones, and a variety of brown shades throughout the design. We recommend starting with your neutrals and integrating them throughout your space and color palette. Opt for beige tones, off-whites, and tans as the base of your palette. Next, choose a bright neutral wall color and pair it with a dark neutral-toned sofa or rug. This will allow you to create an earthy and relaxing atmosphere in your space.
Use tile or stone in your flooring
When it comes to flooring, tile and stone are essentials. Add fun mosaics, square tiles, terra cotta, or stonework to your floors to create a cool Mediterranean-inspired setting. To add more warmth to your tile floors, choose a darker shade or reddish-brown color. Or add a few layered rugs to your space to help enhance the cozy feel. Tile or stonework on your kitchen backsplash, bathroom walls, or fireplace can also be great additions for creating a rustic Mediterranean look.
Opt for exposed beams if you can
A key feature of rustic-inspired designs is the use of exposed beams. To home in on the rustic elements of your rustic Mediterranean design style, we recommend adding exposed beams to your space. Best suited for kitchens, living rooms, and dining rooms, exposed wood beams can give the impression that your space is larger than it is by accentuating the height of your ceiling. Additionally, this rustic touch offers an earthy feel to your design that creates an organic and authentic mood within your space.
Incorporate wood furniture into your space
Both rustic and Mediterranean designs share a similar aesthetic when it comes to furniture. Wood and wicker pieces are staples of both design styles and present you with the perfect opportunity to appeal to both designs throughout your space. Opt for tables, side tables, stools, chairs, or other large furniture items predominantly made of wood. Wood tones can help enhance the earthiness of your space while also adding a cozy and comforting touch. This organic element of your design is also a great way to create cohesion within both design styles.
Don't forget to add a pop of color
Mediterranean styles favor bright pops of color like red, orange, and vivid blue. Pick an accent color that suits the look of your design and blends cohesively with your color palette. A pop of color will help break up any monotony within your design and create an air of vibrance within your room. Use this accent color on rugs, pillows, blankets, or small decor pieces throughout your design.
Rustic Mediterranean interior design is a unique style fit for homeowners needing more relaxation and down-to-earth aesthetics. With a focus on tile work, neutral colors, wood furniture, and simplicity within the design, this style is a great way to create a space that feels cozy, intimate, and rejuvenating. Try to blend some of the above suggestions into your space to take advantage of all that this fantastic design style has to offer.
Editors' Recommendations