If you've been flipping through living room redecorating ideas – from magazines to the internet – you might have come across the suggestion of incorporating rugs into the area. Colorful rugs for living rooms are a great idea if you want to achieve a brilliant living space that makes you feel good every time you step in it. While colorful accent rugs make your room feel full of life, there are some general design guidelines you might want to check out here. We'll go over size, color, material, and styling, all with the same end goal: making your living room look stunning.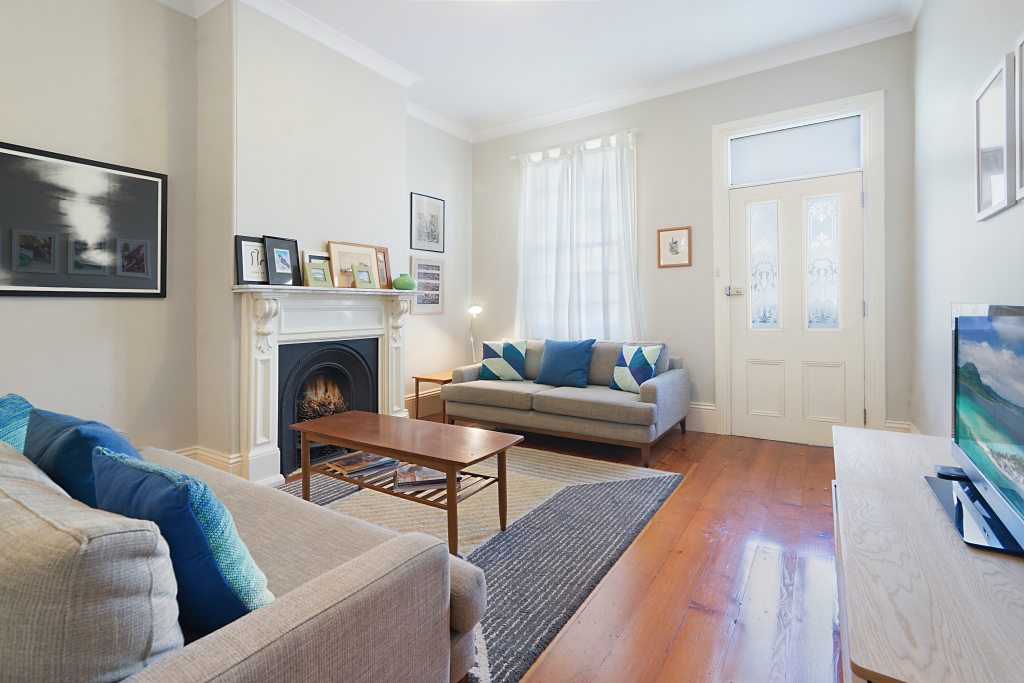 How do I choose a rug for my living room?
There are five key factors to think about when you're on the hunt for some colorful accent rugs:
Size:

Living room rugs are typically rectangular or square, covering the space underneath your chairs, sofas, and coffee tables. As a general rule of thumb, choose a rug that's one to two feet smaller than your living room's overall area. This leaves space between the wall and the rug, exposing your floor instead of burying it completely.
Color:

Stylists recommend deep and intense colors like reds, oranges, and blues. Common styles include mandala patterns, chevron patterns, patchwork, traditional, and Moroccan rugs. You might also go for solid color rugs to pack a vibrant punch.
Material:

Popular materials include cotton, wool, jute (or other natural fibers), silk, and synthetic materials. Wool, synthetic rugs, and cotton are the most durable and comfortable while jute and silk should be reserved for low traffic areas.
Style:

This is a broad term, but we ask you to consider the shape of your rug, whether or not it's low-pile or high-pile, if it has tassel borders, and what type of weaving technique is used.
What is the best rug for my living room?
Ballard Designs says, "In the family room, select a size that covers at least the length and width of your furniture. A 5′ x 8′ or 6′ x 9′ rug is a good size to cluster furniture around for an intimate area. To expand the space, select a larger size that outlines the perimeter of the area."
Here are some common living room setups that might give you an idea for your home:
Scenario 1

: Your living room is small, has neutral-colored furniture, and is frequently used by your family of four. Choose a large, rectangular, patterned rug that fits your entire seating arrangement. Try a synthetic rug that's stain-resistant and low-pile for easier cleaning.
Scenario 2

: Your living room is spacious and you have multiple seating arrangements. One area is designated for play, the other for adults. Choose two rugs for each space–one synthetic and one wool, respectively. Purchase complementing colors like green and blue, orange and yellow, or pastel pink and baby blue. You can also purchase the same rug in different sizes.
Scenario 3

: Your living room is a medium-sized space with patterned curtains and colorful throws. It gets moderate foot traffic, but is prone to pet messes. Try a single-color cotton rug that covers almost the entirety of the room. Cotton rugs are easy to clean, are softer than natural plant fiber rugs, and you can order them in interesting weaves.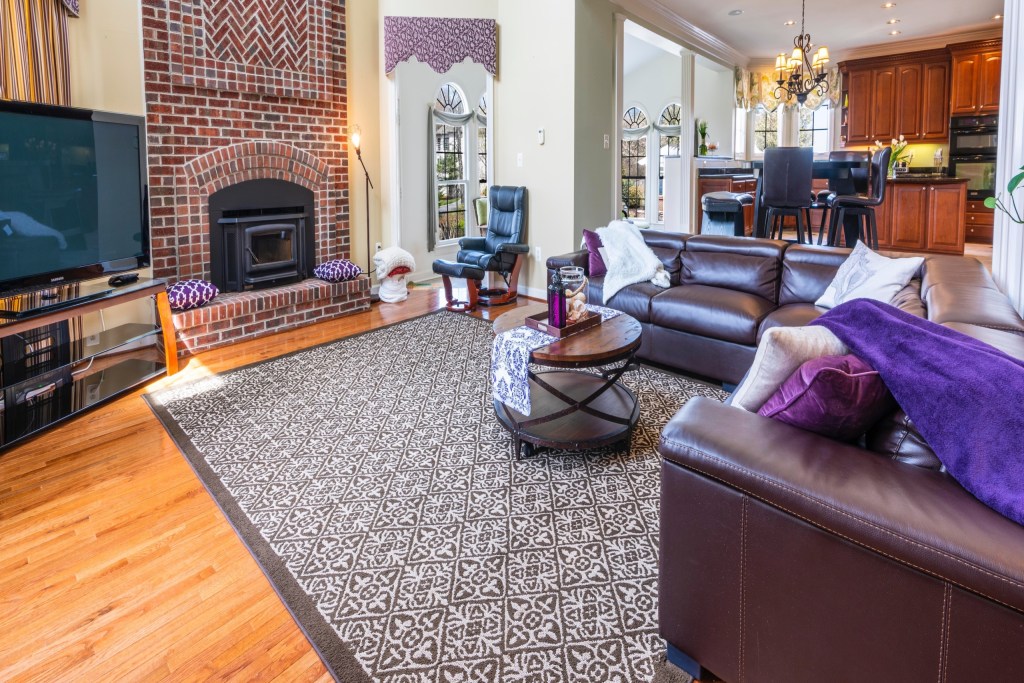 What color rug should I get for my living room?
Matching your rug to the rest of the room is a little tricky, but there are some rules you can base your decision on. First, take a look at your floor. Is it dark or light? Darker rugs tend to look best against lighter floors, and vice versa.
Second, consider what color and/or pattern your sofa is. If you already have a pattern here, it's best to go for a single-color rug. Choose complementary colors, or pull one color from your couch into your rug. For instance, if your couch is purple, pink, teal, and orange, choose just one of these colors as your rug color. Designers recommend making your rug the second most dominant color in your room.
Third, think about what would look best with your walls or curtains. Patterned walls and window coverings will look best with non patterned rugs or rugs with very understated designs. Again, choose a secondary color from your wall or curtains for your rug.
Lastly, think about the overall color palette and lighting of your living room. If it's leaning on the dark side, bring in some zest with bright hues like citrus-inspired colors or candy-influenced shades. For already bright rooms, tone it down with more somber tones like earthy reds, aubergine, or dark emerald.
Home Decor Bliss lists these as commons colors for area rugs:
Natural Beige
Blue
Grey
Jewel-Toned
Green
Burgundy
Black And White
How do you style a colorful rug?
Interior designers stand by the rule of making your rug the secondary color in the room, with your sofa or other large furniture being the first. From your colorful accent rugs, pull in one or two colors and bring it over to smaller decor like a coffee table bowl, photograph frames, or a planter. Rug Knots says, "It entirely depends upon your personal preferences but its always a plus if you match everything in a room. Try using contrasting patterns with your couch and rugs. Use a neutral toned rug with bold colored sofas and vice versa."
Make sure your furniture legs at least touch the rug for a tied together look. This also breaks up the room if you have an open floor plan that combines your dining room and living space together. If you follow our tips and tricks above, your furniture and rug should mesh well instead of fighting for attention.
Shopping for the right colorful rugs for your living room might be more stressful than not, especially if you don't have a knack for interior design. Luckily, our how-to guide can help you single out the right size, color, material, and style to bring the room together, whether that's through a large, family-friendly, cotton rug or a style-first, function-second luxury piece.
Editors' Recommendations