Most smart home gadgets have the same issue: They were designed by someone (or a team) in Silicon Valley enamored with making your home tech-y and "cool." I know many with smart home things that start their commentary on the gadgets with a familiar refrain: "I wish it wasn't so…"
So large. So plastic. So flashy. So loud. So ugly.
The smart home should look like any other home; just with some intelligence underpinning it all. A door should open as you approach because it knows you're the owner or lock automatically after a few minutes. You should be able to provide digital access to anyone you like and revoke that access without the awkwardness of asking for your key back.
Level Lock is the first smart home device we've encountered that does all of this. It looks like a "normal" lock but has so much under its surface. The is also available in several finishes and with many feature options.
The Level Lock experience
No home device is going to please everyone, but the Level Lock does a sensational job of being familiar without being offensive. I don't have much to say about its style, which is, oddly, the best compliment I can give. The fact that the Level Lock aesthetic doesn't encourage much discussion is a positive.
The battery sits in the deadbolt itself. Unlike many smart locks that require swapping out AA batteries every few months, the Level Lock uses a more specialized battery that lasts a lot longer. In our cost analysis — and so long as the Level Lock battery life is as promised — the cost difference is negligible. What you save is time swapping batteries. The worry your smart home door lock will lose power vanishes, too.
Sure, Level Lock needs its battery changed, but if I compare my experience with this lock versus my former August lock, the experience is much different. I would have had to change the August lock batteries at least once by now if I were testing side by side. Level Lock still says my battery is "Healthy."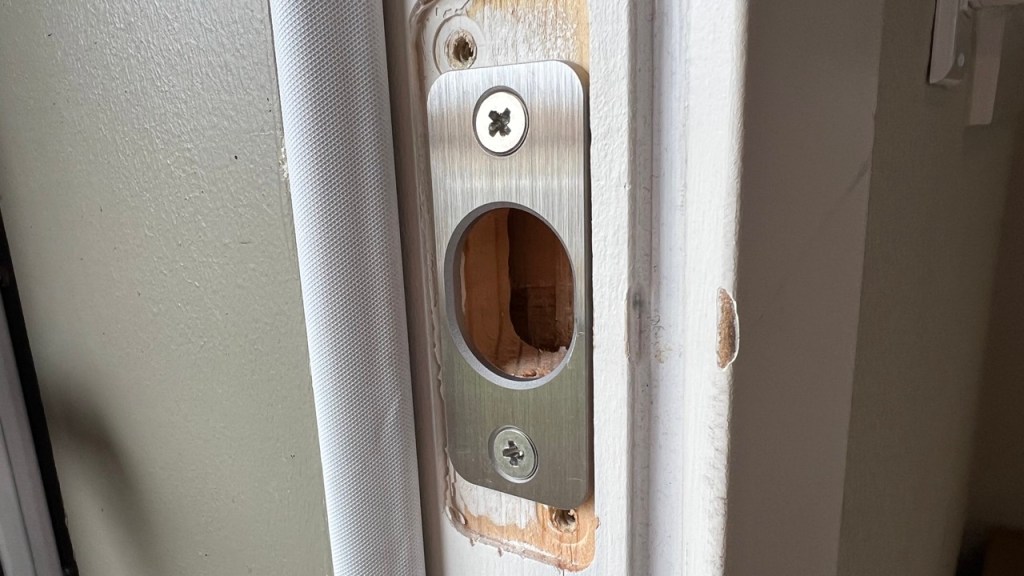 Installation
Have you ever installed a "dumb" front door assembly? Then you've already had practice installing Level Lock.
Again, the genius of Level Lock is that it's a lock first, inside and out. There are no odd, clumsy substructures to hang the lock on or unique long screws you can't lose or else. The only trouble I had was with the plate on the door jamb itself not quite lining up, which required a bit of fiddling.
You will need to use all of Level Lock's gear. The door jamb plate that comes with the lock is necessary; I couldn't have used the existing one. This isn't bad or wrong, it's just a consideration. Depending on the equipment already installed, you might need to do a bit of extra work to get Level Lock installed correctly.
I will note that Level Lock did "fail" the first few times I used it. It didn't want to latch immediately and retracted, thinking something was blocking its way. I simply kept locking and unlocking, both manually and via the app, for about 5 minutes before Level Lock understood everything was OK.
Software
The Level Lock app is straightforward and simple to use. The main screen has the option to lock or unlock the door with a long press on an icon. There's a log for activity, a list of who has access to your door, and settings.
Level Lock's app isn't laudable. It's also not laughable. It's no better or worse than any other app for a smart lock we've tried.
Level Lock — should you buy it?
Do you want a smart home that doesn't scream "I love technology!" at your neighbors? Do you want a smart lock that doesn't make people exiting your home take a step back and ask how it works when all they want to do is leave? Do you want a lock that's smart without being smug?
Then you want a Level Lock.
comes in two variants: One has a touch capacitive exterior lock for unlocking via a touch from your finger ( ) and one that's more directly linked to Apple's HomeKit environment and allows for digital entry with digital keys (Level Lock+, the version we tested) at $299 and $329, respectively. Level Lock Touch Edition comes in four colors, and Level Lock+ has two options.
You can also opt for the , which is just the interior assembly of the Level Lock, and keep your existing deadbolt. This allows you to unlock your door via the Level Lock app or via an optional keypad ($79). For $249, you can get the original Level Lock, which has the same exterior styling as Level Lock Touch Edition and , just without the touch capacitive features or the option for digital keys.
Editors' Recommendations