Farmhouse styles feature cozy decor, timeless pieces, and homey interiors. And when it comes to your fireplace, you want this same energy to flow into your space so you can enjoy all that farm homes have to offer. Unfortunately, nailing the perfect fireplace mantel decor can be tricky. It's hard to find a balance between incorporating sweet and subtle home furnishings and going overboard with all the fine details. Here are some tips and tricks to help you take your farmhouse mantel decor from drab and boring to cozy and inviting.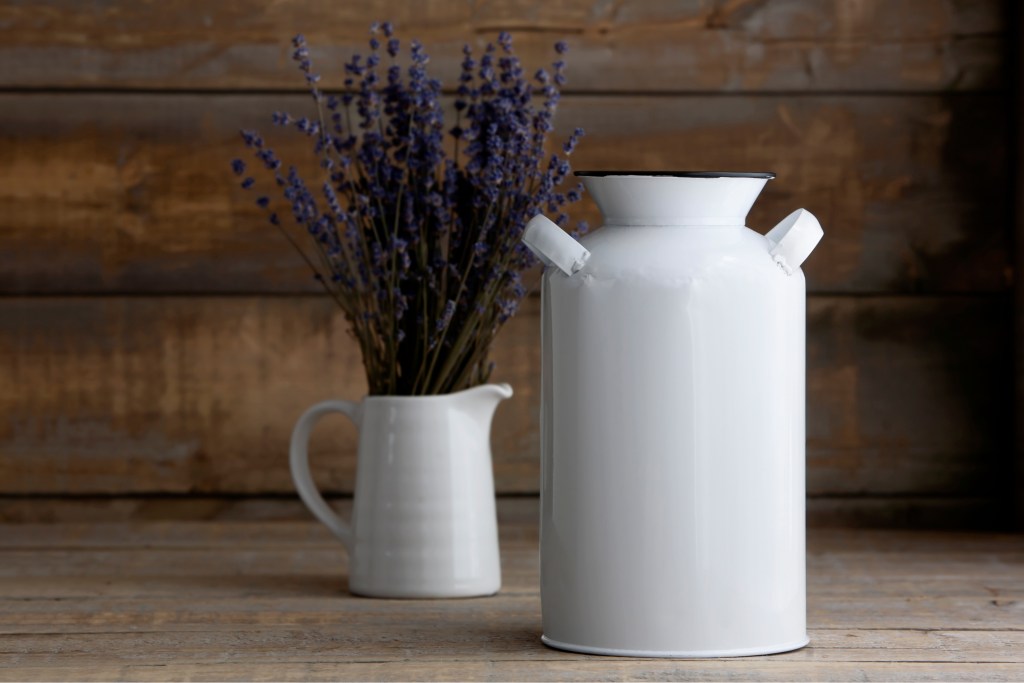 Try decorating with metal milk jugs
A classic decor piece for farmhouse fireplaces is a milk jug. Now, we're not talking about the plastic cartons you buy at the grocery store! Instead, decorative metal milk jugs that have a vintage flair are the perfect addition to your fireplace mantel. You can find milk jugs of nearly any size at your local home goods store, so you'll be able to find the perfect piece to place atop your mantel.
When decorating with milk jugs, we recommend sticking to timeless pieces. Opt for a sleek, vintage metal milk jug that looks slightly antiqued. Or use black or white painted jugs to suit your existing color palette. Since milk jugs bring an eclectic touch, you don't need to go overboard with colors to draw attention to the decor. Instead, add two or three small milk jugs on your mantel, and use them in place of vases to hold lovely greenery or flowers.
Wood window frames are a classic addition
If there is a lot of wall space above your fireplace mantel, you may be able to add a wood window frame for additional detail. Wood window frames are a great geometric decor option for farmhouse styles. They work similarly to traditional paintings or mirrors, except they offer a more vintage and rustic look to your design scheme.
Try adding an antiqued or paint-chipped window frame above your mantel. Be sure to measure your space before purchasing this decor piece, as some window frames can be quite large. When decorating with the frame, add some greenery or small potted plants nearby for a stunning look.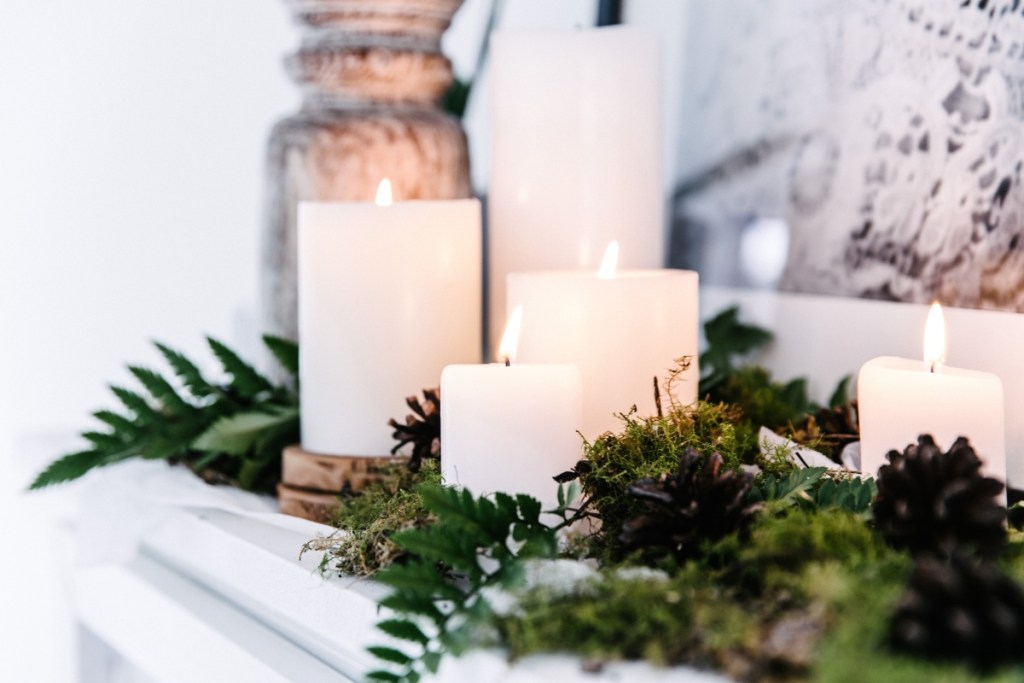 Candles and lanterns add a soft touch
When it comes to creating a gentle and cozy atmosphere surrounding your fireplace mantel, you can't go wrong with incorporating a few candles or lanterns. Candles and lanterns add a touch of soft lighting that allows your space to feel relaxing and comfortable. One of the best ways to use these decor pieces in your design is to add a candelabra or two and place unscented white candles in them.
Alternatively, you can add larger candles to glass dishes and fill the bottoms with stones or glass pebbles. Use three candles in a group and place them on a shallow dish to protect your mantel for a more authentic look. You don't have to light these candles, but the look they provide is sweet and homey. Additionally, adding large and small lanterns around your fireplace can give your space a vintage appeal.
You can't go wrong with a bit of greenery
Of course, one of the best ways to adorn a farmhouse fireplace mantel is to use greenery. Small garlands, potted plants, flowers in vases, ferns in milk jugs, or other plant materials are a fun way to add a rustic and outdoorsy touch to your farm home. Plants make the perfect decor addition because they can be paired with everything on our list thus far and more. They help accentuate the beauty of your other decor elements, and they add a bit of liveliness to your space.
If you're looking to add more farmhouse appeal to your fireplace mantel, these are some of the best and most popular solutions. Enhance your farmhouse mantel decor by pairing a few of these ideas together. For example, center a wood window frame on your mantel beside a couple of milk jugs filled with wildflowers. Or add some candles wrapped in green garland. No matter how you style these pieces, you're sure to find a combination that highlights your home's design.
Editors' Recommendations