Whether you're planning to sell your house soon or it's simply time for an update, the right exterior paint color can have a massive impact. The color you choose can improve your home's curb appeal and help spruce up the entire neighborhood. Plus, selecting a high-value hue can make your home sell faster and earn you more money, too. But unlike painting an interior, there are a number of factors to consider when selecting your house color. Use these tips to choose the right color palette and check out some of our favorite (and most profitable) color schemes for houses.
Tips for choosing an exterior color palette
Are you asking yourself, "How do I choose a color scheme for a new house?" Here are a few suggestions to help you find the right palette for your home.
Design around existing features
Unless you're planning a total renovation, you won't be able to alter the colors of your roof shingles or tiles, pathways, driveways, or stonework. When selecting a new paint color, keep the hues of these features in mind. Look for the undertones of these elements and select paint colors that will bring them together cohesively.
Consider the house's style
In addition to the existing elements, you should also think about the house's architectural style. Your paint choice should feel appropriate for the type but not dated. While you don't have to stick to historical guidelines, the color combinations can create an aesthetically pleasing look. Most paint manufacturers have historically accurate color collections to inspire you. Or you can research your home style online. Use these sources as inspiration for your palette.
Select multiple colors
Exterior paint palettes have three basic parts. The field color is the primary house color. Then there's the accent color used for doors, shutters, and other small areas, and the trim color used for railings, window and door casings, roof edging, and other trim. Typically, the trim color contrasts with the field color. Don't be afraid to go bold for the accent color, as long as the hue doesn't overwhelm.
Test the paint samples
Exterior paint can look significantly different on your house than it does on the paint chip. The best way to determine if you like your paint choice is to test it on the house. Buy a quart of the paint and apply it in an inconspicuous area. Examine it at different times of the day and in various weather conditions to get a feel for how it will look on your house.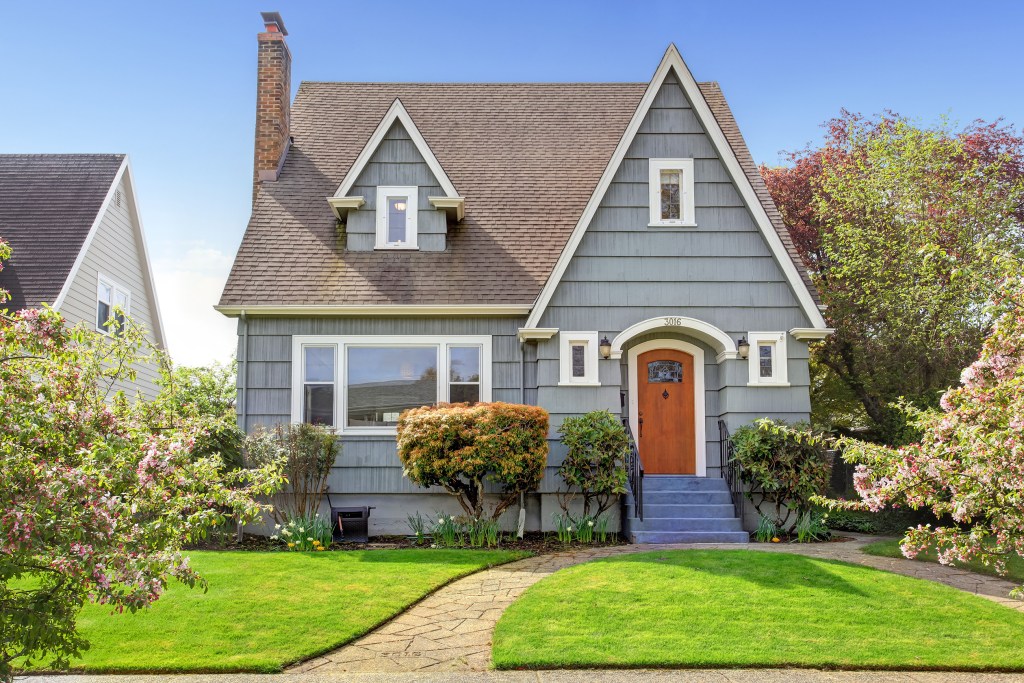 Color combos to consider
What colors look good together on a house? Here are a few ideas to help inspire your exterior color palette.
White and dark
When it comes time to sell your home, classic neutral paint colors provide the largest ROI, thanks to their mass appeal. Stick with the tried and true classic combo of white with dark trim. You can add a pop of color with a bright accent color or increase your profit even more with a charcoal, smoky, or jet black-colored door. A 2018 report from Zillow looked at 135,000 photos of sold homes around the country and found that homes with these door colors sold for $6,271 more than expected.
Blue-gray
Shades of blue and gray have grown in popularity over the past few years. A blue-gray shade for your field color pairs nicely with neutral trim or complements natural textures like stonework and wood trim.
Green
Rich greens like sage and olive are trendy inside and outside the home, but they look especially great on the exterior of Craftsman-style homes. Match the green with beige or cream trim and a dark accent color for a stunning look.
Black
Black is a striking choice that works particularly well on modern and minimalist homes. The neutral shade works well with natural textures and most colors. You may want a lighter color for the trim and accent to create contrast, or you can lean into the contemporary look with a monochromatic gray color palette.
Go bold
While bold color choices may not appeal to all buyers, you can make your home stand out with an unexpected color pairing. You can mix and match primary colors, pair a bright field color with grounding neutrals, or select trim and accent colors that wouldn't ordinarily be found together on an exterior color palette.
Modern neutrals
As mentioned, neutral shades are usually the safest choice for exterior paint. But this doesn't mean they have to be boring. Choose a modern neutral like greige or peach for the field color. Match it with a classic white trim and a bold burgundy accent color.
Colors to avoid
The Zillow report found that houses painted a bright, creamy yellow sold for $3,408 less than other homes. So, if you're looking for a new hue, stay away from this controversial shade.
There's a lot more that goes into selecting an exterior paint than just picking out your favorite color. You'll need to consider the unchangeable colors already on your property, your home's architectural style, and the ROI of the paint color. With these factors in mind, you can start browsing paint samples at the hardware store, using our favorite color combos as a springboard for your own ideas. With just a little bit of effort, you'll soon have the best-looking house on the block.
Editors' Recommendations