If you're tired of looking at the same old large room in your basement and need some inexpensive remodel ideas, we're here to help. Having a basement is wonderful for entertaining, for housing an extra bedroom or office, or for using as storage, but it's often one of the most underutilized spaces in a home. But there are ways to breathe new life back into it with just a little paint, furniture, and imagination.
Here are a few basement remodel ideas to get you started. You won't believe what a big difference small changes will make in your home.
Add color and texture
Basements are often dark and oddly shaped. Either they are one giant square, or they are an odd shape with hallways and rooms that don't feel cohesive. One way to combat this and make a large space feel cozier is paint. Find a calming color like medium gray or sage green and paint either a feature wall or the entire space. Obviously, if you don't have a lot of light to bring in, you should opt for lighter colors to keep it feeling as open and bright as possible. You can also add wallpaper, batten board, or a herringbone feature wall to anchor the space and decorate around it.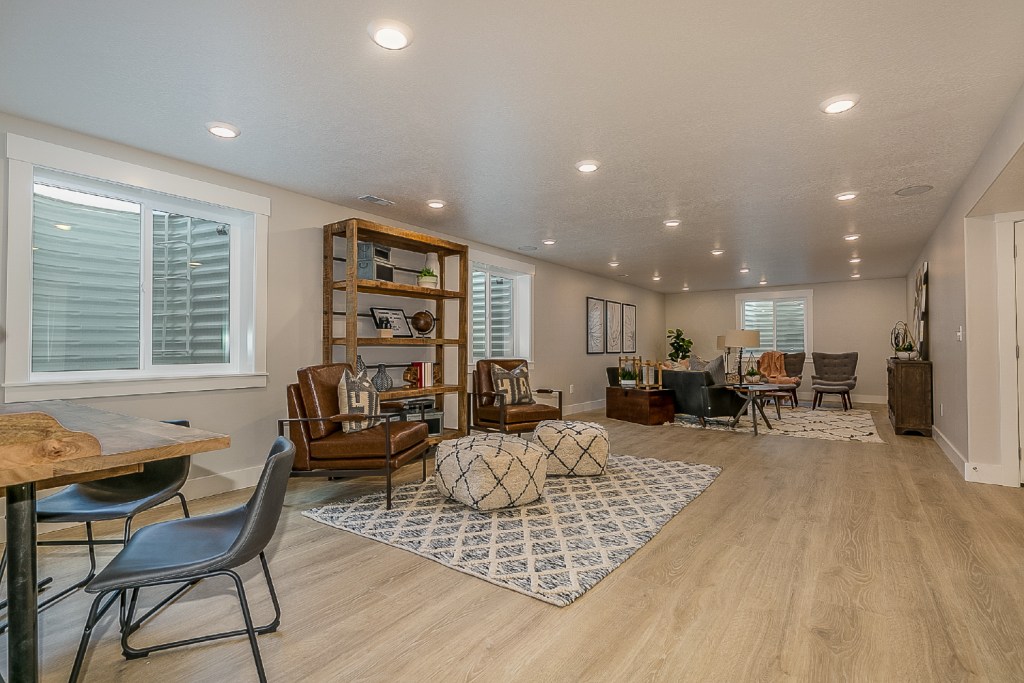 Dedicated areas
If you're dealing with one big room, designating different parts of the room for different activities can help break up a large space. For instance, if you want a home gym, dedicate part of the basement for it with clear delineations like mats, weights, etc. Then, you can dedicate another area to watching the big game with a couch, TV, and decor to center that space. Finally, you could have a dedicated reading nook with a bookshelf and comfortable chair. You can use the furniture and decor you already have, but rearrange the room so that each area has purpose and meaning.

Game room
If you have little ones or love to host game nights, why not turn your basement into a game player's dream? Invest in a card or game table and put shelving up (or a closed storage cabinet) to house all the games (or toys when the kids are young). Not only does it give your basement a sense of purpose, but it frees up your living room and kitchen from all the chaos and mess game nights brings with it. Once you have the space set, you can decorate the walls and have other seating areas for people to chat or watch TV.
These are just a few basement remodel ideas you can do without putting up doors, walls, or other structural changes, minimizing cost and allowing you to enjoy the area more. You'll be surprised what paint, decor, dedicated areas, and texture will do to really bring your basement space alive.
Editors' Recommendations