Hanging plants from your ceiling may give a splash of life to any spot, and may make an area lush and inviting. Hanging planters are especially perfect for brightening up a dull or dreary corner of the room. Of course, if you're a plant lover, you should give some thought to what you want to put in your planters, as well, with special consideration to how exactly it will grow and what type of light, temperature, and watering needs it will have. (Also, will it be within reach of pets? Make sure the plants you choose aren't toxic to them here.)
From there, it's time to choose an eye-catching hanging planter like one of our favorites below to complete the look you're creating:
1. Spherical Hanging Planter
This Spherical Hanging Planter from Houzz is a unique and modern option, perfect for almost any location indoors or out. The 8-inch pot inside the planter is easily removable, and the planter's dimensions are 25″ W x 25″ D x 25″ H. Available in brown taupe only, some customers said theirs arrived looking even prettier than the pictures online suggested. Get it for $165.
2. Dacia Macrame Cotton Hanging Planter
Another of our favorites is this subtle Dacia Macrame Cotton Hanging Planter from the Bungalow Rose Shop at Wayfair. For $40, this planter offers a charming invitation to peek in at your plant as it rests amid an ornately woven white cotton nest. With dimensions of 33" H x 16" W x 2" D, this elegant planter has a hanger on top and long tassel on bottom, and it easily slips over appropriately sized pots.
Gardening Know How lists several reasons you might want to consider a hanging plant. They are at a perfect level, especially for those who find it hard to bend as with traditional gardening and planting methods.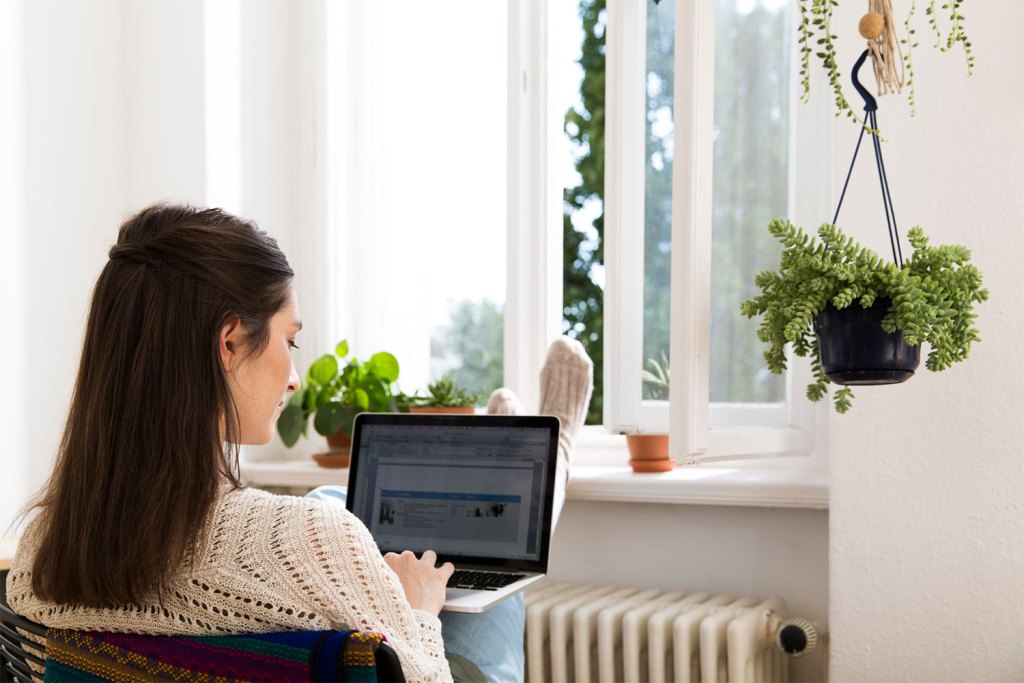 3. Sloth Hanging Planter
For a slightly smaller space, try out this adorable 4.25-inch Sloth Hanging Planter from Urban Outfitters for less than $20. Swinging in its hammock and smiling up at guests, this hand-painted ceramic sloth is easily kept clean with a soft wipe. This little cutie would be ideal for many types of the currently popular easy-to-care-for succulents and air plants. Looks great hanging in windows, too. Dimensions are 7.3" W x 5.25" H.
4. Authentic Mexican Talavera Hanging Planter
Put a pop of brilliant color into any bland corner you choose with this beautifully hand-thrown, hand-painted, and glazed Authentic Mexican Talavera Hanging Planter from Plow & Hearth. Available in a red or white pattern, this vibrant, authentic Talavera planter is sure to dazzle guests wherever you put it, whether it be indoors, on a patio, hanging on a balcony, or otherwise. Comes with a metal hanger. With dimensions of 11″ D x 18″ H including the chain, you can get this delightful piece for $90.
5. Quirke Plastic Hanging Planter
This one-of-a-kind Quirke Plastic Hanging Planter from the Wrought Studio Shop at Wayfair comes in a set of two, each measuring 6.25" H x 7" W x 7" D and weighing in at 0.5 pounds. Made in the Netherlands, these are stylishly chic in sky blue and white with adjustable cords allowing for a range of lengths from 19.5 to 39 inches long. Both frost-resistant and rust-resistant and able to hold up to 4.5 pounds, these planters would also look great with air plants or succulents. Get them for $50.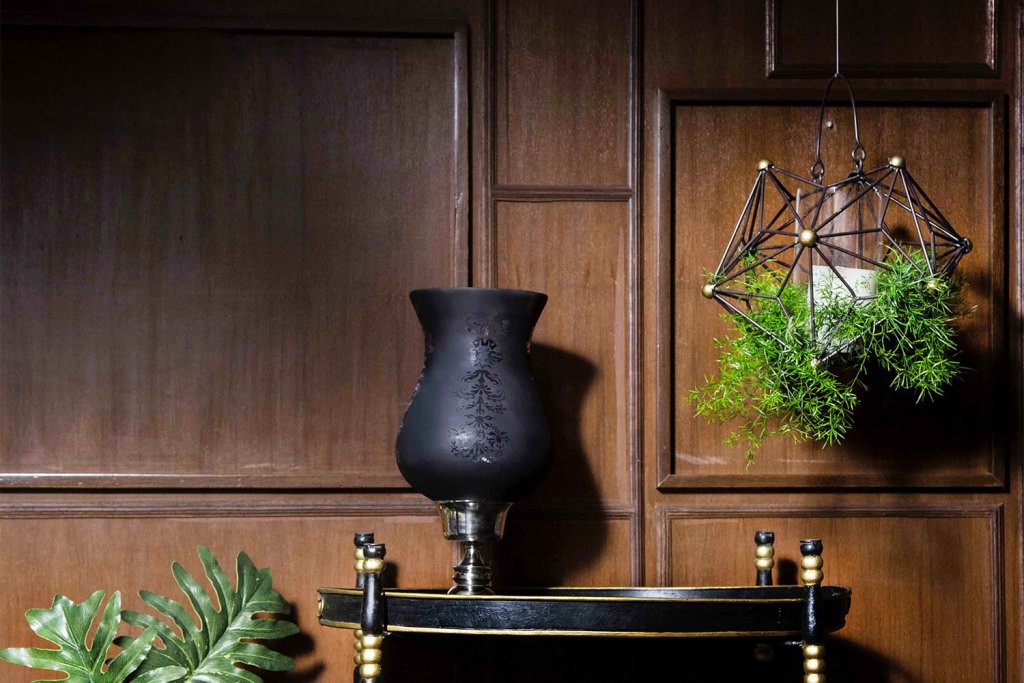 6. Hand-Painted Ceramic Splatter Round Hanging Planter
Does Jackson Pollock come to mind with this one? This artistic Hand-Painted Ceramic Splatter Round Hanging Planter is a steal at $25 on Etsy's HelloMariluStudio. Available in five planter colors and seven splatter colors, you can also add a rationalization if you like, and you can choose your favorite cord color: pink, yellow, or rust. Dimensions are 3.14″ W x 3.54″ H. Impeccably made and packaged, it ships from the U.K. within three to five days of your order.
7. Ashok Round Ceramic Hanging Planter
Next up is a tasteful planter from Birch Lane Heritage brand. The Ashok Round Ceramic Hanging Planter comprises pleasant stoneware with light-colored wooden beads. With dimensions of 35.5″ L (including both the pot and string together) and 5.5″ W in diameter, this planter would work well in a group of three or more in a fresh, modernistic home. Available in gray or cream, this planter is $35.
8. Hanging Planter Sign
Put your prettiest bloomers on display with this fun find. For those who like a rustic-farmhouse look, Houzz has a Hanging Planter Sign for $50. Useful either outdoors or in, this planter has an antique vibe with its distressed white washed look over the 3 bucket planters. At 7 pounds with dimensions of 4″ W x 17″ D x 24″ H, this piece ships free, already assembled, ready for you to fill and mount as you wish.
ProFlowers reminds us of the multitude of options available to those looking to spruce up their indoor areas.
9. Hanging Macramé Terrarium
Brighten up a blank spot with this Hanging Macramé Terrarium. Arriving as a set of five, these spacious, glass terrariums are held cozily in carefully hand-braided cotton macramé, ready to be filled with whatever you choose (Aside from the plants shown, layers of sea glass, moss, beach stones, or other goodies make for a picturesque terrarium from the outside, if you're looking for ideas). This set comes with four single terrariums and one double — dimensions are 6.5" H x 7" D and 9.5" H x 11.5" D — and the hangers are 42″ L.
10. Pomegranate Fruit Medium Planter
For some really stunning, high-quality hanging planters, stop over at Angus & Celeste. That's where we found this glazed porcelain Pomegranate Fruit Medium Planter (also available in small), which is lovely for both indoors and out. With delicately painted pomegranates all over its surface and a sturdy, stainless-steel hanger set and drainage hole, you'll want to buy it for $90 or look into financing options. It ships from Australia or New Zealand within days of your order, often arriving within a week or less.
With these ideas as your starting point, we're certain you'll find your own hanging planter in no time. Remember to choose your corner (or other area) for hanging based on the needs of the plants as well as your need for sprucing.
Editors' Recommendations