There's nothing that makes life easier than home automation, and that's why smart homes are on the rise. To make things more accessible, many smart home apps can now be accessed on an Apple Watch. Maybe you only need an app for a single smart appliance, like your smart home security system, smart lighting, or smart thermostat, or perhaps you have a whole smart home you'd like to control from one app. Either way, we have you covered with the best smart home apps you can access with a touch of the wrist.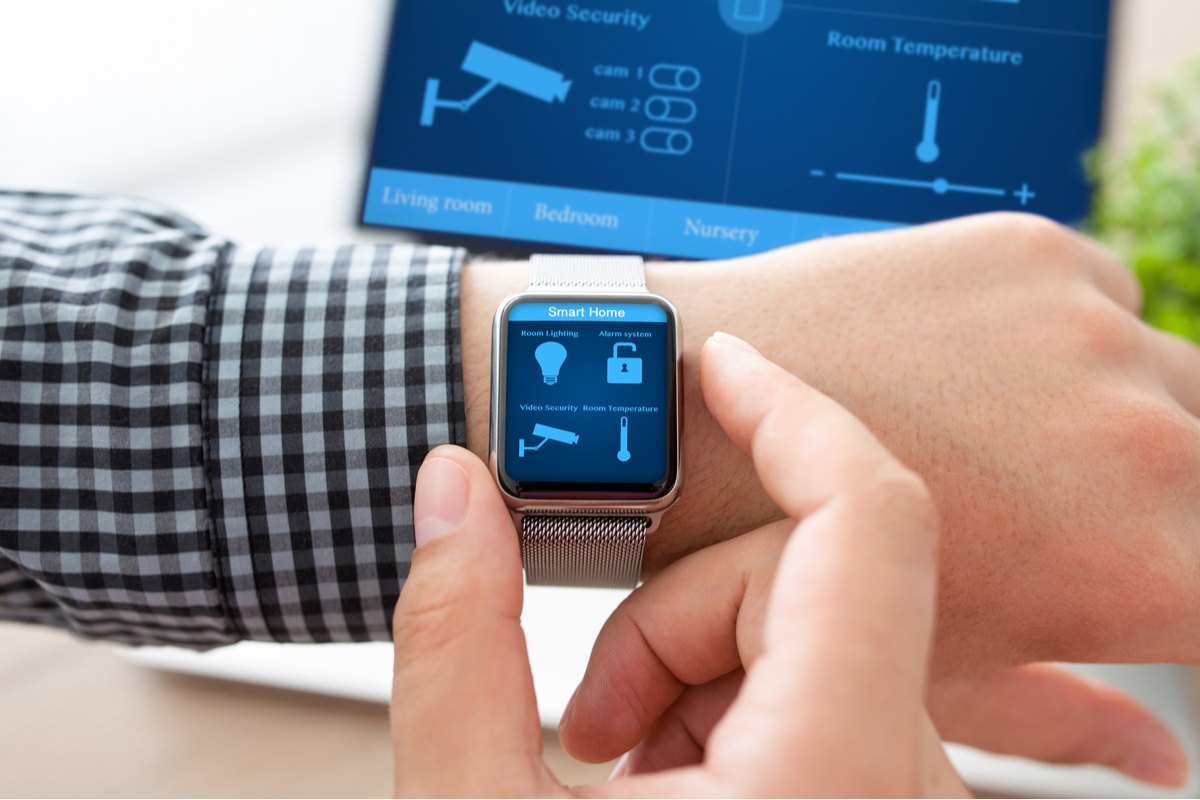 Best security smart home apps
Some of the most common smart home devices are those that secure the home. Whether you want to access your home security app for your video doorbell, smart lock, or nanny cam, these apps can give you that freedom.
August Home gives you control of your front door, anywhere you are. With the app on your watch, you can lock and unlock the door, give keyless entry to loved ones, view activity reports of who is accessing your home, and more. It's compatible with August Smart Lock, August Smart Keypad, August Doorbell, and many other smart lock products. You can also integrate it into your smart home systems like Apple HomeKit.
With Home+ Security, you can manage your entire home security system from your Apple Watch. In addition to seeing who's at your front door through the video doorbell, the app notifies you of activity through your door and window sensors. It can even alert you of fire and carbon monoxide warnings in your home, all right on your wrist.
Best lighting smart home apps
Smart lighting is incredibly convenient in the world of smart homes. Who wouldn't want to come home to a well-lit house or turn off the bedroom light without getting out of bed? With these smart lighting apps, you can now access your smart lighting from your wrist without getting up or searching for your phone.
With the LIFX lighting app, you can control a whole house of smart lights or even just one from your Apple Watch. The app also allows you to manage groups of lights, set schedules, and even play with different colored lighting for whatever mood you're in.
Best smart thermostat apps
Since energy costs are among the largest bills for homeowners, smart thermostats are popular since they help conserve energy while you're away or sleeping. These smart thermostat apps allow you to access your home's HVAC system from your Apple Watch.
Ecobee's Apple Watch app controls compatible lighting and security devices in addition to your smart thermostat. If you only have the thermostat, though, you can manually adjust the room's temperature and set comfort schedules to automatically adjust when you're headed home for the day.
The great thing about Honeywell is that you can schedule thermostat adjustments based on your routine, and it has geofencing technology. This means that if you come home or leave unexpectedly, it will still adjust the temperature so you can save on energy costs.
Best all home automation apps
If you have or are looking to create an entirely automated smart home, it's frustrating to use separate apps for each of your smart devices and systems. You need a simple app to control all of your smart devices from your Apple Watch, and these apps are some of the best ones.
With Total Connect's app, you can control your home's security system, lighting, and temperature from your Apple Watch. It can open your garage door, set schedules for your lights, and remotely adjust your home's temperature. You can even view live video feeds through your video doorbell and chat with the visitor at your front door. It's compatible with all the Honeywell smart home products.
The Home+ app is compatible with your entire Apple HomeKit, from your home's security cameras and sensors to your smart lighting and thermostat. You can automate your thermostat, view your video camera feed, and switch on or off your lights with one swipe.
Another home automation app that's compatible with Apple HomeKit, HomeDash is extremely user-friendly and has high-performance capabilities. Even if you're not all that tech-savvy, you can control your smart home with the simple and easy operation of this app.
IFTTT's app can be accessed on your Apple Watch and gives you the ability to control more than 700 smart home devices. It works with Siri to control your home's security, thermostat, and lighting, and you can also get weather updates, control your stereo system, and get alerts from thousands of other apps.
Your smart home devices are meant to make your life easier, so it makes sense that they should be accessible on any smart device you own. Unlike your phone, your Apple Watch is always a touch away, and these smart home apps will be too.
Editors' Recommendations