When Disney released its beloved movie Smart House in 1999, it was a fun work of science fiction. Little did we know that 2o years later, smart devices would indeed have the capability to control everything in the home including the temperature, locks, lights, security camera, and so much more. With internet-enabled televisions, you can stream all your favorite TV shows and movies without a cable box, and there are even coffee makers that you can program to brew your cup of joe before you even wake up.
With the popularity of smart technology at an all-time high, total home automation is on the rise. We're going to discuss what home automation is, how it works, and how you can jump on this trend to set up your 21st century home.
What is home automation?
Home automation refers to a house that functions completely, or almost completely, via a network of smart, connected devices. The user can schedule or program these devices easily and conveniently, often from their smartphone. This means you can control and monitor the goings-on inside your home from anywhere, whether it's across the road or across the world.
How does home automation work?
Smart devices are most convenient when they are easy to access and operate. A fully automated home often has a command center or hub where you can control all of your smart devices from one place instead of operating them on several different apps. Usually, this is only the case if you purchase all your devices from the same company or choose devices that are interoperable with your other products.
This allows you to program connected commands so, for example, you can set your lights to turn on when the front door opens or program your thermostat to adjust to an eco mode when you leave for work and engage your home's security system. For home automation to be worth the cost, it has to really add to your quality of life. Managing ten different devices from separate locations is just about as burdensome as having no connected devices at all.
Benefits of home automation
Aside from feeling as slick and smooth as James Bond with all those high-tech smart devices, there are plenty of other benefits that come along with home automation.
Comfort
From the temperature of your home to lighting that matches your mood, you can customize your smart devices to fit your own preferences. Schedule your thermostat to turn up the heat before you get home, or program your lights to turn on as you pull in the driveway. It's like having a little butler living inside of your phone.
Convenience
You can remotely program your devices and schedule their operation at the touch of a button whether you're sitting in the living room or on the beach. If you want to let the dog-walker in at a certain time, you don't need to make a spare key. Instead, simply unlock the door when they arrive and lock it again when they leave.
Peace of mind
Home automation means you can check the status of your devices at any time and from anywhere. If you're not sure that you locked the door, concerned you left an appliance running, or curious if your Amazon package arrived, you can check on it in a snap.
Savings
Particularly when it comes to smart lighting and thermostats, your energy usage will definitely decrease with home automation. For example, you can set your lights and thermostat to operate in eco mode to conserve energy, especially when you're away from the home.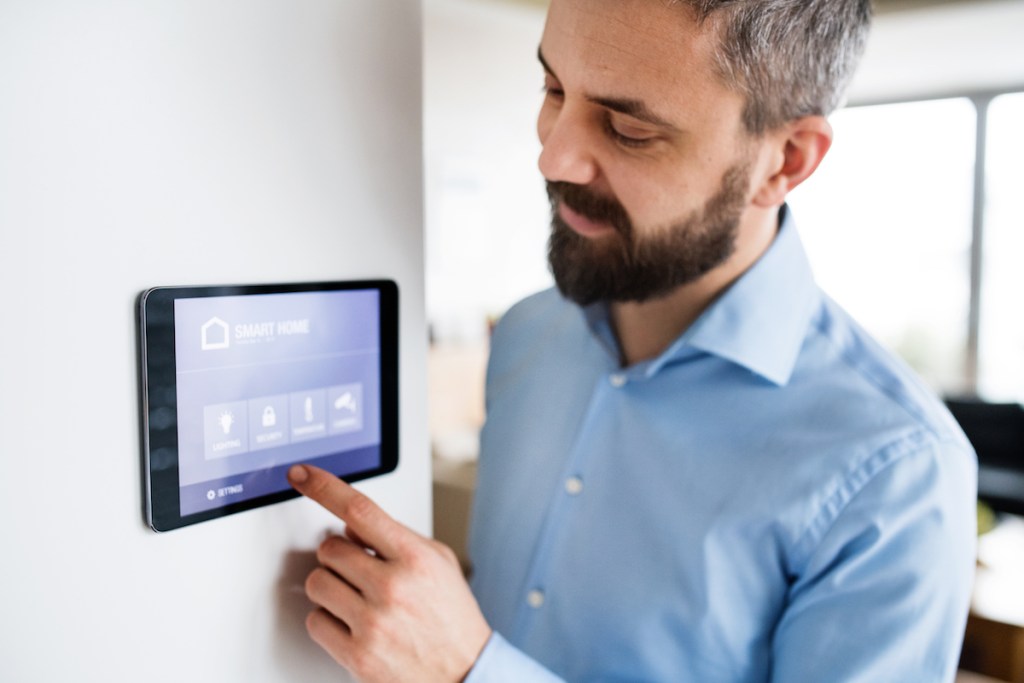 Smart home devices to start out with
There's a smart device for just about anything nowadays, so it's best to start small with a few basics before diving into total automation. These are the smart home devices that will deliver the greatest impacts.
A smart thermostat and lighting provide the greatest return on your investment in terms of comfort and monetary savings.
Smart speakers will add the most to your overall convenience with voice commands since you can operate and control all other devices hands-free.
A smart security system will give you the most peace of mind as you can always have eyes on your home.
Smart devices are great for simplifying one-off tasks, but developing a network of these connected gadgets will really up the game. If you've been considering automating your home, we can assure you that it's well worth it. Start with a few helpful devices, then expand your network until you can dim the lights, lock the doors, start your favorite movie, and order groceries all with the sound of your own voice.
Editors' Recommendations