With remote work becoming increasingly popular, smart home technology is steadily on the rise. People are spending more time at home and thus realizing the added comfort and convenience of having smart devices in their home. Voice technology, home automation, and mobile apps that control your home's devices even when you're away are just some of the smart technology that consumers are raving about. Did you know, though, that there are some smart devices for your home that can reduce your homeowner's insurance? We've got the scoop.
What are the most popular smart devices in homes?
People generally purchase home smart devices for comfort and security. If you can get something done from your smartphone or have it done automatically instead of manually, why wouldn't you splurge? That's why these three smart devices are the most popular in smart homes today, according to a Nationwide survey.
Video doorbells
With online shopping becoming so incredibly popular, delivery people dropping packages at the front door seems to be an everyday occurrence. That's why homeowners have started installing video doorbells. Not only do these smart devices let you know when your package has arrived, but you can also see and record who is at your door and what they're doing.
Security cameras
While they perform a similar function as video doorbells, security cameras are running and recording at all times, while a video doorbell typically records video feed only when the doorbell is rung. Security cameras can also be installed in a variety of places other than at the front door, so you can keep an eye on your garage, your back door, or even areas inside your home.
Smart thermostats
The biggest draws of smart thermostats are comfort and energy savings. These gadgets can reduce your home's heating and cooling output when you're away or when you're sleeping. They can be set on a schedule or even detect when you come home and adjust the thermostat's settings automatically for your comfort.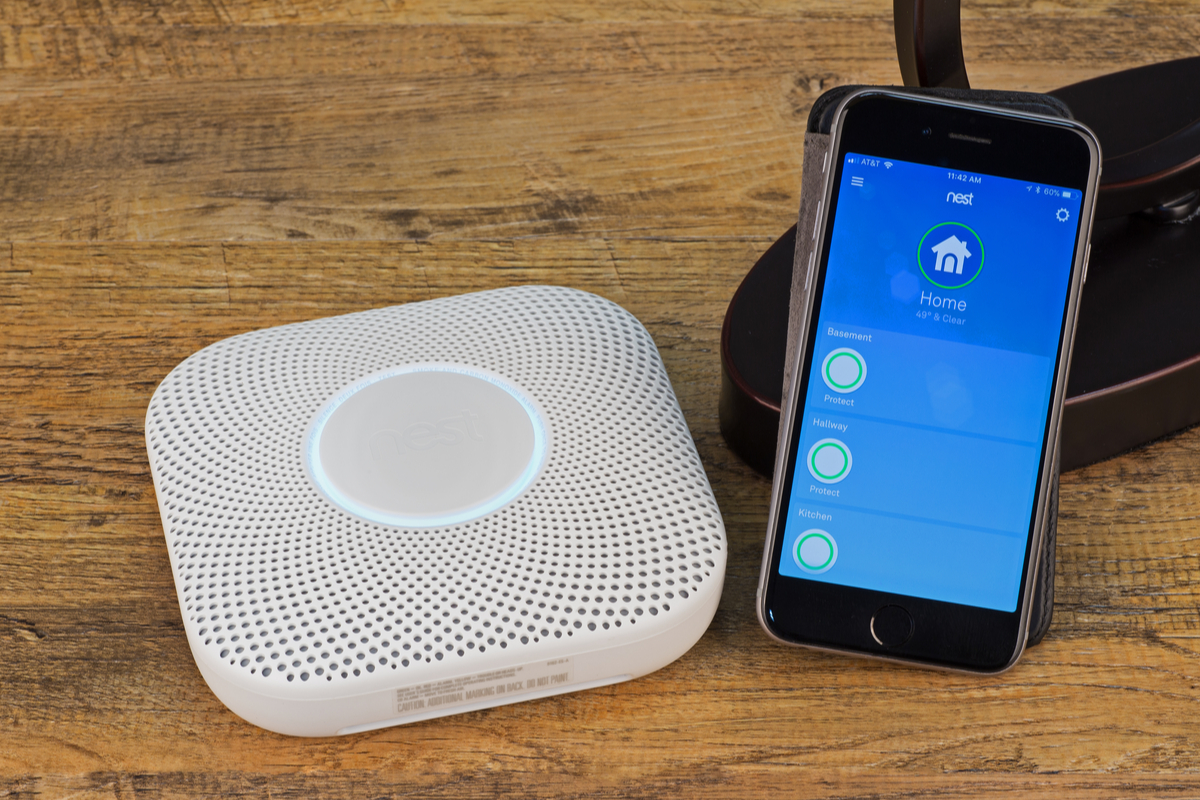 Some smart devices can lower home insurance premiums
While the most popular smart devices simply offer comfort and convenience, others protect against harm, which can lower the risk of home damages. Your homeowner's insurance covers both your home's structure and your belongings, and it will cover repair or replacement in the event of damages. Damages covered under your homeowner's insurance policy can be caused by a variety of events, most commonly:
Fire or smoke damage
Water damage
Burglary or vandalism
Sarah Jacobs, the vice president of personal lines product development at Nationwide, advises homeowners when they are considering smart devices in the home. "When researching smart home technology, think beyond the more obvious devices," she said. "Consider other potential hazards that could cause an issue, especially when you aren't in the home — including water and electrical issues."
Having certain smart devices in your home can actually lower your insurance premiums by 2% to 5% because these devices can help prevent or mitigate such damages and reduce risk for the insurance company. Here are a few examples of these devices.
Smart smoke detectors
While home smoke detectors are required in most regions, smart smoke detectors notify you via mobile app when smoke is detected. This means you'll know if there is a fire sooner, even when you're not home, and the damages can be minimized.
Freeze alarms
Damage to pipes in your home are often caused by freezing temperatures and the expansion of the frozen water in the pipes. A freeze alarm notifies you, even when you're away from home, when the temperature in your house is reaching freezing levels. This allows you to adjust the temperature and fix the issue before it becomes a messy flood of a problem.
Water leak detection
Jacobs says that "the number one cause of avoidable claims (nonweather related) is water loss, with most of those claims coming from pipe, fixture, or water heater leaks." Water leak detection is a great way to combat water loss and catch it before it leads to major water damage. Sensors are put in place to detect when water is leaking somewhere and notify you before it's too late.
Smart home security systems
While damage and loss incurred as a result of burglary is covered under your homeowner's insurance, you can greatly reduce your insurance premiums by installing an approved smart home security system. Good features to include are door and window sensors, alarms, cameras, and a smart door lock. These features help reduce the chance of burglary, which reduces the risk for the insurance company and ultimately reduces your premiums.
While comfort, convenience, and savings are some of the best benefits of smart devices in your home, they're not the only benefits of the less frequently installed smart devices we've discussed. "The most overlooked benefits are avoiding the stress of having to get major home damage fixed, potentially reduced repair times, and easing anxiety when you leave the house," Jacobs says. "That kind of peace of mind is greatly overlooked."
Editors' Recommendations