Some of the most common 'smart home' upgrades are security cameras and connected doorbells. Where much of the connected home gadgets fail, these seem to have resonated with homeowners.
All have quirks. We reviewed the Lorex QHD Wired Video Doorbell recently and found its lack of HomeKit support an issue. The Logi Circle View Doorbell doesn't have that issue; it's all-in on HomeKit.
But does HomeKit make the Logi Circle View Doorbell a winner? Here's our honest review.
Pros
HomeKit support
Great iOS app
Sharp night vision
Facial recognition
Familiar doorbell form-factor
Mounting template makes install much easier
Cons
HomeKit support requires a hub
No Android support – at all
May increase your iCloud subscription cost
Could use a few additional mounting options
Setup is a bit tedious
Delivery and unboxing
No issues. The Logi Circle View Doorbell comes in a small box, easily deliverable via any service.
Setup
Because it's a wired doorbell, you'll need to cut the power to your doorbell so you can wire the Logi Circle View Doorbell to your home. You will also need basic knowledge of electrical wiring; Logitech includes detailed installation instructions and a website dedicated to a more thorough walkthrough.
For those uneasy about self-installation, Logitech has a website for finding a professional to do the work for you.
Pairing hardware with software happens via the Home app on your iPhone or iPad. There's no clunky app to download; just wire the doorbell up and pair it to the HomeKit platform via the Home app.
Along with the doorbell you get a few mounting pates, hardware, and a small box to install in your home's existing chime box. All-in it took me about an hour to install, but I've done this before. If wiring, mounting, and power management are daunting, hire a professional.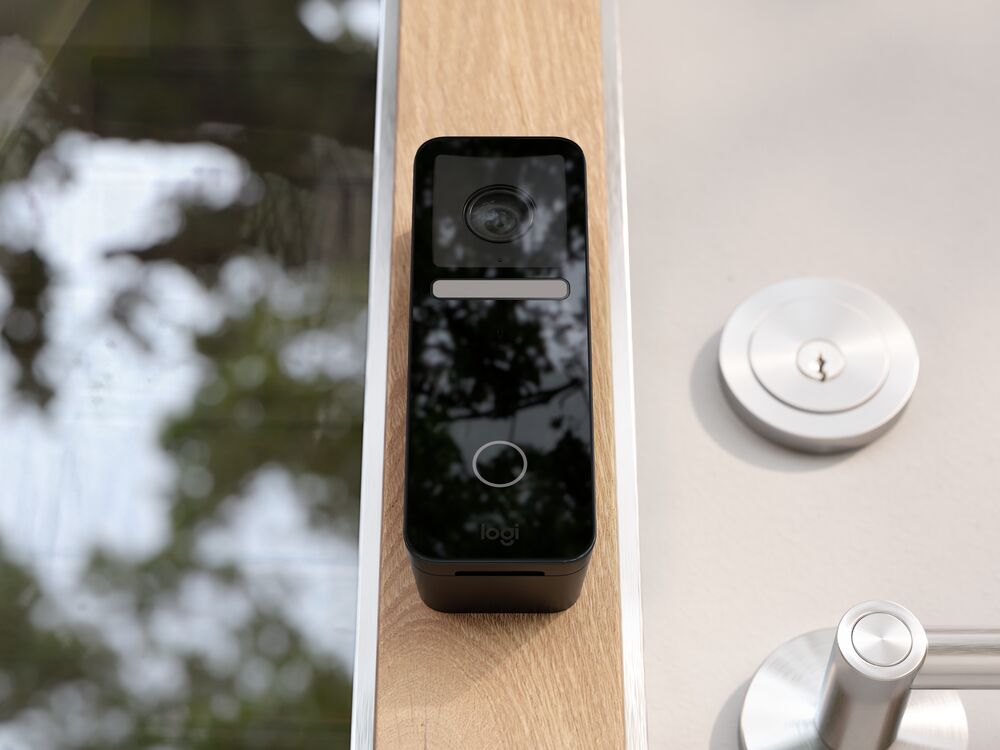 What others say
Our sister site Digital Trends notes the Logi Circle View Doorbell is an overall great connected doorbell but knocks its lack of Android support and need for a HomeKit hub (more on that in a bit). Apple-centric site iMore underscores the HomeKit feature set, adding "it isn't for everyone, the Logitech Circle View Doorbell is the doorbell for fans of HomeKit."
What users say
Apparently, nothing. The Logitech website doesn't list user reviews and the doorbell is not available via Amazon, WalMart, Best Buy, or Target. We poked through the Logi Circle View Doorbell's support pages but couldn't find any considerable issues to report.
Initial impressions
The Logi Circle View Doorbell is a sharp looking all-black chunk of plastic. Very much a piece of technology. When unboxing, the various components – hardware, mounting brackets, 'chime kit' for your home's chime box – are all in their own boxes, which makes it nice when staying organized during installation.
It also looks like a doorbell. The August unit it replaced on my home didn't look like a doorbell, so people didn't use it. A plastic rectangle may not improve your curb appeal, but visitors use it and that's the main point.
Below the camera is a night vision light, motion and light sensors, and LED notification, and the doorbell button circled by a light strip so people know where to press.
I do wish the Logi Circle View Doorbell had more mounting options. There's a sort of cradle included for mounting straight-on, or a 15-degree mount for angling the unit left or right. No options for tilting it upward, downward, or any other way you may need. Logitech assumes its wide-angle camera will catch everything, it seems.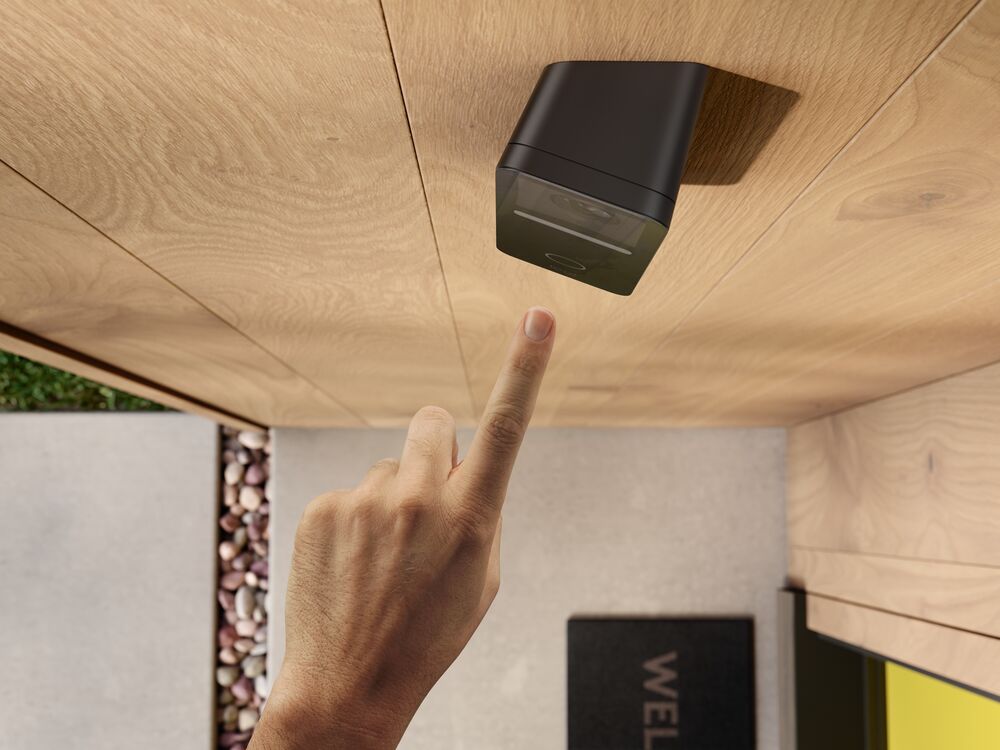 After one week of use
The camera's 160-degree field of view captures in 3:4 aspect ratio (portrait mode) and 1200 x 1600 HDR. You can also set up activity zones – a great option if your home is close to a street or sidewalk and you don't want to be alerted for cars driving by or someone walking a dog.
Night vision was also great, though I can't say the Logi Circle View Doorbell's was remarkably better than top competitors. In daylight, the Logi Circle View Doorbell has sharp video quality and using it as a two-way video chat was seamless. Some ding the fisheye view at the edges of the camera, but it's much less annoying than a lot of other doorbells.
Because I utilize HomeKit, the Logi Circle View Doorbell was always interesting. A caveat: you also have to have a HomeKit "hub" for video recording and remote access to your doorbell camera, which can be one of the following:
Apple TV HD
Apple TV 4K
HomePod
HomePod mini
iPad running the latest version of iPadOS
At best, this means an added $99 (HomePod mini). I already had a few of these devices, so no issues here. You will also need to subscribe to a 200GB or 2TB iCloud storage plan; $3 or $10 per month, respectively, or up to $30 per month via the Apple One bundle.
So why all the added gadgetry and subscriptions? Logitech went all-in on HomeKit and iOS, and those requirements speak to HomeKit's limitations. You need a hub so devices like the Logi Circle View Doorbell can communicate with iCloud and route services to your iPhone when you're away. It also uses your iCloud storage plan to house video recordings: you can record up to ten days' worth of video.
Video recordings don't count towards your iCloud monthly data allotment, which raises a few questions. Why do we need the $3 per month plan if it doesn't count towards the limit? As for that $10/2TB plan, you are required to have that that if you use five or more Logi cameras in your home. Again, if it doesn't count towards the full data limit, why?
Getting real about HomeKit
We still think HomeKit is the best connected/smart home platform around due to its deep integration with associated hardware. This opinion is an absolute truth for those ensconced in the Apple ecosystem as HomeKit is deeply embedded in all Apple hardware and software.
With HomeKit, the Logi Circle View Doorbell is a champ. Notifications are rich; you can play clips from the iPhone lock screen, and the Apple TV shows you who's at the door in real-time via picture-in-picture notifications.
You can also disable your doorbell chime and opt to have HomePods alert you when someone is at the door. Silly as it may sound, I love this feature. My home is laced with HomePods (stop laughing, please) so having the Logi Circle View Doorbell notify me everywhere is sublime.
Let's be honest: the Logi Circle View Doorbell is essentially third-party Apple hardware for HomeKit. Because it's wholly dedicated to the HomeKit ecosystem, it's specifically for people who are HomeKit users like myself. You don't even need to download a Logitech app: you set it up using the built-in Home app on your iPhone or iPad.
We can only assume Logitech did as much because it was seeing most of its users in the iOS ecosystem back when a unique app was required for its smart home hardware. As-is, Logitech is outright avoiding Android, Amazon Alexa, and Google Home; not a big deal for me, but a curiosity, nonetheless.
The 3:4 portrait video viewing/recording is sort of odd since most other doorbells shoot in landscape, but I get it. Logitech is making the Logi Circle View Doorbell about your doorstep, not recording your neighborhood. Portrait mode provides a fuller view of who is at the door, and it may just help you see when kids are at the front door because the video is essentially head-to-toe for an adult.
Conclusion
Those with modern Apple TVs or HomePods will want to pounce on the Logi Circle View Doorbell. Those items serve as HomeKit hubs for the connected doorbell, making it the best option for those deeply invested in the Apple ecosystem. We'd like to think people reading this review have those items or are willing to make the Logi Circle View Doorbell their excuse to get extra kit.
Android users, Google Home fans, and Amazon Alexa devotees needn't apply. Logitech has nothing here for you.
After using the Logi Circle View Doorbell for better than a week, I think it might be my favorite smart home gadget – and I've tried far too many. It looks like a doorbell, the video quality is excellent, the front-facing light only illuminates as someone approaches, the night vision is sharp, and two-way video is lag-free on my (admittedly speedy) home WiFi network.
HomeKit integration is sublime. I stream all content via an Apple TV, and the popup notifications letting me see who is at the door on the TV is just one of those little touches that make the Logi Circle View Doorbell feel like a more integrated piece of my home, and the HomeKit platform.
I don't like the requirement to carry more iCloud storage. It feels like a subscription cost if you don't already have 200GB if iCloud or better. More mounting options would be nice, too. Portrait mode recording is fine, but if you want to use your doorbell cam to record more than your doorstep, this may not be the unit for you. (It's worth noting Logitech also has some great home security cameras if you want whole-home security.)
All told, the Logi Circle View Doorbell is an easy recommendation to make for anyone looking to upgrade their existing doorbell hardware. It's as good a doorstep video device as there is, night vision is great, and facial recognition makes choosing when to answer (or ignore, no judgement) your front door much simpler.
Editors' Recommendations