With nature-inspired home decor finding a way into every room in the house, it's no wonder that more and more people are looking to fill their homes with house plants. Adding in a little greenery adds life to your space and can help reduce the amount of stress in your life. And while you may think of springtime when you think of plants, they're a great addition to a home all year-round, regardless of the weather. December is an especially exciting time to stock up on indoor plants.
Benefits of December house plants
People tend to associate growing with spring, but indoor plants can grow any time of year, help decorate your home, and even help you have a happy, healthy holiday season.
Deck the halls
What better time to decorate than in December? House plants can be placed near the fireplace, on a ledge in the kitchen, on a windowsill, or on the floor in an entryway. No matter where they go, they can easily be incorporated with your normal holiday decorations.
Spread good cheer
We get less daylight in this winter month, which leads to seasonal blues for many as we stay in on cold nights. Adding plants in your home can improve your mood and boost your energy by having a piece of the outdoors right there with you.
Stay healthy
Plants can help eliminate the dryness that seeps into our homes during the winter months because they increase your home's humidity. They are also natural air purifiers, absorbing carbon dioxide and certain allergens — so hopefully, you'll feel as healthy as ever.
Best indoor plants for December
Here are some plants that could serve you best this month, livening up your home environment in more ways than one.
Amaryllis
These plants have thick stems and beautiful, dainty flowers. They come in red and white — appropriate colors for this time of year. Be sure to place them near a window that gets lots of sunlight or in a brightly lit room to get the best flowering from your amaryllis bulbs.
We also found that these flowers can be hand-dipped in liquid wax; for example, a white flower can be dipped in red wax to look like a candy cane. Be careful if you do this since the petals can be delicate.
Rosemary
A potted rosemary plant is perfect if you're celebrating Christmas. Its vertical stems shoot up and resemble tinsel. Plus, if you grow the plant thick enough, you can get it cut in the shape of a mini-Christmas tree that you can decorate with some light ornaments — though nothing that would weigh it down too much.
Rosemary will need long periods of indirect sunlight, so placing it on a windowsill or near a skylight is preferable.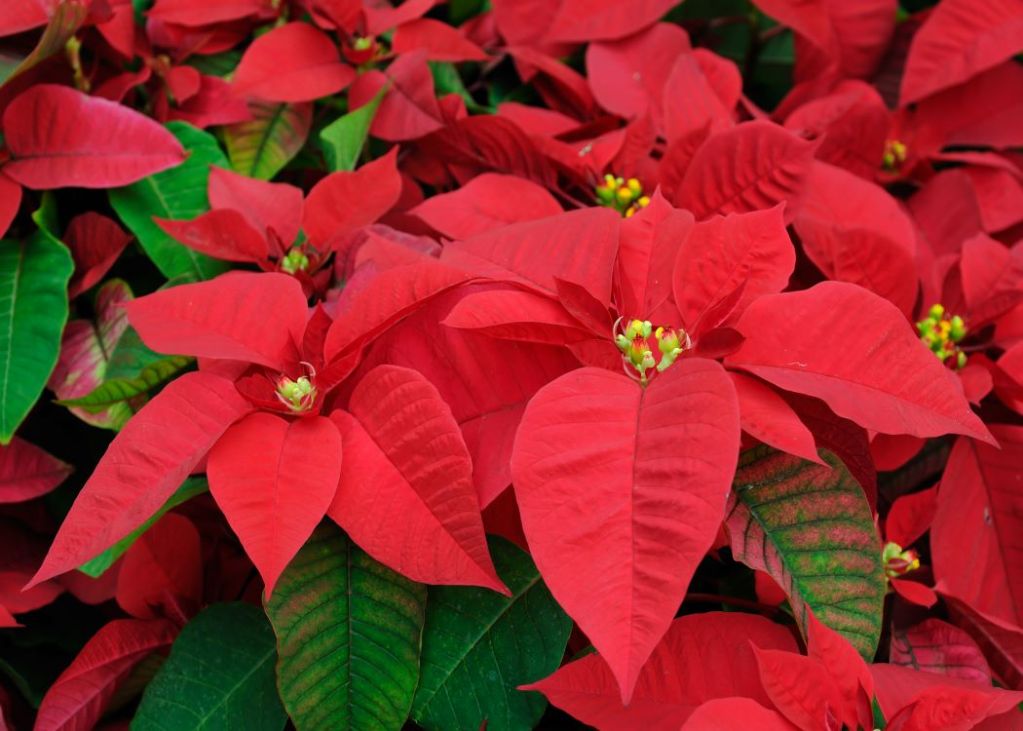 Poinsettia
The quintessential holiday plant, poinsettias are great because they are festive and only need bright indoor light. Keep the plant in the same room for consistency in lighting. Also, make sure the pot has prime drainage; the soil should be evenly moist, not wet.
You can choose from Christmas red or winter white — either way, these boisterous flowers are a December favorite you can't pass up.
Peperomia obtusifolia (Baby rubber plant)
Baby rubber plants are hardy and do not require much watering because they are in the succulent family. They take medium to bright lighting — no direct sunlight for these babies, making them great for winter.
Their round shape and bold, green color are whimsical and inviting, which could serve as a great complement to your holiday decor. We recommend pairing this plant with some nearby twinkle lights for the ultimate ambiance.
Sansevieria ("Snake" succulent)
Snake plants thrive in low light, which is ideal for wintertime. They are low maintenance and easy to take care of for those of you who are newbies to this. Some are small and can be placed on a table, but traditionally, they are floor plants that can grow several feet tall. Larger ones are known to purify the air, removing harmful allergens. The leaves of a snake plant often have unique patterns. Plus, if your plant is healthy enough, the leaves can be braided or twisted into cool shapes.
House plants add a fun element to the home, especially around this time of year when many of us would like to spread joy and good cheer. These five indoor plants, while each needing their own special care and maintenance, exude winter vibes and can brighten your mood and energy. Their natural role in the environment can give your home a brand-new feel.
So don't wait for warm weather to go plant shopping. Sometimes all your home needs in these cold winter days is a little extra TLC, and indoor plants know how to provide.
Editors' Recommendations