Despite the hype about New Year's Eve being the biggest night out of the year, many people prefer to spend the night celebrating quietly at home. If you fall into that category and you're looking for some creative ways to enjoy the holiday without having to fight crowds, worry about designated drivers, or contend with the overpriced prix fixe meals, you're in luck. We've pulled together some fun takes on New Year's Eve traditions that you can do without leaving your home.
Whether you'll be celebrating with your significant other, a small group of close friends, or young children, we have ideas and traditions that will make it even more special to ring out the old year and ring in the new!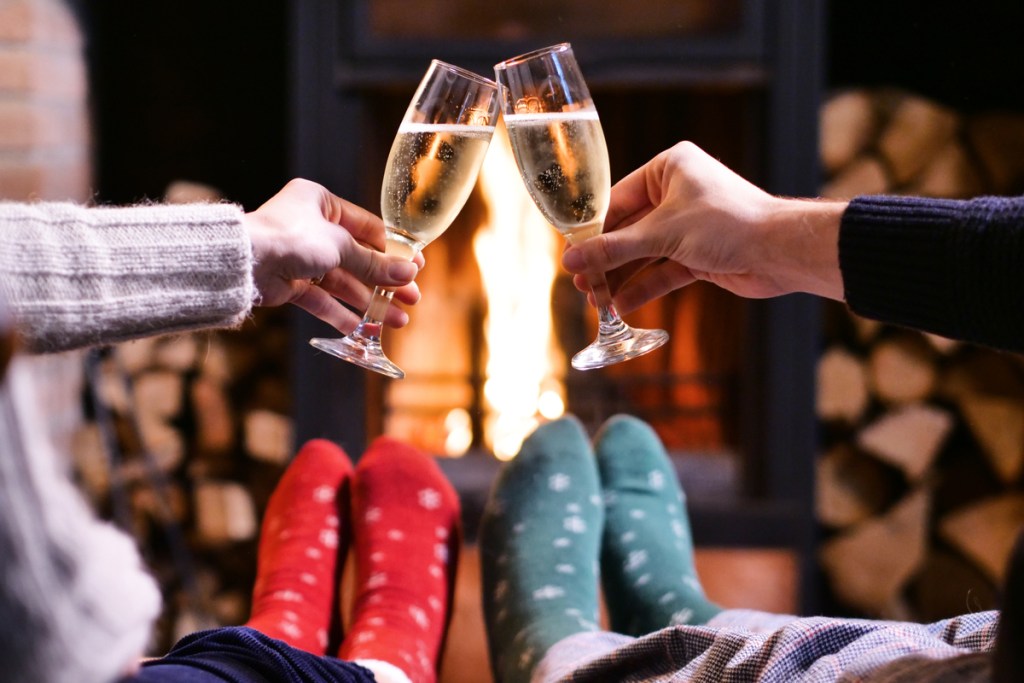 5 New Year's Eve traditions if you're staying home this year
1. Dress to impress . . . each other
Feel like getting dressed up in your best holiday finery? Do it. Is your idea of the perfect evening a night in your cozy PJs and fuzzy socks? Perfect. It's your stay-at-home party, and you get to make the rules. Invest in a couple of glittery New Year's Eve hats or headbands, and some party horns and blowers, to help put you in the spirit of the holiday, and let your clothing choices go wherever your mood takes you.
2. Make some delicious cocktails
One of the best parts about staying in on New Year's Eve is that you won't need to wait in line for an overpriced — and likely watered-down — drink. Restock your bar with your favorite beer, wine, and spirits, or better yet come up with a festive and tasty signature cocktail. And don't forget to have a bottle of bubbly on hand to pop at midnight.
3. Prepare plenty of snacks
There's no need to make a fancy dinner, but an assortment of tasty appetizers can really enhance your stay-at-home party. Look for recipes that you can make ahead and simply pop in the oven when you're ready to eat, or those that you can keep out on the buffet table for the duration of your evening.
4. Watch the ball drop
It doesn't quite feel like New Year's Eve without watching the ball drop in Times Square. Doing it from home lets you enjoy all the excitement without being outside in the cold — or contending with thousands of drunken revelers. Watch on TV and count down to midnight along with millions of people around the world.
5. Have a sleepover in the living room
Remember how much you loved sleepovers as a kid? Recreate that same feeling by planning on having a sleepover right in your living room. Bring out all of your fluffiest blankets and pillows, make a fire in the fireplace, and watch old movies together on the floor. Then fall asleep right where you are — no designated driver needed.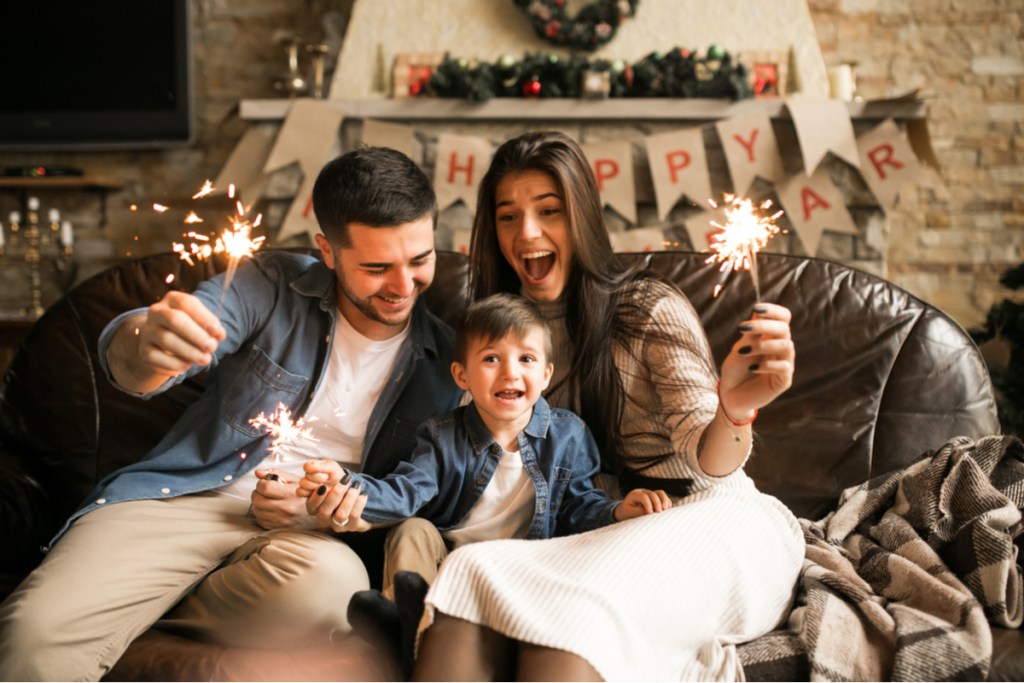 Celebrating New Year's Eve with the kids
If you opt to forgo a babysitter and spend the evening at home with the kids, there are a few ways you can help them enjoy this special holiday, too.
Create a special kid-friendly drink
Help set the holiday mood with a tasty "mocktail" that will make the kids feel extra special. This Sparkling Spiced Apple Cider Mocktail combines all the quintessential flavors of the season and is so easy to make.
Have a game night
Pull out all the kids' favorite board games and compete in a family game night marathon. Let everyone select a favorite game, and have the entire family play each one until you've awarded an official New Year's Eve board game champion.
Celebrate "midnight"
It's hard for little ones to make it until midnight, but there's nothing wrong with cheating a bit to make them think that they have. Do your own pre-midnight countdown, complete with banging on pots, blowing party horns, and giving New Year's kisses. Then you can get the kids safely tucked into bed so you and your partner can enjoy the real midnight countdown, just the two of you.
The holiday season is a whirlwind of parties, eating, drinking, and spending, and sometimes you have had just about enough by the time New Year's Eve rolls around. If you would rather round out the year with a quiet night in, you can still make it special for you, your significant other, your closest friends, or even your young children. You definitely don't need to go out to have fun as you say farewell to the old year and a welcoming hello to 2022.
Editors' Recommendations