If you love all things home decorating, odds are you may have spent some time on Reddit. The subreddit page r/HomeDecorating has loads of information, inspiration, and how-tos on all things home decor and how to find the best deals, where to find them, and how to turn regular items into dream items for your home.
Take this one example from Redditor u/aquareyus, who showed off an inexpensive Goodwill find that they turned into a gorgeous piece for home entertaining. "Took this $20 goodwill find & made the bar cart of my dreams. Cheers," they wrote, showing a before-and-after picture that is quite the transformation.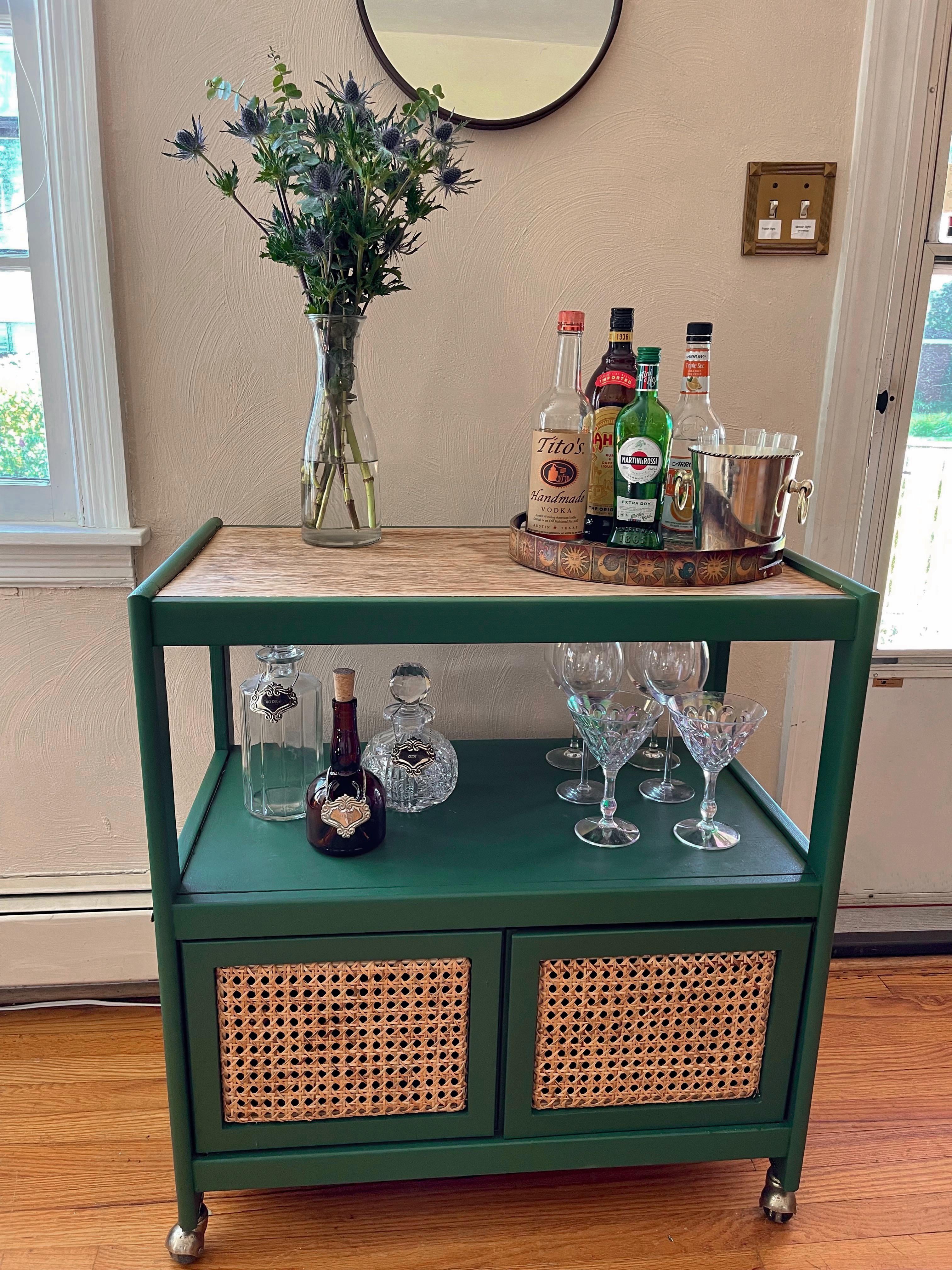 How to transform an older item
This Redditor showed how with just a little imagination, some paint, and new doors, an old, boring table can become a gorgeous bar cart. Before repainting any piece of furniture, it's best to sand it, so the paint is applied evenly. This can be done with a hand sander for smaller items like this or an electric sander for bigger items. Once it's completely cleaned, you can prime and paint it. We love the bold color choice for this cart, which brings it to life. The doors also give it a ton of character, and there are videos online available to show how to use cane webbing.
We weren't the only ones who loved it! They got a ton of positive comments back, like, "I really admire people like you that can see a plain/ugly piece of old furniture and have both the creativity to envision what you could turn it into and then the skills to make it happen," and, "I love that! There is nothing more satisfying than repurposing something old into something new and different."
How to spot items to upcycle
Whether you're looking for a bar cart or another home furnishing, spotting items isn't as hard as you think.
Look at the size and structure of the item.
Don't like the color or doors? No problem, those can be switched out with paint or similar to the above with cane webbing, new glass, or grasscloth.
Shelving can be wallpapered or sanded and stained another color if the item is real wood.
If you want to start smaller, find pots, jars, or glass bottles that can be upcycled into planters, candle holders, or vessels for growing herbs.
If you want to learn how to upcycle all types of furnishings and decor, most big box stores like Home Depot and smaller, independent stores will have classes on chalk painting, restoring wood, learning how to replace glass, and other tips and tricks on refurbishing items you have laying around the house or ones you find while antiquing. You'll be surprised once you get the hang of it how easily you can redo an old item and turn it into something new and on-trend.
Editors' Recommendations