There's no way we want to go back to the old days of big, boxy TVs. Not only do modern flatscreens offer a better viewing experience — complete with 4K and smart technology — but they can seamlessly blend into design. You can mount them on the wall (freeing up ample tabletop space for other things), hang them above fireplaces, and some even double as artwork when not in use.
Of course, you might just have an old entertainment unit collecting dust and taking up space in your basement. You no longer have a need for it — your flatscreen doesn't fit in the tiny allotted space, and who needs drawers for DVDs anymore? — but it's still a quality piece you'd like to do something with. Repurposed furniture is good for the environment and good for your wallet — and this creative upcycling project just might inspire you to finally find a spot for your old entertainment unit.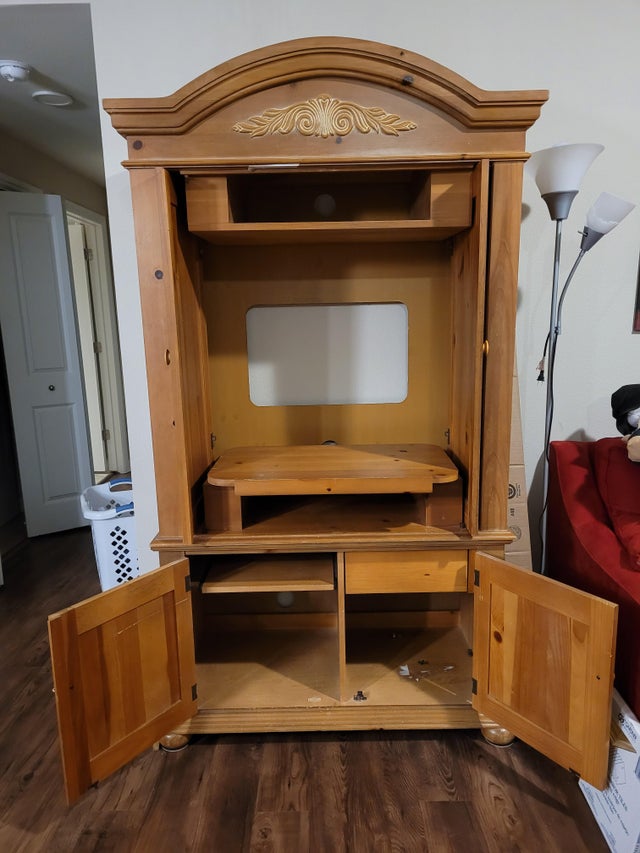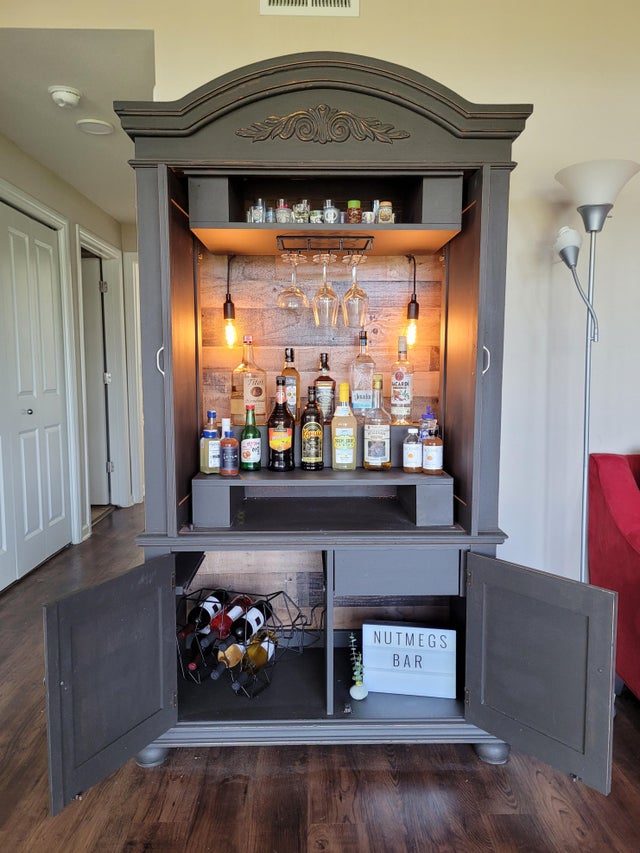 This entertainment unit gets new life as a bar
Redditor badmammajamma19 recently posted their repurposed furniture project to the r/HomeDecorating subreddit — and the results are gorgeous.
With some Behr Pro i300 interior paint in a gray color, some natural wood paneling, and industrial-style lighting, this Redditor turned a useless old entertainment unit into a modern bar, complete with a wine rack and glasses, a liquor display, and a sign proclaiming it Nutmeg's Bar (so named after the resident kitty bartender who "accepts tips in the form of headscratches & feline greenies").
Badmammajamma19 noted that after painting the unit, they used a high grit sandpaper to wear the edges, and they are still on the lookout for a serving tray or other short bar items (bourbon glasses, perhaps?) to fill out the former VCR area.
Redditor Significant_Bowler78 put it best when they said, "I had the exact same Broyhill Fontana armoire and gave it away. Now I'm wishing I still had it; you [did] a fantastic job repurposing it and turning it into a bar!"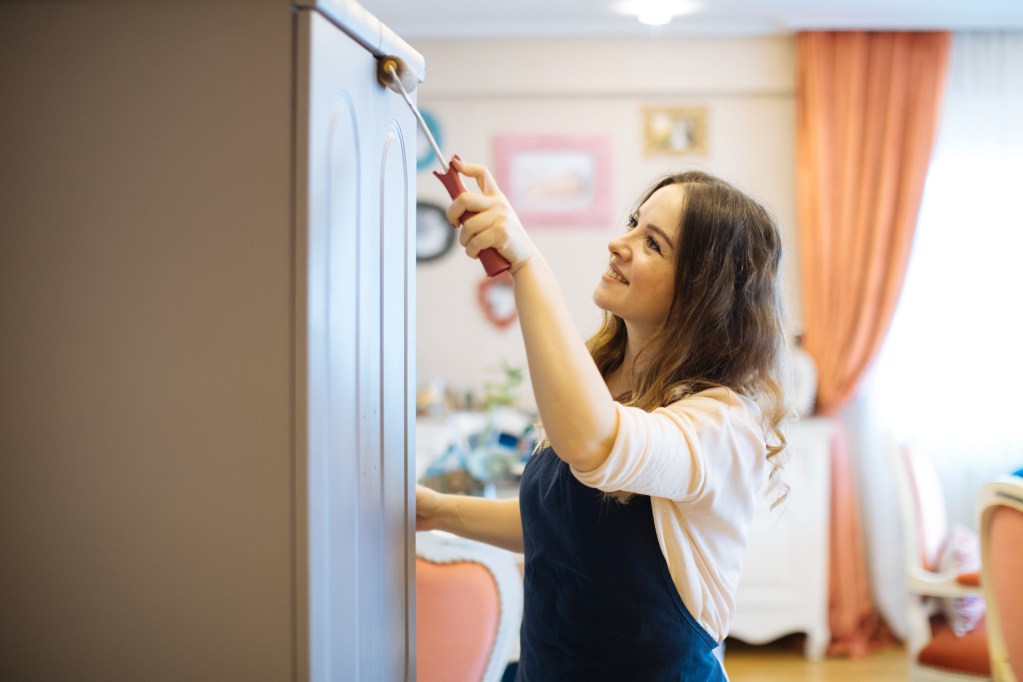 Other ways to repurpose your old entertainment unit
Don't have a need for a bar area in your living room or dining room? There are plenty of ways you can give new life to an old TV armoire.
Turn it into a bookshelf
With a little shelving, you can create a cozy space for your books — with or without the armoire doors. (And if books aren't your thing, you can turn it into a storage closet, a linen closet, a crafting closet — your imagination is the limit).
Create a spot for your baby's clothes
Need to add some decor to your newborn's nursery? Add a rod or two and you've got the perfect space for sweet little baby clothes. Plus, there's still plenty of room in the bottom section of this repurposed furniture project for diapers, wipes, and any other baby essentials.
Make your own kitchen pantry
Does your kitchen have too few cabinets? Create kitchen storage space for yourself. Add a few hooks for your pots, pans, or utensils, and shelves for baking trays, and you've got storage space for all your cookware. Or you could use those shelves to hold any extra food. (Make it the snack pantry, and you can keep greedy hands out of the main pantry.) For a little extra, add a blackboard or notepad so you can write down anything that needs to be replaced and make your shopping trips a little easier.
Those boxy old entertainment units don't have to go to the landfill — there are plenty of ways to repurpose furniture to be beautiful, functional pieces. If you have a dusty unit sitting in your backroom or find a steal at a garage sale or flea market, consider giving new life to old furniture.
Editors' Recommendations