As you look into some tips for entertaining parties, note that the oft suggested first step is the planning. And when you're planning the perfect patio party, it's important to think it through from beginning to end. You'll want to consider how many people will likely attend, what ages will be there, what kinds of foods and beverages they'll want, where they'll feel comfortable sitting, whether they prefer to play games or listen to music, whether they have any allergies, what kind of bug repellent you might need, and more. We've broken it down into sections, so you can get started by category:
Who is attending?
It may sound crazy, but give some thought to who will be attending, how well everyone gets along and how seating can be handled best, and what types of topics might be good or bad to start discussions. Also, do consider inviting your neighbors. It's always nice to invite everyone, plus, if they're invited, they might feel less resentful of noise if if wafts over to their window, just sayin'.
Decorations and set-up
What kinds of decorations would be appropriate for this party? Will we use environmentally friendly tablecloths and reusable silverware and napkins? Do we need to put out recycling containers for bottles and cans? Consider if colorful lanterns will work with this crowd, or would it be better to do balloons and send them home with kids? Decide what kind of decorations work for you. Some folks simply take a strip of recycled wrapping paper and place it straight down the center of the table and place all the centerpieces and dishes on it, and replace it whenever it gets dirty.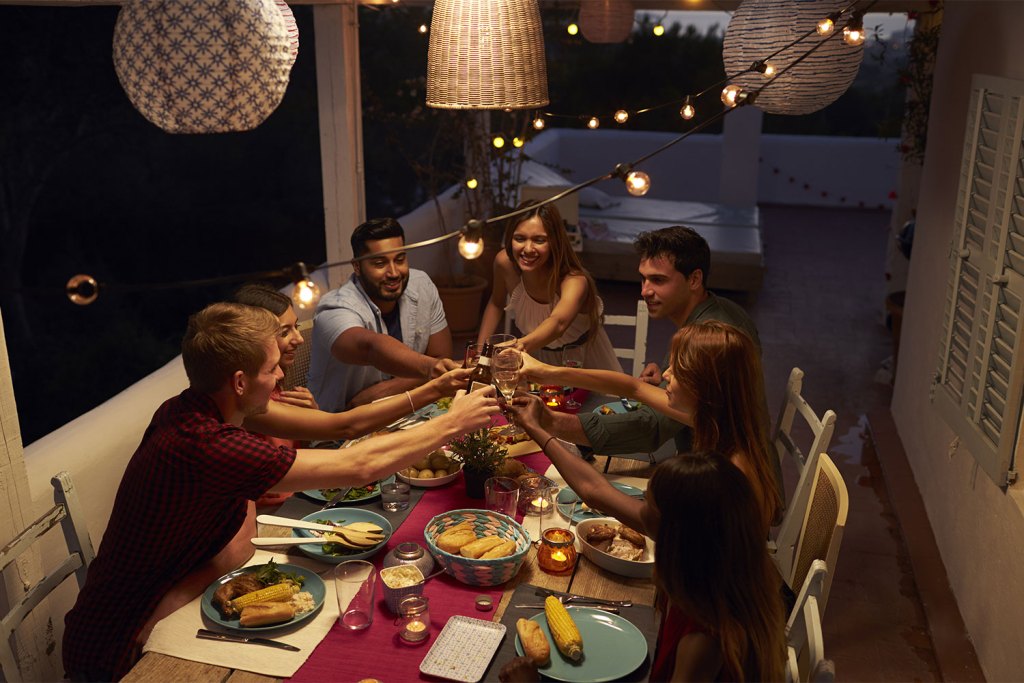 Cozy seating
You'll want to have comfy seating for guests to lounge or relax on before and after eating, as well as appropriately spaced, seating at the table during the meal. Kids should have seats they can fit into easily and move if necessary, also. If you need some ideas, this patio furniture works, but so do picnic tables and super cheap lawn chairs.
Serve lots of tasty eats
Be certain there are plenty of hors d'oeuvres out when guests arrive as some folks will probably be hungry. Serve several kinds to make sure there's something for everyone. One table could feature: spinach/dill dip in a pumpernickel bread bowl, regular ranch or other favorite dips and salsa, hot wings, pizza puffs, vegan nachos, pigs in a blanket, and turkey pinwheels (all of these are standard starters and easily googled for recipes). You can get fancier if you have time, but those will take the edge off full bellies as they wait for dinner. Don't forget the chips and chopped veggies for your dips! If you're looking for more inspiration, take a look at our recipe ideas for housewarming parties, which will be perfect for whatever occasion.
Serve the main adult dish picnic or buffet-style so everyone can build their own plates exactly as they wish. Make sure you have something for everyone to eat. Are there vegetarians or vegans in the bunch? How about those who require a gluten-free diet or otherwise? Make sure you ask everyone in advance what kinds of foods they can eat, and prepare enough for them to have at least two or three servings each. (Don't be afraid to send any extras home with them if they like it.)
For kids, it's always fun when you set out a taco building or hot dog making station or s'mores bar where they can line up and add what they like as they move through the line. Be sure to have everything on hand that anyone could possibly want; it's no fun when they ask for more mustard and you're all out! Note: A condiment caddy or lazy susan condiment bar might help keep toppings cool (or warm) while guests get their plates filled.
Cool treats and frozen desserts on a hot day are a great option to serve while guests are waiting for their dinner to grill, or for after they've eaten but still have room for a frozen delight. All-natural homemade popsicles for both adults and kids are delicious, and boozy homemade popsicles are fun for the grown-ups to enjoy. Ice cream cones, fresh fruit slushies, and homemade sorbet are all perfect for a summer patio soiree. *Note: If you have a pool, serve these poolside. When they're finished eating, they can go for a dip – no muss no fuss!
Batch up some great drinks
Be sure to make several batches of cocktails up in advance so you won't need to worry about it while guests are present. For some ideas on which drinks to make, check out our guide to 20 drinks every party guest will love. Make sure drinks and snacks like pretzels and Chex Mix are available as soon as people arrive, and make it known they can help themselves as they wish.
Will children be present? Make sure you've got non-alcoholic options for them, too. And, of course, don't forget some pitchers full of good old-fashioned ice water with sliced lemons and limes (or other pretty fruits), as well. Keep them freshened up and full for anyone who wants to have water between (or instead of) other beverages. It's important to offer plenty of choices for hydration on a hot summer day!
Music/games/televised sports
Do we have enough people for a game of croquet, or do the kids want to play badminton? Is there enough space for volleyball? How about some relay races? If you're working with enough room and players, plan out some games for adults and/or kids to play either before or after dinner. (Remember to wait a suitable time after eating, of course.)
Is this a party with a football game as its theme? Which teams are we rooting for? Consider having cupcakes in the team colors or something festive to cheer them on. Also, are we watching the game outside? Get everything connected properly and deal with issues of sun glare on the screen well before guests arrive – and consider moving things inside if it starts to rain.
Do you have more of a Scrabble, cards, or Monopoly crowd than a physical game crowd? Get some board games or Pictionary out then! Whatever floats everyone's boat is what you need.
If your crowd is more relaxed, would they enjoy some music? If so, what kind? Consider a playlist for the evening that suits everyone's tastes, or maybe more than one in case some couples might like to dance after the sun goes down.
Lights
Figure out what kind of lighting you want to use for your party once the sun goes down. Are there already enough lights outside, or do you need more? If so, what kind? Practice a few nights before the soiree to make sure you've got enough lighting to shine on the patio (or whatever area you'll be occupying) without it being too bright. One subtle and attractive way of lighting is to string white holiday or fairy lights from tree to tree or around trunks. Play around with whatever kind of lights you like to determine the right kind of vibe for your party.
Bug repellent/sunscreen
Be sure everyone is comfortably free of bug bites and sunburns by providing a basket full of lotions and sprays as well as an assortment of citronella candles strategically placed throughout the yard. If possible, get a natural option that repels mosquitos as well as other insects and hopefully ticks to boot (this type looks to be worth a glance)!
Party favors/to-go bags or boxes
Be sure you send something home with your guests, whether it's just leftovers in a pretty box or a plant you prepared for them before they arrived. Just like little kids enjoy reflecting on a birthday party when they take party favors home (which you should do with this party, too, if children attend), adults enjoy reflecting on a good time had by all, as well. Let them have a healthy scoop of whatever you noticed was their favorite dish, among a few other items, some dessert, and a handful of chips for lunch tomorrow. They can enjoy laughing with co-workers about how bad you are at Pictionary and you won't mind a bit, as long as they had a good time at your party!
Also, for transforming your patio into a stunning entertainment space, check out some quick coverings you can use to hide the old, ugly cement patio for good.
Good luck on throwing the best patio party ever!
Editors' Recommendations