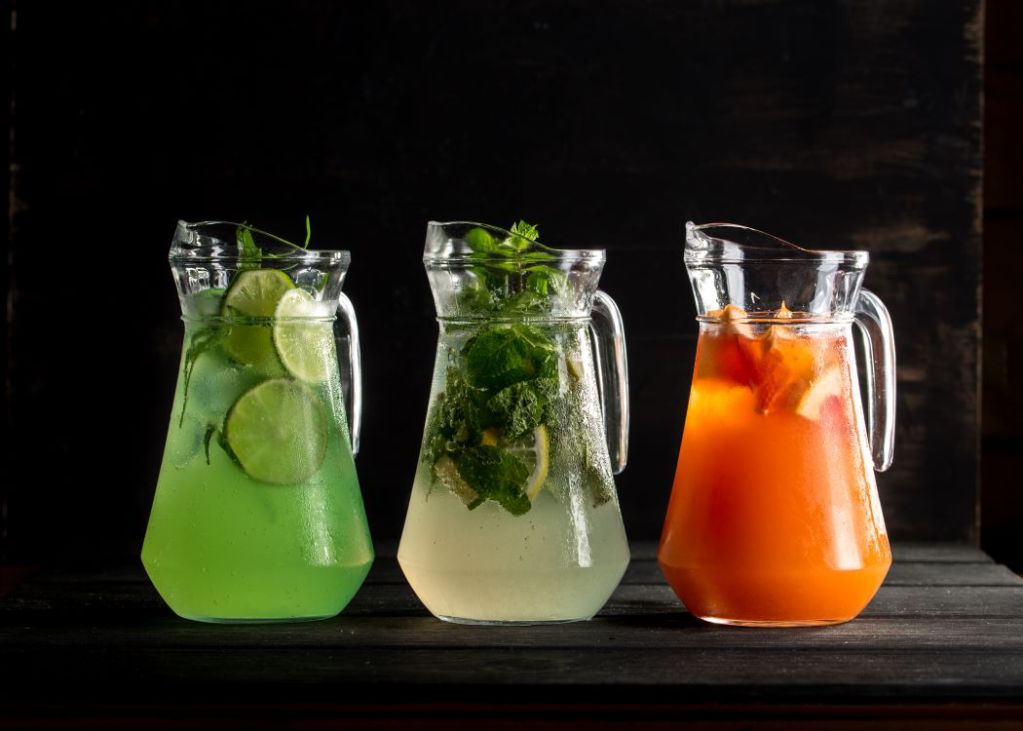 So you're planning a summer soiree, or hosting a small party. Except you're not really sure what kind of drinks to serve. Don't fret! We've got 20 tasty beverages you can throw together easily, either by the batch or the glass — and there's sure to be something for everyone to love!
Let's take a look at the make-ahead larger batch cocktails first:
Easy, Large-Batch Cocktails
Choose from these flavorful make-ahead options for your next backyard get-together. Consider what goes into each one, how much time you've got and how much you want to spend. Then depending upon the tastes of your guest list, there should be something perfect for everyone — we think you should plan on making a couple of back-up batches in case folks are extra thirsty, too.
Isla Bonita Punch
Did you hear the classic Madonna song 'La Isla Bonita' start playing in your head as you read that? Get ready to be transported to the beautiful island she wrote about with this tasty blend! This tropical favorite is also called Sparkling Pineapple-Rum Punch and it needs to be made ahead of time (AND it's SO worth it!). Read the recipe over the night before to make sure you have all your supplies on hand, then there's ice to be frozen and syrup to be simmered, etc., so get started at least 5 hours before guests are expected to get everything in pitchers on time.
Get the recipe here.
Sparkling Spiked Peach Lemonade
You'll only need 6 ingredients for this delicious conconction — and one of them is water. Easy peasy with fresh-cut peaches and fresh-squeezed lemon juice, you won't get any complaints on this perfect summer drink. Make an extra backup batch — they'll want seconds.
Get the recipe here.
Fresh Watermelon Mojitos
You can't beat ice cold watermelon on a hot summer's day. Imagine it blended with your favorite rum, poured over ice into your prettiest glasses. Just follow these simple directions for a couple more steps and ingredients, and you'll find this among your most popular hot weather beverages.
Get the recipe here.
Manhattans for a Crowd
Bottle some of this classy drink up (or pour it into a fancy pitcher) for your guests, and be sure to have plenty of lemon twists and cocktail cherries on hand for when you pour the drinks. A total of 4 ingredients helps keep this one sweet and simple.
Get the recipe here.
Red, White, and Blue Sangria
Sip these on the porch or at the picnic table and get patriotic for the right holidays when you serve colorful red, white, and blue sangrias. Strawberries and blueberries in the right light booze mixture makes for a stunning refreshment guests can't get enough of.
Get the recipe here.
Blood Orange Margaritas
Blood orange fans, step right this way! This drink calls for at least 4 – 6 freshly -squeezed blood oranges (NOM) plus the vanilla, lime, tequila, and other components that are sure to make this cocktail a star at your shindig.
Get the recipe here.
Bellini Moonshiners
Fresh basil and fruit over a delightful blend of champagne and Lincoln County Lightning Whiskey, and you've got a glimpse of a perfect country summer evening. You'll need high ball glasses, a muddler, and plenty of ice.
Get the recipe here.
Frozen Prosecco
A bottle of champagne will do if you're fresh out of Prosecco. Just open that bad boy up, grab a couple of other ingredients, then click into the recipe and watch the video to see how to make this amazing summer slushie.
Get the recipe here.
Tangiroska
Fresh tangerine juice, vodka, and brown sugar make this Brazilian specialty unique, and don't skimp on the ice cubes. Make sure you get all the seeds out of this one for a smooth, refreshing result.
Get the recipe here.
Cajun Lemonade
A toast to New Orleans is in order when you get this NOLA favorite poured. Be sure to read and prepare ahead of time for this one as well; you'll need at least a full hour to refrigerate everything together and get the ice in the freezer until thoroughly frozen.
Get the recipe here.
Single servings (or multiply recipes for a pitcher)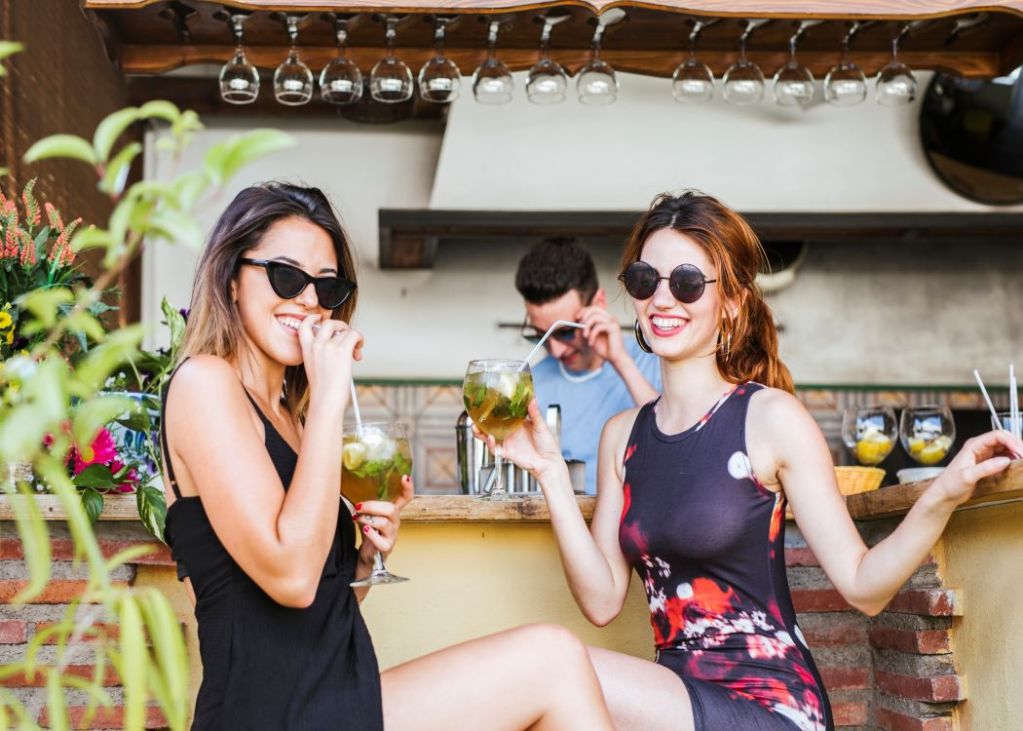 Boozy Orange Julius
One sip and you're back in the mall food court once again. This recipe is guaranteed to taste like the real thing — with an alcoholic twist!
Get the recipe here.
Bramble Smash
All the fresh berries you can handle plus a twist of citrus and some vodka — don't hesitate to prepare backup seconds on this one.
Get the recipe here.
Blue Hawaii
Serve up some refreshing blue drinks for a fun, casual, and fruity mix. Blue curacao mixed with tropical flavors won't steer you wrong.
Get the recipe here.
Blackberry Cucumber Gin and Tonic
Another easy-to-make cocktail with big flavor and pretty colors.
Get the recipe here.
Mango Sunrise Piña Colada
Follow directions closely on this one, especially for instructions on how to pour in the coconut cream and grenadine — it takes a steady hand!
Get the recipe here.
Mimosa Floats
This recipe serves four, so double it or triple it if you think you'll need more — it's sure to be a hit with the sweet tooth crowd!
Get the recipe here.
Rosy Gin-Kombucha Cocktail
Kombucha fans should enjoy this one, even though it calls for an unflavored kombucha — count on the fresh ginger, lemon, campari and other flavors to give it some kick.
Get the recipe here.
Dirty Marys
These are fantastic for a casual brunch, healing hangovers, or a lunchtime soiree, with or without the bacon and jalapenos.
Get the recipe here.
Singapore Sling
Don't worry if there are a few rarely-used ingredients on this list; the creator of this recipe includes several other drinks you can make with them, too.
Get the recipe here.
Sparkling Tarragon Gin Lemonade
Make sure you muddle with gusto when you prepare this lemonade; the herbs in this beverage give it its character. Don't have any tarragon in the house? No worries! Basil can work in a pinch as well.
Get the recipe here.
For more, learn how to create a spectacular DIY apartment bar that you and your guests will love it.
Editors' Recommendations