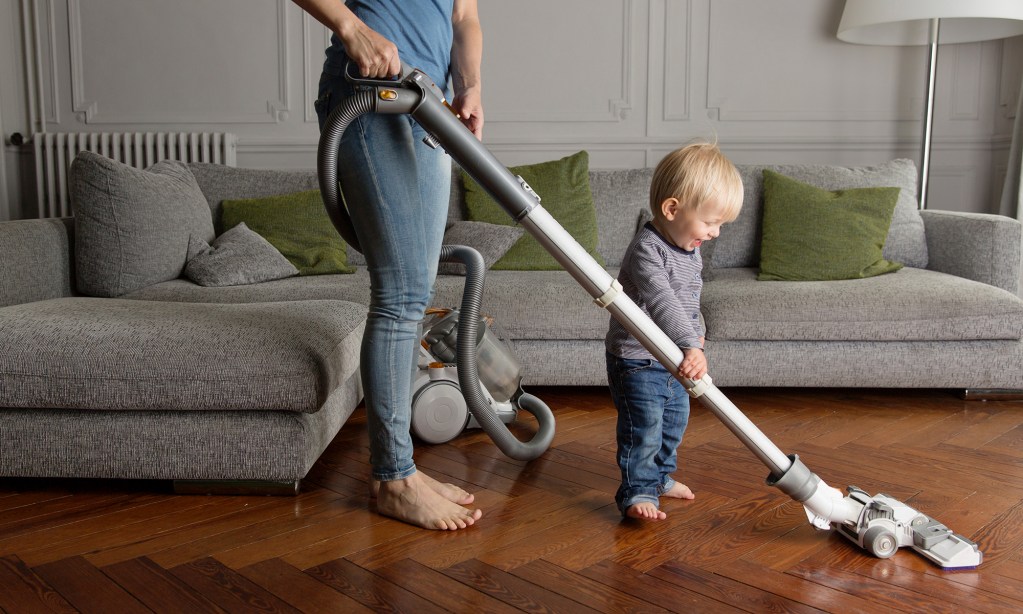 Cinderella may have gotten down on her hands and knees to clean her floors, but you don't have to. It can be tough to know exactly how to clean certain types of floors, and the last thing you want to do is ruin your hardwood. However, there's good news. Unless you've just moved in and the place is trashed, we've got an easier, more straightforward way to keep every floor in your house clean.
How often to clean floors
There's extra-good news: Different surfaces have certain requirements, and areas that don't get a lot of traffic may not need the same sort of attention.
High-traffic areas
Places like the kitchen, living room, hallways, and transition areas get a lot of foot traffic. These areas will require more attention from you to keep clean and maintain surface integrity. Bathrooms also fall into this category.
The best way to approach high-traffic areas is to schedule cleaning every one to three days. The kitchen and bathroom may need to be cleaned every day while the bedroom or hallway might be OK every two or three. Take a good look at how your floors look every day at the end of the day and decide on your schedule.
Low-traffic areas
Bedrooms, guest rooms, or other low-traffic areas might get away with needing cleaning less often. Depending on the surface area, you may even be able to clean less regularly or have a refresh now and again.
For these places, check on the type of surface and make a plan for getting them cleaned regularly but infrequently. This could be something you put on your home-maintenance checklist to remember.
Cleaning hard-surface floors
Once you've got your schedule down, it's time to clean your particular type of floor safely and effectively.
Hardwood – There are two types of hardwood floor coatings,

sealed and unsealed

. Rub your finger across the surface, and if a smudge appears, it's probably unsealed. Clean sealed floors with a fourth cup of mild soap and water. Unsealed floors shouldn't have water anywhere near them, so use gentle dusting cloths.
Linoleum – Linoleum is virtually indestructible, but you mustn't let moisture

get underneath it.

Instead, clean linoleum mostly with dry dusting or vacuuming (turn off the beater bar). Full linoleum sheets can be cleaned with a slightly damp cloth like a Swiffer, but avoid traditional bucket mopping altogether.
Cork –

Cork flooring

is typically sealed, but always avoid getting large amounts of water on it just in case, says HGTV. Dry vacuuming is best in most cases, although cleaning it with a damp cloth like a Swiffer can sometimes work, as well.
Vinyl

– Dry vacuuming, in most cases, is fine. Once a week, clean using the spritz-and-mop technique using one-fourth cup of vinegar, a drop of mild dish soap, and water to the top of a 16-ounce spray bottle. Once a quarter, you can steam clean to ensure that any spots and grout are cleaned thoroughly.
Natural stone – For

sealed stone floors

, use only a gentle, mild cleanser and a spritz method to clean. If your floors are unsealed, only dry vacuum every day, and use a steam cleaner with no cleansers. They can penetrate the stone. Other acidic cleaners like vinegar could discolor or damage the stone.
Porcelain tile – Go over the floor with a gentle sweeping cloth or a nonrotating vacuum to grab up any dirt or grit. Once a week, you can mop using the spritz technique. Take a 16-ounce spray bottle and put one-fourth cup of vinegar and a drop of dish soap. Fill it gently to the top with warm water and use it to mop up any messes.
Cleaning carpet
Carpet is made up of two components, the fiber and the pile. The fiber is the type of material for the carpet, and the pile is the length of the loop. The biggest thing to do is to differentiate the type of carpet you have and plan accordingly.
Flatweave – Flat weave is mostly found in rugs, but for some of you with large-area rugs, you'll treat it like cleaning a full floor. Spot cleaning any stains or spills with a gentle cleanser is best, and for regular maintenance, vacuum using only a soft vacuum setting with no rotating head.
Short pile – Short pile should be vacuumed regularly to avoid getting dirt ground into the base of the carpet. Turn the rotating head on so that it can grab up any dirt, hair, and debris.
Medium and long pile – Power-rotating vacuums are the best way to get these clean. You may want to vacuum these types of carpets at least once a day in high-traffic areas and spot clean any stains. A carpet shampooer once a quarter or twice a year may be able to get rid of any stains from wear and tear.
Shag carpet – Shag feels fantastic, but it will require some special care. The best way is to use a nonrotating vacuum to grab up any dirt or debris, then rent a

steam cleaner

twice a year to refresh high-traffic areas, says Steam Cleaner Pro. Spot clean anything.
Tips for floor cleaning
Here are a few tricks you can use to get the most out of your cleaning tools.
Mopping – Mop using a two-bucket method, one for fresh water and one for soapy water. Wring your mop thoroughly. You could also invest in a mop bucket that keeps dirty and clean water separate.
Vacuuming – Use the rotating head wisely. The gentler you are on most surfaces, the better, but for short to long pile, a rotating head can help bring up grime.
Before wet cleaning – Vacuum thoroughly, so you don't accidentally scratch your floors with dirt.
Cleansers – As much as you may want to sting your eyes with your cleaning tools, the gentler you are on your floors, the better. You won't risk losing the finish or damaging the integrity of the surface.
No more dirty floors
Cleaning your floors the right way and regularly can help you avoid that Cinderella situation. Make sure you take the time to gently vacuum or sweep every day to prevent a buildup of grime, and find the right cleaners and cleaning tools to finish the job for perfect floors every time.
Editors' Recommendations