As "Halloweekend" draws near, and you might be planning to throw a Halloween party for family and friends. Your guests will be expecting a festive evening, so ordinary party appetizers and entrees won't suffice. Get more creative this season and come up with Halloween party food ideas that fit the theme of the event.
Halloween is the one holiday when you can have fun making the food look creepy, unappealing, and maybe even downright gross. If you have guests that aren't too squeamish, this plays well with the spookiness of the season. To inspire your menu, here are some Halloween party food recipes that can make your celebration a success.
Monster wraps
For finger foods with a Halloween theme, these monster wraps are perfect. Load sandwich wraps with meat, cheese, and other fillings, then use sliced cheese, olives, and pickles to decorate them like Frankenstein. They only take 10 minutes to make and can be completely customized according to your taste.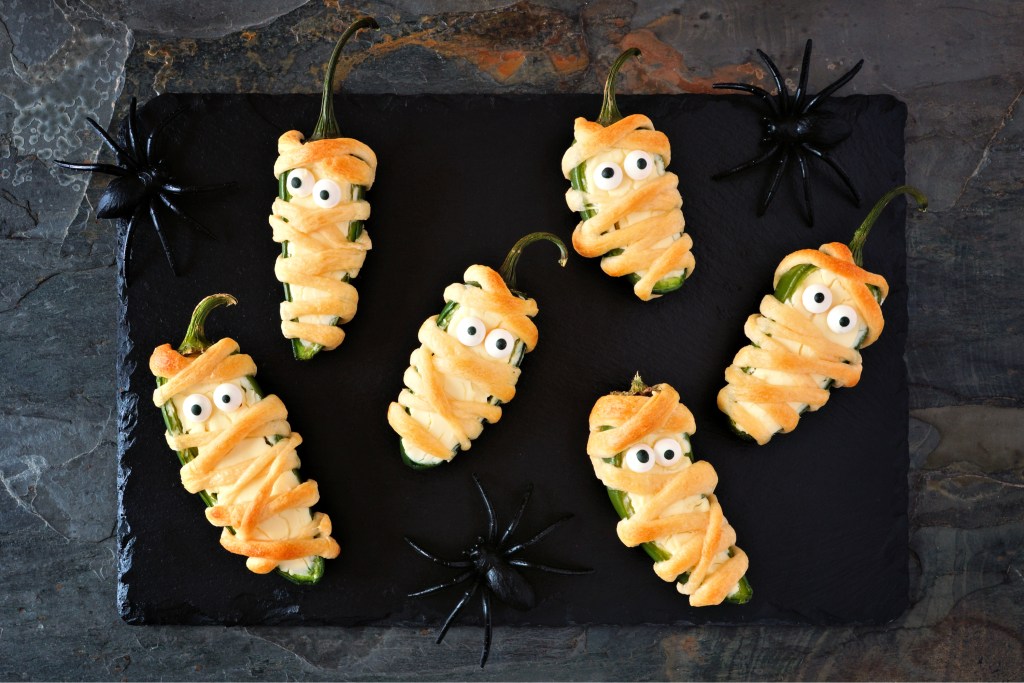 Mummy jalapeno poppers
Jalapeno poppers are a staple at parties of all kinds, but you can dress up this classic to give it a unique Halloween flare. To make these mummy jalapeno popper appetizers, wrap strips of crescent dough around hot peppers. Then all you have to do is add the eyes (and enjoy).
Saucy spider with hairy leg sticks
This festive Halloween-themed appetizer can also function as a centerpiece. Saucy spider with hairy leg sticks is a tasty appetizer that's easy to make and will certainly become a unique conversation starter. Carefully fashion pizza dough into the shape of a spider, then hollow out the body and fill it with marinara sauce. Your guests will enjoy breaking off the spider's legs and dipping them in the sauce.
Eyeball pasta
Pasta is typical party food, but for Halloween, you can spice things up and make your meatballs a little more ghoulish. Eyeball pasta is a spooky take on a classic dish that will be a hit with guests of all ages. Prepare your spaghetti and meatballs as desired, then use slices of mozzarella and black olives to transform classic meatballs into "eyeballs."
Jack-o'-lantern chicken and sweet potato potpies
If you're looking for a main course dish that will satiate your guests' appetites and keep them warm on a chilly autumn evening, try this recipe for Jack-o'-lantern chicken and sweet potato potpies. This is a delicious and hearty meal that you can prepare in individual servings, or you can make one or more large pies and slice them up for guests to share.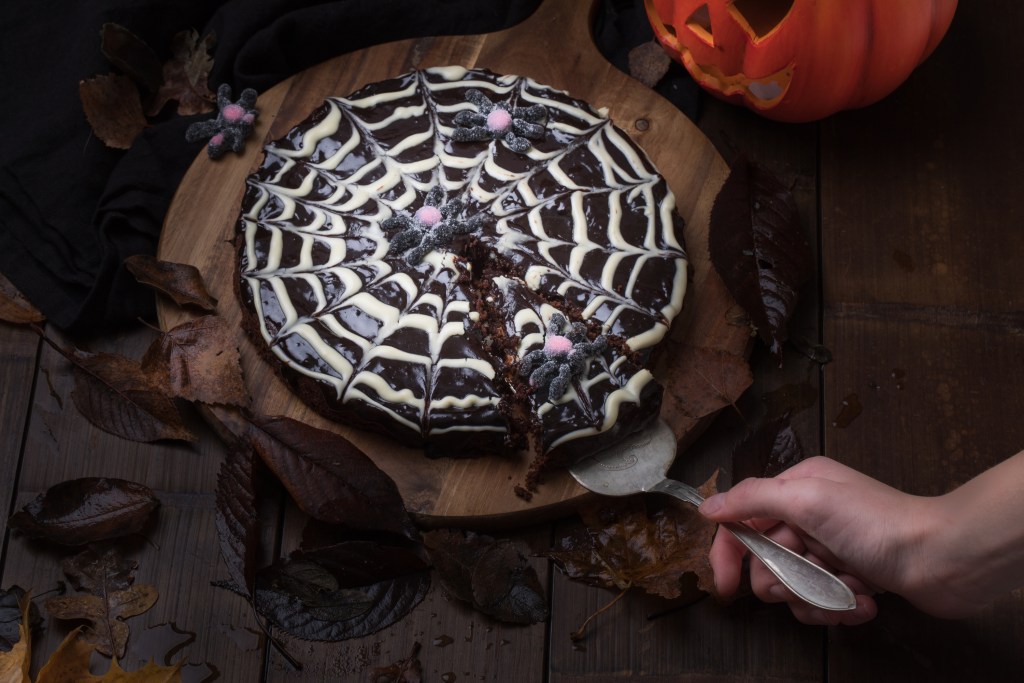 Spiderweb cake
Chocolate cake is a must for any party, and this year, you can dress up yours to complement the other fun pieces of Halloween decor. This spiderweb cake is simple to decorate, and the festive design will be sure to delight your guests. The classic chocolate cake topped with a frosting spiderweb is nothing short of mouthwatering.
Other Halloween party ideas and tips
First, determine whether this will be a family-friendly event or an adult-only gathering. Whatever you choose, make it clear in the invitations so your guests can plan for childcare or organize a ride home if they intend to drink. This will also help you plan better, deciding whether you need kid-friendly snacks for picky eaters or festive cocktails.
Your invitations should also clearly state if you want your guests to wear costumes. To encourage them to dress up, consider having a costume contest. Friendly competition usually results in more creative, fun, and thoughtful costumes.
For the decor, keep it classic and incorporate jack-o'-lanterns, zombies, witches, ghosts, and cobwebs in your decorations. While people have come to expect these icons in a Halloween decor theme, you also have the freedom to pick something more sophisticated or unconventional. Keep it demure with black tablecloths, blood-red roses, and purple place settings, or encourage a more lighthearted atmosphere with pumpkins decorated with googly eyes.
Entertainment is another major consideration, so pick age-appropriate games to offer your guests. Additionally, no party is complete without music. For a scarier party, curate a playlist of creepy music pulled from horror movies and haunted houses. On the other hand, nothing gets a crowd dancing like "The Monster Mash." Involve your guests, too, and ask them to suggest their favorite Halloween songs before the party so you can compile the playlist.
Throwing a Halloween party can be challenging and may even feel overwhelming. There are a lot of moving pieces, and it's often frustrating to balance your vision with the wants and needs of your guests. Don't try to do it all alone — enlist the help of relatives and friends. Divide up tasks based on each individual's interests and talents so your party will be a success, and you'll be able to relax and enjoy it.
Editors' Recommendations