The idea of feng shui is that we can build and arrange an environment to strike the perfect balance between us and the world around us. It is a delicate practice that can be interpreted in many ways. You may know you can feng shui your bedroom, office, store, but there are also ways to feng shui your front yard to enhance the space. If you find yourself struggling to achieve that perfect outdoor design, then consider these feng shui-inspired options for some stunning curb appeal.
Utilize the natural elements
Feng shui is mainly based on satisfying these five elements: water, earth, fire, wood, and metal, as stated by The Spruce. By utilizing one or more of these elements in your front yard, you can enhance the curb appeal and the amount of energy flowing through the space. Some ways to incorporate these five elements include:
Choose your colors wisely
A huge aspect of feng shui is color. Color can create different feelings and emotions in people, so it is important to choose shades that are inviting and warm. It is necessary to consider both manmade and natural aspects when picking a color scheme. This means it is important to match your home, front door, and porch colors with your flowers and plants. If you live near other homes, it is also important to harmonize your colors with your neighbors'. If your home sticks out because of bright or ugly colors, it will decrease the curb appeal significantly.
SFGate says, "Painting your door a red color is generally viewed as auspicious; however, the optimal color for a front door is dependent upon whether the door faces north, south, east or west."
Focus on the front door
The front door is the one thing separating your living space from the rest of the world. Feng shui emphasizes the need to always bring in good energy. You should never block the front door with bulky potted plants and other fixtures. Any old-looking front doors should be either replaced or refinished for a clean, smooth surface. Also, replace any rusty or damaged hardware for a fresh new look.
Direction matters
It is common in feng shui to take the direction of the sun into consideration when planting around your home. When adding plants to your front yard, it is suggested that you follow some of the common rules of feng shui:
Place any water features in northern, eastern, or southeastern corners of your garden.
Plant trees on the eastern side of your home.
Large trees should never be in the front yard. It is believed that trees pull positive energy in, leaving your home without it, as stated by Bellacor.
The southwest direction is all about the earth, so stones and other natural features will work well in the southwestern corner.
Chimes are dimes
The gentle sound of chimes waving in the breeze is all you need to feel at peace. Chimes are a huge part of relaxation and bliss, and they can be a great addition to your front porch. Passersby will appreciate the delicate sounds and send good energy towards your home.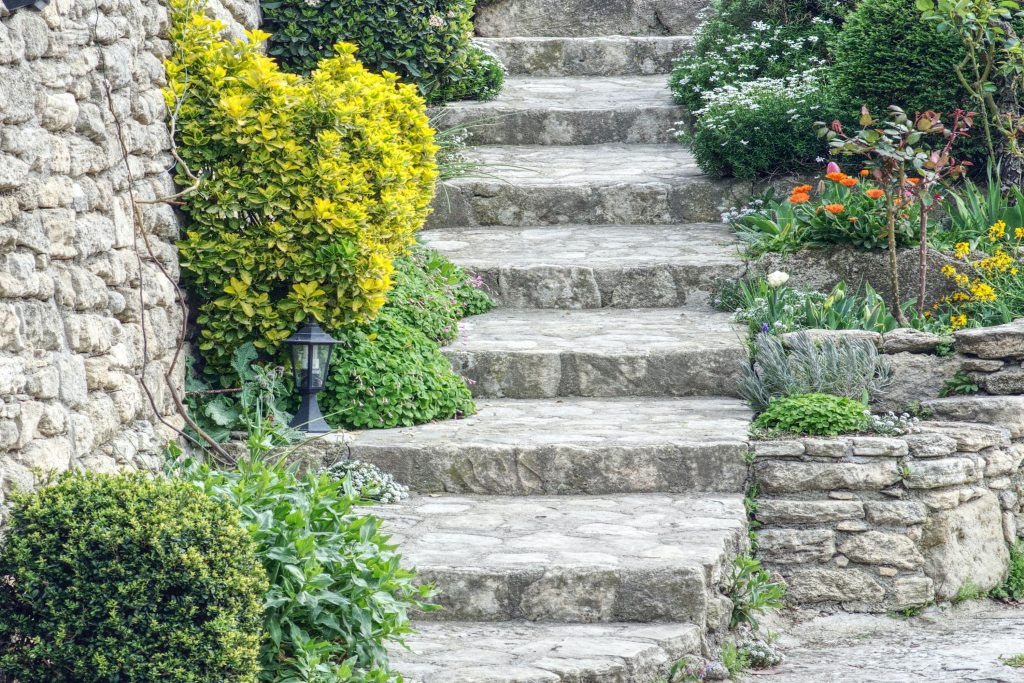 Add some curvature
Energy is believed to flow better over undulating surfaces than flat surfaces. The inclusion of gentle curves instead of straight lines is a common practice in feng shui. There are some great ways for you to enhance your flat front yard into something special:
Ensure that the path leading to your home has curves to it and is never straight. This will help lessen the sense of urgency to enter the home and create a more relaxed feel to your home's entrance.
Create wavy garden beds rather than boxy ones. You can use stone walls that curve around the garden bed to add some more texture.
Add a fun little bridge over your garden for a creative spin. You can find a lot of mini garden bridges online that will fit perfectly into your feng shui design.
Achieving a feng shui front yard is the best way to enhance curb appeal. You should consider feng shui not only for your neighbor's sake, but also for your own. Coming home to a feng shui front yard is the perfect way to end your day. It will bring positive energy to you and your home every time and leave you feeling at peace with the natural world.
Editors' Recommendations