A lack of storage in the bathroom can be frustrating — especially for apartment dwellers, homes with small bathrooms, and those with limited closet space outside of the bathroom. However, towel storage solutions, even for the smallest of bathrooms, are in abundance.
But first, should you store towels in the bathroom. And, if you do, how do you store extra towels in a small bathroom, and where should they be stored?
According to a Time analysis, towels are hotbeds for bacteria and other microorganisms due to the fact that they get damp and then sit in damp, warm environments — like your bathroom. In fact, they mention one study finding that 90% of towels are contaminated with coliform bacteria, and about 14% carried E. coli. Therefore, you should really only keep the towels you are using in your bathroom. Or, you should try and store them in a clean, dry place inside of the space.
If you do decide to store them in your bathroom, Nina Grauer and Eleanor Tate of interior design firm Dekay & Tate point out that, "Depending on the size of your bathroom, there are a lot of great ways to store towels and other miscellaneous bathroom necessities."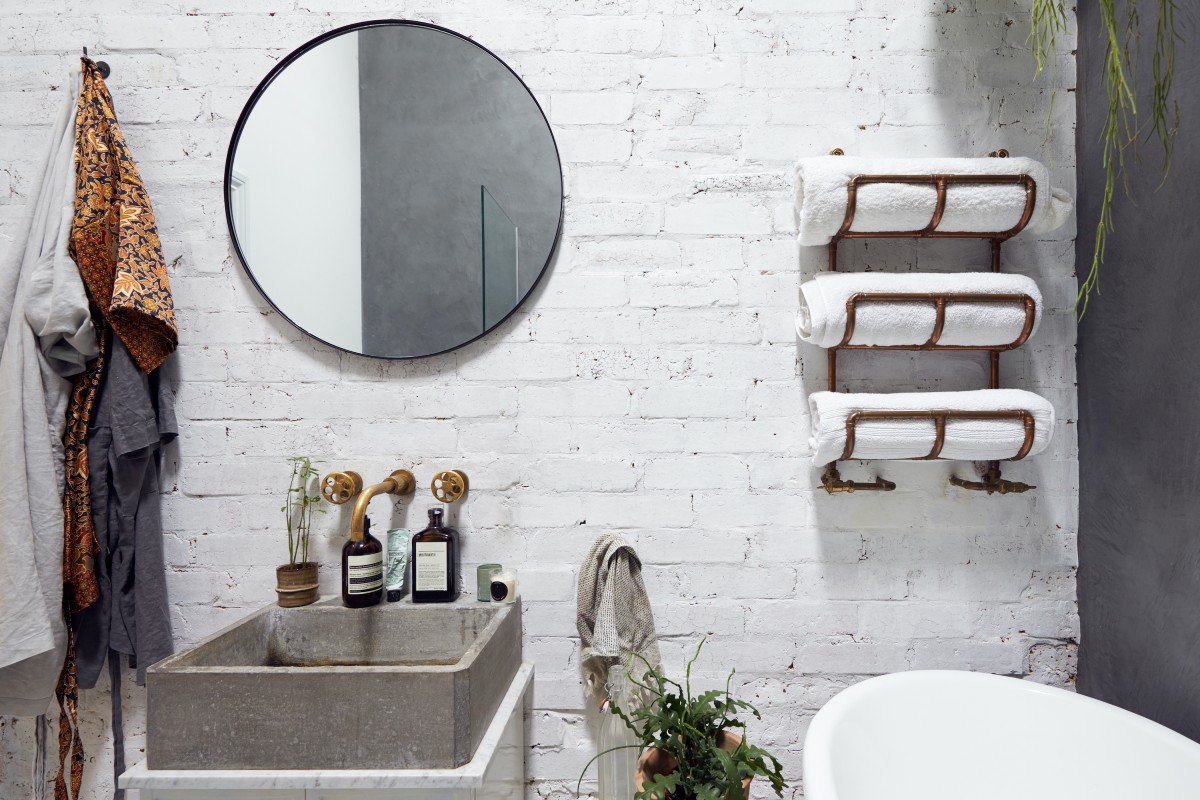 Use a decorative ladder
Sara Barney of Bandd Design is a fan of decorative ladders, a low-profile, space-saving solution. "If you don't have the space in your bathroom for bulkier storage, such as racks or shelves, consider getting a decorative ladder and neatly folding them to hang there," she suggests.
Baskets
Buying a large basket — or a set of smaller ones — can help keep your towels organized. "Roll them up into a basket or a rustic bucket to keep on the floor near your shower and/or bath," suggests Grauer and Tate.
Hang a curtain rod
If you are looking for a weekend project, you can create your own towel rack. "Use two French return curtain rods hung vertically on your wall to store rolled-up towels in between the rods and the wall," suggests Barney.
Install floating shelves
For smaller spaces, try installing floating shelves high on the wall in a fun fashion. "That way, you are maximizing your wall space and still utilizing it for something necessary," point out Grauer and Tate.
Mount a towel holder
You can actually buy a cute little towel holder to mount on the wall that will house all of your rolled-up towels. Many of them even feature a top shelf, perfect for adding decorative accents such as a plant or candle.
Try a freestanding towel rack
If you have the floor space, a freestanding towel rack is an easy way to house your bathroom linens — no installation required.
Utilize the back of your door
The back of your bathroom door is a storage space that most people don't utilize. "A great limited space option would be to install a rack and/or bars on the back of your door," suggests Grauer and Tate. "That way, you can roll and stack towels and keep them in close storage."
Buy a credenza
For the bathroom with more space and versatility, adding a small credenza is a great way to maximize storage and to brighten up your bathroom, Grauer and Tate suggest. "You can easily store towels within the interior, and on the surface, you can decorate with flowers, art, and other bathroom necessities," they explain. This is also a great way to protect them from the warm, damp air.
Add some hooks
Hooks are incredibly easy to install and are a great option for hanging extra towels around your bathroom. And fortunately, they are inexpensive and available in a bunch of fun and colorful designs if you feel like infusing character into the space.
Editors' Recommendations