Halloween is filled with spooky fun that is enjoyed by people of all ages. There is trick-or-treating, costume parties, candy, haunted houses, scary movies, and, of course, decorations. But despite what you might think, decorating for Halloween doesn't have to be pricey. There are plenty of fun and affordable Halloween decorating ideas that you can enjoy for some fall festiveness.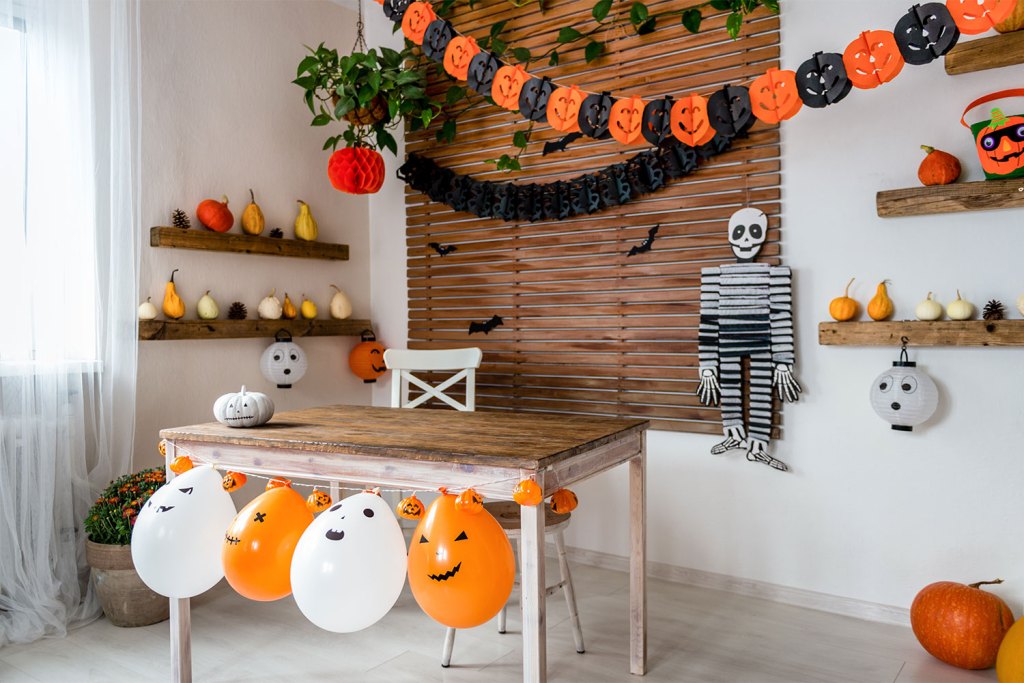 Reuse decorations from other holidays
There are numerous ways to repurpose old decorations for Halloween — just consider what has been used for past celebrations. You can reuse different lighting features, materials, and designs from holidays like Christmas, Hanukkah, Thanksgiving, New Year's, and much more. No matter what materials you end up with, it is important to be creative.
Some fun ways to utilize different decorations from other holidays include:
Christmas. Grab some red Christmas lights and repurpose them to create an eerie scene on your front porch.
Thanksgiving. Like Halloween, Thanksgiving occurs in autumn. That means you can reuse your Thanksgiving pumpkins, leaves, and other fall-themed decor to achieve a festive look.
New Year's. Even though New Year's is all about shimmer and sparkles, this can work to your benefit for Halloween. New Year's decorations like shiny tassels, colorful beaded necklaces, and more can be repurposed to become the perfect decorations for an animated Halloween party.
You can also reuse different materials like tablecloths, napkins, plates, and utensils from previous parties. To achieve the most Halloween fun, look for materials that are Halloween colors like orange and black, or red and dark purple.
Transform your trees
Trees can already provide eerie shadows in the night, so it can be fun to use them to your advantage. Whether you have a ton of trees surrounding your home or just a few in your front yard, you can achieve some great designs. Some of the best ways to utilize trees include:
Hang decorations from the branches. The branches on a tree are perfect for hanging a variety of decorations. You can put up streamers, beads, homemade ghosts, paper bats, and much more. Use your imagination to see where it takes you.
Use lights to give off a spooky feel. Adding spotlights or red string lights to trees can add an eerie look to your Halloween decorations.
Drape blankets or tarps over branches to create a creepy scene. By draping some blankets or tarps over tree branches, you can create fun scenes and designs. Use black tarps or blankets for a more mysterious (and ominous) look.

Reuse and recycle
When you have the right holiday spirit and imagination, you can create a lot of spooky decorations from the right items. There are many fun and creative things you can design from recycled materials and more, says Oprah Mag. Some of these ideas include:
Turn old milk cartons into some spooky ghost lanterns. Take the label off old milk cartons, give them a good rinse, and draw on faces with a permanent marker. When you're ready to set them outside, you can use battery-powered lights to make your creation stand out.
Drape old white sheets over balls. To create a ghostly figure, drape old white sheets over soccer balls or basketballs. For smaller-sized ghosts, you can use baseballs or tennis balls — all you need is some string to tie the ball inside the fabric and a permanent marker to create some spooktacular faces.
Turn old buckets and containers into creepy characters. If you have some old buckets stored in your garage, all you need is some spray paint, a permanent marker, and creativity to make some fun and fiendish characters. You can spray paint one bucket green, then draw on the Frankenstein monster's face, or you can spray paint one orange for a festive jack-o'-lantern.
Use paper crafts for indoor decorations
Decorating the inside of your home can be especially fun because you don't need to worry about rain or wind ruining your holiday decor. Paper decorations are inexpensive and provide you with endless possibilities, suggest HGTV. You can create window art with cut-out bats and ghosts, or get crafty and fold some Halloween-inspired origami. Utilize whatever paper you have available or buy some affordable cardstock for more durable decorations.
Visit dollar stores and other affordable stores
Whether you have some last-minute decorating to do or just love store-bought decorations, you can't go wrong with Halloween shopping. Big-box stores and dollar stores provide you with endless options for extremely low prices. You will love all of the fun, affordable decorations you'll discover.
Decorating for any holiday can be a great bonding experience for family and friends. It is a time to be creative and let your wildest imagination run free. You will love how many beautiful Halloween decorations you can create for low prices. Halloween doesn't have to be expensive. All it takes is a little creativity, festive spirit, and crafty tools to get your home looking spooky.
For more ideas, you can check out our guide on how to decorate your front door for Halloween.
Editors' Recommendations