When it comes to organization, nothing puts a beautiful bow on the project like having organized drawers. After you spend the time to go through all of your belongings, purge items you no longer need, and organize the surviving stuff, it feels good. You have accomplished something great. That feeling quickly flies out the window once you open a drawer, and it looks like a tornado hit it. Organizing drawers is tricky; they are small spaces, and it's easy for everything to mix together and end up in a jumbled mess again. When I found these $10 foldable fabric drawer organizers , it changed the way I organize my drawers. They are advertised for dresser drawers, particularly the sock and underwear drawer. The organizers are great for the top dresser drawer, but I use them in non-dresser drawers, cupboards, and on shelves.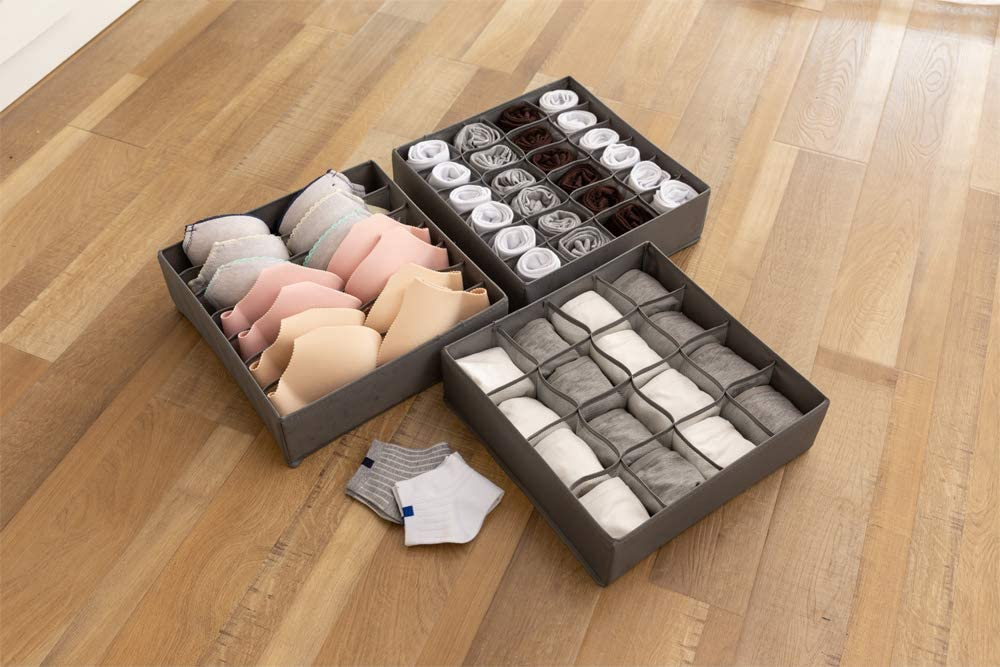 These foldable containers are made of durable oxford fabric and plastic board, and they are surprisingly sturdy. The zipper on the bottom of the dividers makes them easy to break down and fold for storage when not in use, but if you're anything like me, you won't be folding and storing them often. I use them in the kitchen, bathroom, living room, bedroom, and dining room. Once I ordered one, I soon realized that I needed to order several more for other areas in my house. Each foldable organizer measures 12.6 inches by 12.6 inches and is 4 inches deep. While the size is a bit large for some of the drawers in my house, they do fit in many other handy places.
In the kitchen, I use one in my "junk drawer" to keep things like paper clips, rubber bands, loose change, bag clips, magnets, spare keys, and tons of other small and random stuff organized. I also use one in my office in much the same way. Inside of the unit of drawers that sits next to my desk, I use a foldable organizer for Post-it notes, staples, business cards, binder clips, and more. It is incredibly refreshing to look into either of these drawers that used to be disasters and actually be able to find the one thing I need at that moment.
The bathroom is probably my favorite place to use foldable dividers. I have one under my sink for hair products, lotions, extra bars of soap, and tubes of toothpaste, etc. I also have one in each of my bathroom drawers for things like cotton swabs, hair ties, nail polish, fingernail clippers, face wipes, and more. The number of items in my bathroom drawers is overwhelming, but I actually need most of them regularly. These foldable organizers make keeping all of the bathroom products in order much more manageable, and therefore, less overwhelming.
I'm sure the dividers could be used in children's rooms or garages, as well. The possibilities are endless with these handy $10 organizers, and I believe they will change the way you organize your drawers, shelves, and cupboards.
Editors' Recommendations