After the holiday season has come and gone, winter can feel drab and dreary. The trees are barren, the plants are dormant for the season, and your home's curb appeal may not live up to your standards. But just because the holidays are over doesn't mean you have to leave your porch and yard looking dull. No, we're not suggesting that you leave the Christmas lights up year-round. By adding select winter yard decor after the holidays, you can bring some cheer to your life that will last throughout the season. Here are a few ideas to help you plan out your post-holiday porch and yard decor.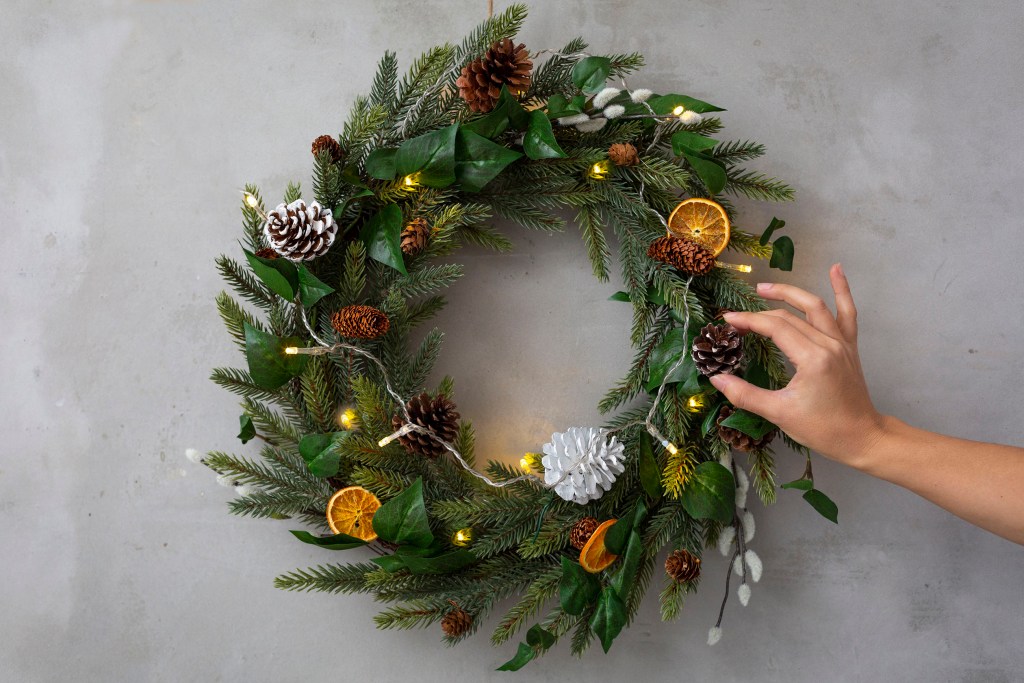 Dress up your door
You don't need to have a large porch or yard to bring a little cheer to your entryway. Instead, focus your decorating efforts on your front door. Purchase or make a snowy wreath that you can keep up all winter long. Instead of the classic Christmassy red and green door hanging, use natural components that are indicative of the cold season, like pinecones, berry sprigs, or orange slices. To give it an even more wintery touch, add some glitter or faux snow to the wreath. And don't forget the rest of your stoop. Pair your winter wreath with a cheerful doormat or festive winter plant in a decorative container.
Focus on natural elements
While winter may not be as lush or vibrant as spring, there are still plenty of ways to incorporate nature into your porch decor. Evergreen trees aren't just for Christmas; potted miniature evergreens can look great on your porch all season long. Or, add a little color to your plant arrangement with some bright flowers (real or fake). You can also fill your empty porch pots or rustic baskets with branches and pine cones gathered from your garden. Bundle together birch logs to create natural art, or if you're crafty, drill holes in the tops big enough for tea lights to make your own birch candles.
Keep it cozy
There's nothing like snuggling up under a blanket on a cold winter evening and warming up by a fire. Transform your porch into a cozy outdoor refuge from the chilly season. Deck out your outdoor seating or bench with cozy flannel or faux fur blankets and decorative accent pillows. You can complement your comfy seating area with some realistic LED candles or decorative lanterns. Remember, it's all about creating an atmosphere that makes you feel the most relaxed and comfortable. You may want to make space for some greenery, a small table where you can place a warm cup of tea, or any other elements that will enhance the cozy ambiance.
Light up your winter yard decor
No winter decoration display would be complete without proper lighting. There are so many different options for outdoor lights, but these are a few of our favorite ideas to inspire you. Hang string lights by the ceiling, or wrap them around the railing on your porch. Choose a sophisticated neutral hue for the bulbs, like white or blue. Or have some fun with bubble string lights. For a rustic and homey feel, try lighting your entryway with decorative lanterns. You can arrange a few along your porch, stairs, or pathway. Regular candles can also make a nice addition to your outdoor decor – just remember to choose flameless ones.
Use sporty winter wonderland outdoor decorations
Vintage winter sports equipment can double as excellent porch decor for the snowy season. Make your home feel like a cozy chalet by leaning two wooden skis in an X shape against the wall. With a retro sled, you can create a classic winter vignette by propping it up next to your door. Or use the sleigh to create a unique accent table that you can top with wintery plants, candles, and other decorations. Give your vintage ice skates new life by repurposing them as a wreath. Hang them on your front door with some spruce branches and winter berries for a unique DIY project.
Even though the holidays are over, your porch and entryway can still be festive. With these interesting and fun winter yard decor ideas, you can transform the front of your home into a winter masterpiece. There is something here to appeal to everyone's design style. From cozy seating areas to classic sporty scenes to an all-natural winter wonderland, it's easy to customize your porch decorations to create something that you'll love. So don't let the seasonal blues get you down; let your home give you a little joy.
Editors' Recommendations