Bathrooms are one of the most used rooms in any home. Because of the water element, the flooring you choose is critical to ensuring not only that it lasts for a long time but that you are safe from slipping and falling. Waterproof bathroom flooring is ideal for bathrooms because it will stand up to water and humidity that can cause molding, buckling, and other structural issues that can happen if you choose the wrong option. But what is the best waterproofing for bathrooms, and how can you be sure you're picking the right one for your home?
The good news is that there are several options when it comes to bathroom floors. The main option isn't just tile anymore. Today, there is luxury vinyl, laminates, and even waterproof hardwoods that all look good in a bathroom and will stand the test of time. Here are the pros and cons of each.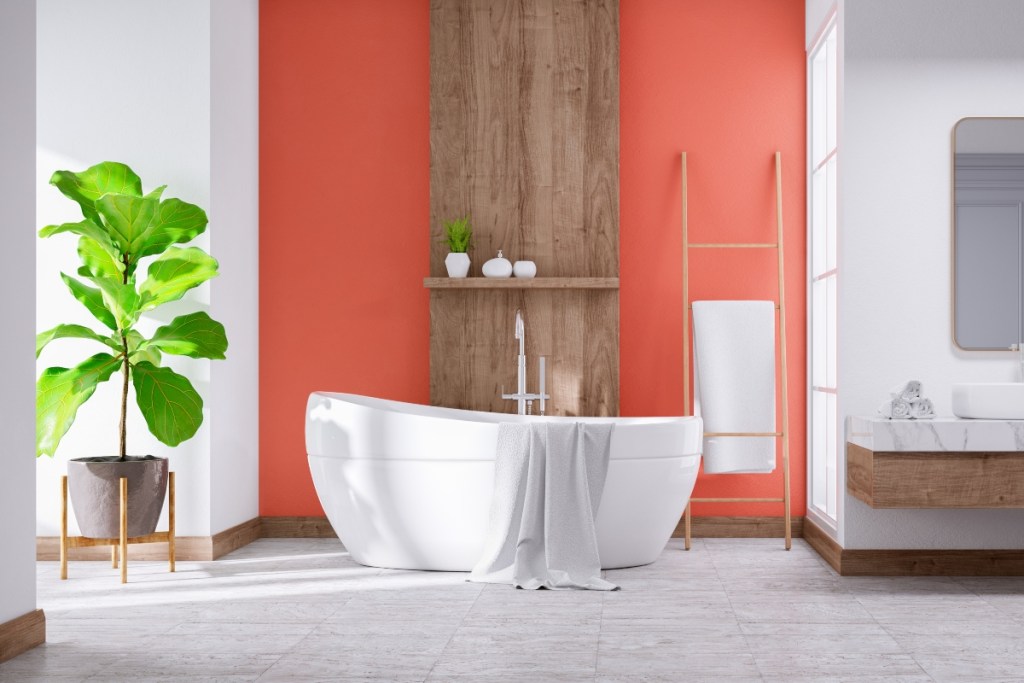 Should a bathroom floor be waterproof?
The short answer is yes. But which flooring is right for you? Here are a few to consider.
Vinyl flooring
Vinyl flooring is a good choice for several reasons:
Easy to install
The lowest cost option for any bathroom
Comes in a variety of colors and patterns
Durable and will last a long time
While it's not the most luxurious of bathroom floors, it works well in a kid's bathroom with a lot of foot traffic and bath splashes because it's easy to clean and waterproof.
Luxury vinyl plank and tile
While luxury vinyl has similar qualities to vinyl sheet flooring, it has a few other design benefits.
Composite core that hides sub-floor imperfections
Durable and waterproof
Material will increase the resale value of the home
Comes in tons of styles, sizes, and colors
It is a more expensive choice, and the price can vary considerably depending on what patterns or textures you choose, so do your homework on how much you'll need before you fall in love with one.
Waterproof hardwood
For those of you who love hardwood in every room of the home, there are actually options that are waterproof, making it an ideal choice for a bathroom. Here's why we love it:
Authentic real-wood design
Durable and scratch-resistant
Material will increase the resale value of home
Unfortunately, there are only a few retailers that sell waterproof hardwood flooring, and it's expensive to buy. But you can't quite replicate the look, so if you have your heart set on wood for the bathroom, this is the type to buy.
Porcelain and ceramic tile
Tile is a tried-and-true bathroom flooring solution for a reason.
Inexpensive
Can mimic pricier options like natural stone
Comes in a wide variety of colors, patterns, and styles
While tile is a classic, both porcelain and ceramic tile can be cold to the touch, which isn't always the greatest feeling when you step out of the shower. However, both work well with radiant heating, so if you have the budget for heated flooring, you should consider it. These materials can also be slippery, so it can be best to choose tiles with a textured surface or smaller tiles that will require more grout for better traction. (Or you can solve both these problems by investing in a good bath mat.)
How do you waterproof bathroom floorboards?
In our opinion, there's no real way to guarantee your existing flooring would be waterproof without ripping it all up (as well as the trim) and sealing it from all sides. Even then, it's not a guarantee that water won't find its way in. If you decide to give it a try, we'd recommend using an expert professional familiar with flooring to do this on your behalf. If you want peace of mind knowing there won't be any seepage, it's best to replace old flooring with one of the options above.
The importance of waterproof bathroom floors
These waterproof bathroom flooring options are all durable, easy to clean, safe, and long-lasting through years of heavy foot traffic. They are all super stylish as well, so you won't feel like you're choosing between form and function. Without waterproof flooring, water can seep into the floorboards and eventually cause structural damage to your home that can cost thousands of dollars to replace. For bathrooms on a second level, it can also seep into the ceiling of rooms below, causing mold and other issues in other parts of the home.
If you're planning to lay the flooring yourself, make sure you have the proper sealant for grout and other areas so you feel confident that there won't be room for water to escape. If you're unsure, this is one room that may be best left to the professionals. The subfloor must also be waterproof, so knowing exactly how to install it and the top floor material is critical. Corners and edges are particularly important to get right because even a little gap could mean problems down the road.
Once you have everything done, make sure you have a bath mat near the shower or tub so you don't slip getting out and to ensure that extra water gets soaked up. If you take care of your flooring and don't abuse it, you'll enjoy it for many years to come.
Editors' Recommendations