You've probably remodeled your home office and are happy to work from home. Or you spend most of your time in the office. No matter the situation, a comfortable desk chair is important.
Chances are you already have a classic swivel chair with caster wheels, but if you want something a little more elevated, keep on reading. We'll review some stylish desk chair options you might be overlooking. Ergonomic and easy on the eyes, these chairs will make your work area look more refined.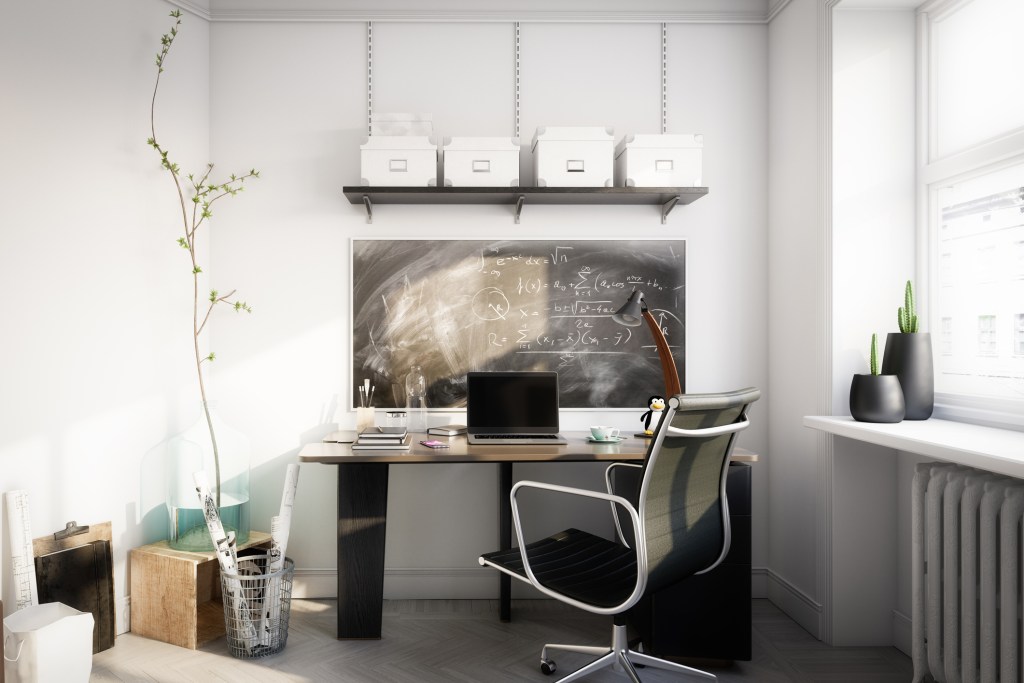 A low wingback chair with vibrant upholstery
A wingback chair is a traditional armchair that adorns living room corners and bedroom reading nooks, says Foter. When you lower its back and create a rounder shape, you get an ultra-chic task chair that fits into any office and behind any desk. A button-tufted back and an upholstered body all-around make this type of chair soft enough without looking cumbersome.
Durable casters and an adjustable height lever make this type of chair ideal for hardwood floors, and there are many carpet-compatible chairs in the same style. Many of these chairs have an accommodating weight capacity of up to 300 pounds and can rise up 22 inches. Metal legs add an elegant touch to an already-sumptuous chair.
We recommend something like a navy tone for a neutral look, though teal, yellow, or pink might look great behind your home desk. Chairs like this go for around $300, but keep an eye out for frequent deals. The average user should look for a chair with approximate dimensions of 24.5 inches wide and 45.5 inches long (at its highest).
A minimalist spoon task chair
If you want the classic desk chair look without looking ordinary, a minimalist task chair might just be what you've been looking for. Apartment Therapy It's great for hardwood, tile, linoleum, and carpet, thanks to reliable caster wheels and high-quality plastic construction. Good news for environmentalists: You can even find these types of chairs that are fully recyclable when taken apart.
When it is assembled, it will likely be a functional office chair with fixed flat arms, a slightly reclined back, and a padded seat. If you need a compact chair for a petite work desk, look for dimensions around 37 inches tall with a seat that's 18 inches wide and 17 inches deep. Often, the height adjuster is hidden in the seat trunk, avoiding awkward leg contact when in use. Need something that's easy to clean? Look for plastic arms and back and a polyurethane seat.
A leather dream
Searching for something more organic? Consider a leather chair made of top-grain leather and dotted with decorative stitching along its sides and back. Inspired by elements of the mid-century aesthetic, these types of chairs often feature rounded edges, a natural shape, and neutral tones. A black finish wood frame perfectly complements a pleasing coffee leather design – or you can look for cocoa leather, which is a slightly darker tan.
Even if the arms are fixed, you should still be able to raise the chair from around 18 inches to 23 inches high. Your chair may likely measure 24 inches wide and 28 inches deep with a maximum weight capacity of 300 pounds, which is the Goldilocks of desk chairs — not too large, and not too small.
A mid-century modern wood and fabric chair
Continuing with the mid-century modern spirit, an upholstered chair is a unique choice you can also use for the living room or bedroom, should you decide to keep it at home. For an eye-catching chair, consider one made from manufactured wood in a lifelike brown grain finish topped off with thin, muted green upholstery.
This is also the ideal type of chair if you want a fixed-height model that fits well under your existing desk. It should be easy to find a compatible desk if you get a chair that's around 28 inches high, 21 inches deep, and 24 inches wide.
A fresh take on the executive chair
Executive chairs are typically enormous and graceless, but a modernized office chair reinvents the wheel. Picture a chair that combines a sleek, chrome-plated steel base with a unique walnut backing and leather upholstery. That type of chair will be a breath of fresh air in your stuffy office. A high back and separate headrest with high arms will make your chair comfortable without sacrificing looks. Look for an adjustable seat and a convenient 360-degree swivel for large or L-shaped desks.
Genuine leather, walnut frames, button-tuft upholstery — who knew a desk chair could be so versatile? Frankly, your desk chair doesn't have to look corporate or boring. There are many stylish options out there you may have overlooked, so get the ball rolling with the types of chairs we mentioned above. Go ahead and swap out your old seat for a more elegant alternative — you deserve it.
Editors' Recommendations