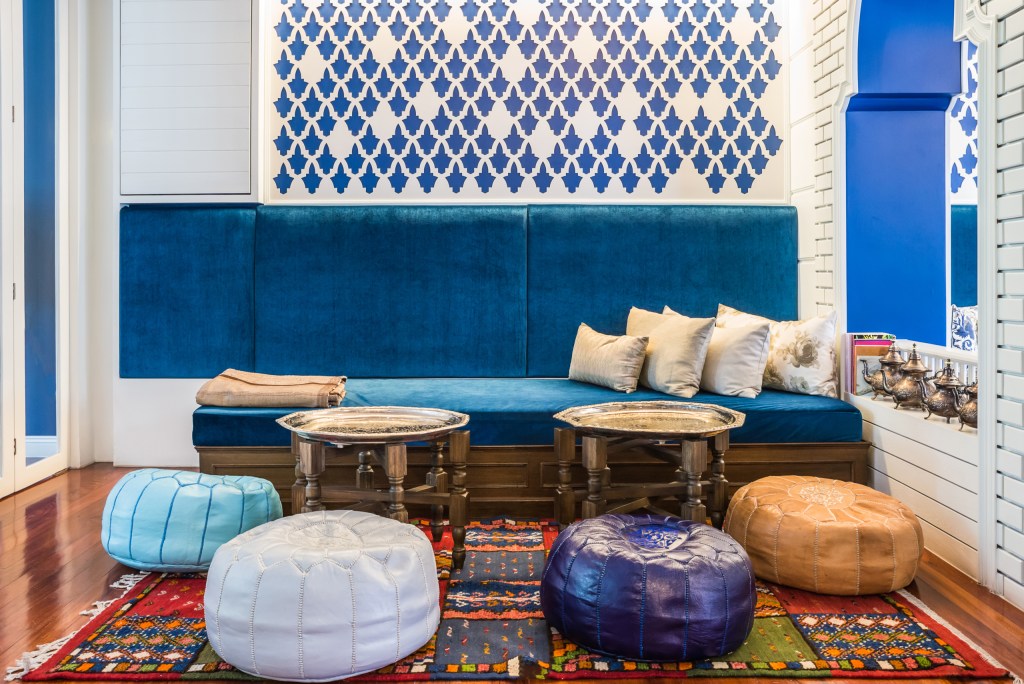 If you want to style your living room or recreation room, Moroccan seating is a gorgeous choice. Inspired by the beauty of Morocco and Northern Africa, it consists of low seating and plush cushions. It can be great for entertaining family and friends since it provides many flexible seating options. The most important element is that guests feel welcome and comfortable.
Couches
Moroccan couches often consist of a wooden bench as the frame and cushions upholstered with silk, velvet, cotton, or wool. Throw pillows and accent pillows can be added for extra color, style, and comfort. Sometimes large throw pillows can be used as extra seating by placing cushions on the floor, and you can add bolsters to create extra support. Bolsters are thick, long pillows that are rectangular or cylindrical in shape and can serve to separate parts of the couch or act as armrests.
For optimal seating, consider lining three walls with couches. "Such seats may also function as day beds, and some families may use them as sleeping areas too. This type of traditional Moroccan seating is also known as a sedari." according to Moroccopedia, a Moroccan travel and culture website. This arrangement can be excellent for hosting guests in living rooms or basements.
Ottomans and poufs
For extra seating, a footrest, or for purely decorative reasons, add an ottoman or pouf. They can be easily moved around your home to accommodate whatever event you are hosting and can be cube-shaped, cylindrical, spherical. They come in many fabrics and can be leather-covered (or faux leather) and embroidered with floral or medallion stitches. They can also be upholstered with colorful silk, wool, velvet, and cotton. For more of a statement, poufs and ottomans can be knit or have a decorative fringe. The best part is, when not in use, they can be piled up in a nook or corner for easy storage.
Some ottomans have an empty center and a cushion that serves as a removable lid that can be used as extra storage space, perfect for blankets. Alternatively, they can be used as a side table that can be effortlessly moved across the room. "The main difference between an ottoman and a pouf is that an ottoman has short legs, whereas a pouf rests directly on the floor," according to Moroccopedia. Poufs tend to have a bean bag type quality to them and are often filled with polyester material. Often the terms are used interchangeably.
Cushions and rugs
It is common to have spare cushions around to use as impromptu seating. These comfy and plush oversized cushions and pillows are cozy and add affordable extra seating. It also can be a fun arrangement for children watching TV and playing games. Cushions can be propped up against a wall to provide a back for the seating or put on the floor for kids to lie down on.
Soft, plush rugs are also ideal since rugs provide more comfort to those seated on cushions or the floor. With colorful and intricate designs (some rugs have decorative tassels), rugs can add extra style to any room.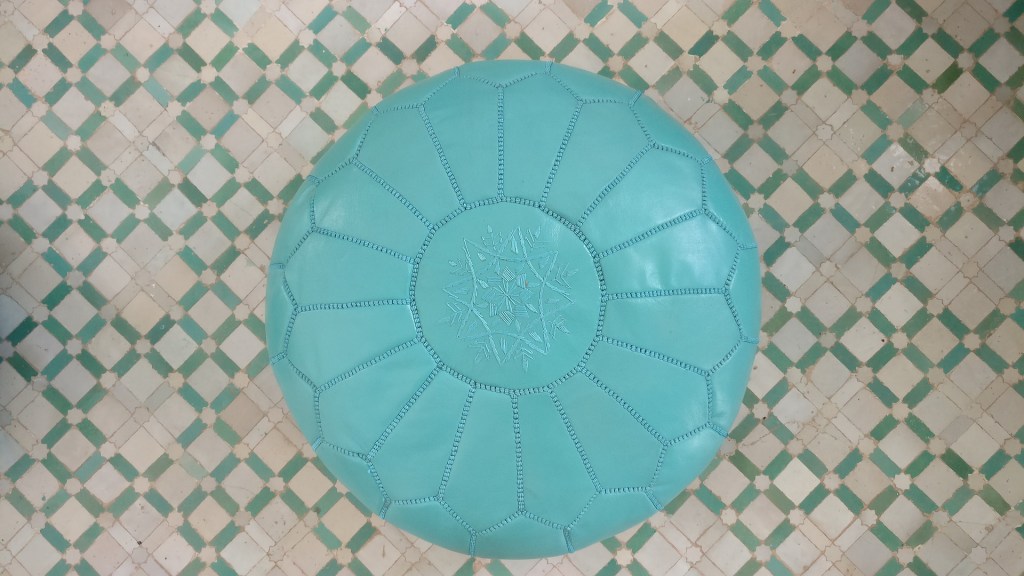 Tables
Moroccan tables are often lower to the ground than other coffee tables to match the seating height. Moroccopedia states, "A large, low table (also known as a mida) is often at the center of a salon, with long sofas arranged around three sides." They often consist of wooden circular or square and rectangular-shaped tables used as coffee or side tables around the couch and are made of metal such as brass or with a gold, silver, or bronze finish.
Wooden tables can have ornate and intricate carvings in them. Some ottomans can also double as tables to serve tea or rest food on. Like ottomans, some tables may have a hollow storage space once the lid is removed and may also be tiered or nesting. Many times the salon doubles as a dining area and the tables are used for dining. This can be a fun way to entertain if you do not have a separate dining room in your home.
Accessories
Some Moroccan salons have a partition or dividers to create some privacy. This feature allows the space to be used for multiple purposes. Dividers are often made of wood and have decorative carvings like scalloping or covered in intricate fabric. Lanterns made of metal and colored glass can make beautiful accent pieces and provide cozy ambient light. They can be hung from the ceiling, mounted on the wall, or set on tables.
If Moroccan design speaks to you, try adding these furnishings and accent pieces to your living areas. The flexibility of seating and hosting options makes it a great fit for any home. If hosting isn't your style, it may even lead to more cozy nights in.
Editors' Recommendations