Creating a cohesive design is more than purchasing matching bedroom furniture in the same colors, patterns, and materials. Though many manufacturers sell furniture and decor in matching sets, creating an exciting and interesting room means mixing and matching your furniture to give the space more of your unique personality.
Incorporating different styles and textures into a space can be tricky and not always easy for some. A few perfectly chosen pieces can turn your chaotic room into a calming retreat.
The key is putting together the right pieces, colors, and textures to look effortless and cohesive. You can bring in hints of character to arrange a bedroom that looks interesting and not something you'd see in a furniture store showroom floor. As you redecorate your space, keep these few tips in mind.
How to mix and match bedroom furniture
Step 1: Start with an anchor piece.
Find one central piece of furniture you love, like a headboard or ornate dresser, and incorporate it into your overall design. Determine what you love most about the piece — is it the color, industrial lines, or farmhouse look? Bring these aspects to life and feature them throughout the space.
Highlight the brass knobs of your antique dresser by choosing bronze overhead lamps or lighting fixtures. If your centerpiece has accent colors, choose complementary colors in the rest of the room for a fun, contrasting look. Since the bed is often the largest and most customizable piece in the bedroom, this furnishing is the most natural centerpiece. Here, you can go bold with the bedding and buy (or DIY) an attention-grabbing headboard.
By drawing inspiration from this single piece, you make sure every other aspect of the room shares the same source of inspiration, even if they don't match each other exactly.
Step 2: Don't be afraid to match styles.
You can mix and match styles, including a midcentury modern dresser right next to farmhouse-inspired bedside tables. The key is finding something about them that is similar (like the color, material, or hardware) and building off of that likeness.
For instance, at first glance, this dresser from Article and this two-drawer nightstand from Wayfair don't look like they were designed for the same space. One has geometric features and contemporary brass legs, while the other is a retro piece with a rustic grain pattern. However, because the wood tones are similar, they can work together to add an eclectic vibe to the room.
Step 3: Play up one design feature.
Another tip to mixing and matching furniture is to find one element that all pieces have, like curved edges or brass hardware. That way, even if you're choosing items that differ in their material, color, or style, there is still a theme that runs through the entire space.
It can be as simple as finding one grain of wood that you like and making sure that color is represented in other items like floor mirrors, benches, shelves, or armchairs.
Step 4: Use textures.
More so than in the rest of the home, adding texture to the bedroom is crucial. It's the difference between an ordinary bedroom and a true personal oasis. Bring in bedding that is light and airy and mix it with faux fur throws. Find colorful pillows and balance them against a herringbone side chair. If you have a lot of heavier blankets and materials, add some lightness with airy bedroom curtains.
While it's tempting to make everything in the room ultra-plush and cozy, you may end up with a bedroom that feels unfocused or one-note. By pairing soft throw pillows and Egyptian cotton with harder materials like wicker, brass, or hardwood, you can better highlight your comfy statement pieces.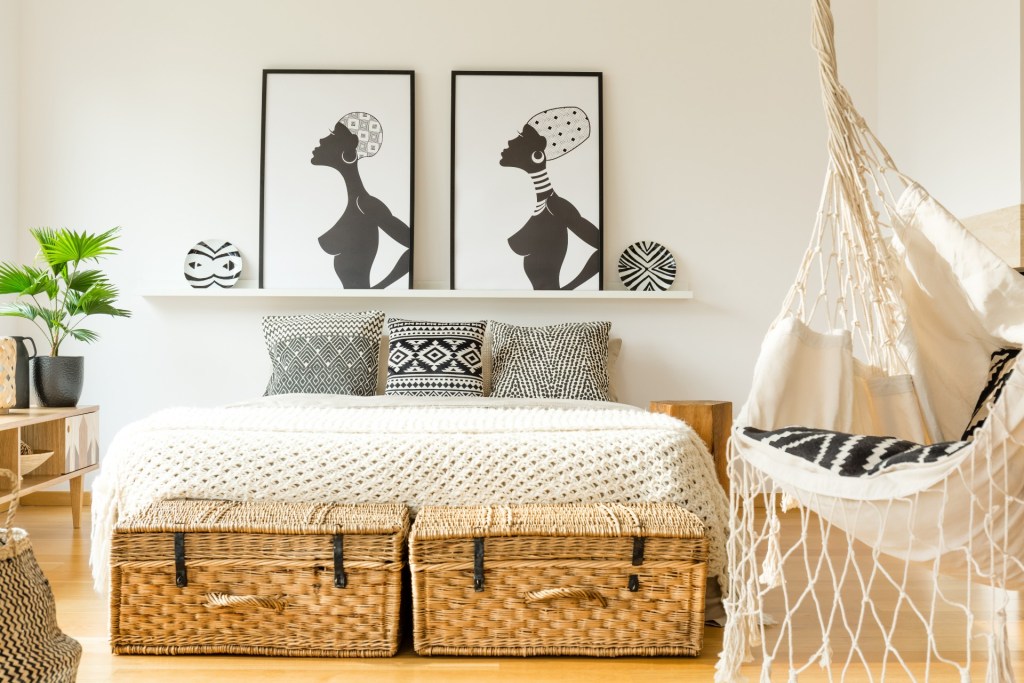 The key to pulling off a unique, eclectic bedroom is to coordinate, not match. Instead of designing around a color, do so according to a palette, mixing trendy colors like jade green, slate blue, and gold to create a cohesive and interesting space. Mix up the furniture as well, pairing more contemporary pieces with rustic accents or placing a minimalist side table atop an ornate rug.
As long as you infuse your point of view into the space, you can't go wrong. Invest in pieces that speak to your overall design preferences and choose accents (like throw pillows, side tables, or lighting fixtures) with similar details, materials, or colors. Redesigning your room should be fun, but in order to do it successfully, you have to plan ahead. A little thoughtful design goes a long way in decorating a room that's exciting, aesthetically pleasing, and 100 percent your own.
Editors' Recommendations