Maximalist kitchens are trending, and for good reason. Maximalism allows you to express yourself through design with loud patterns, bold colors, and fun decor. For many people looking to spice up their home's interior, a maximalist kitchen is a great place to start.
As opposed to minimalism, which makes use of neutral colors, plain patterns, and simple, understated decor, maximalism turns up the volume on your home design. Minimalism has been in style for a while, so it makes sense that maximalism has emerged in response and is rapidly gaining popularity.
A maximalist kitchen creates an open, cheery space for you and your family to cook, eat, and perform daily activities. Interior design experts Eugene Colberg, the principal at Colberg Architecture, and Saloni Ingle, interior design architect at Nitido Design, offered their best maximalist kitchen design tips.
Open up the space
The great part about maximalism is that the size of the kitchen doesn't necessarily matter. In fact, maximalist design is often found in smaller kitchens as opposed to larger ones, Colberg says. "There are different ways to integrate the maximalist kitchen mantra, whether you have a very large or average size home," he explained, adding:
"The sheer size of the true maximalist kitchen is less common in urban environments and more common in large, over-the-top homes. The extra large size, whether you're designing a townhouse or an apartment, or a second home, are not typically the places where you see that type of kitchen."
That said, Colberg noted that open-concept floor plans help a kitchen feel larger while also setting it apart from other areas of the house. If you're able to, creating an open floor plan around your kitchen can aid maximalist design planning.
"To create a larger, maximal kitchen feel, we integrate an open kitchen concept, which creates the illusion of a bigger, combined space by combining the kitchen and living spaces," Colberg said.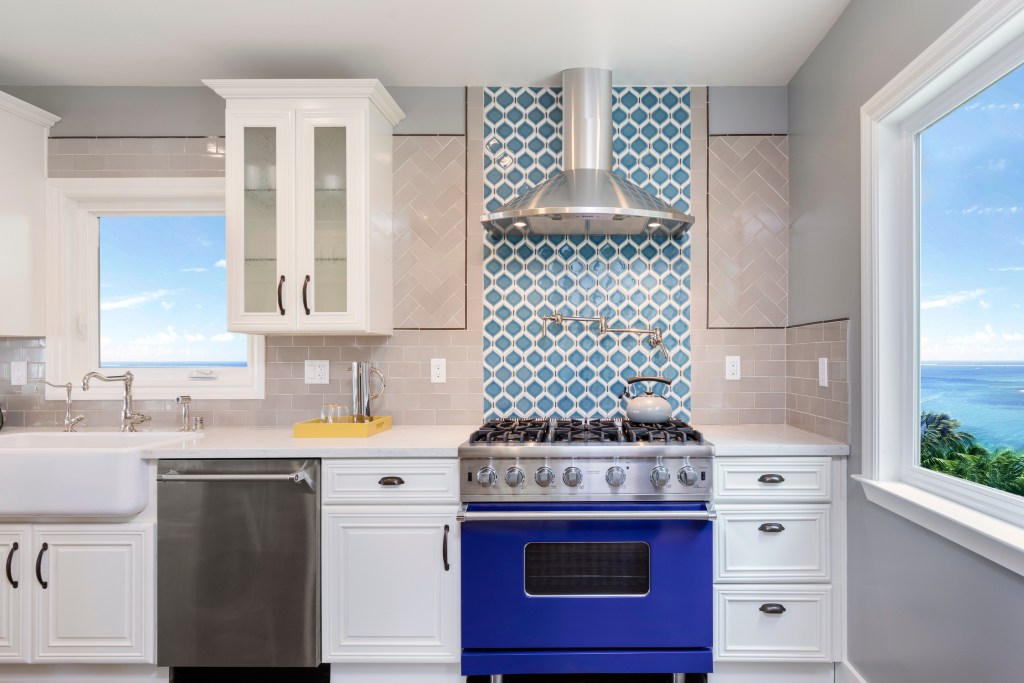 Use a contrasting color palette
Another key to maximalist design is using a contrasting color palette, which could include one bright color and one dark color to contrast it, such as a bright yellow and deep purple. These colors can be incorporated in your backsplash, wallpaper, or wall paint.
"A maximalist kitchen is a bright, airy room where color and pattern take center stage," Ingle said.
"Color may be used anywhere — on the walls, ceilings, and floors, as well as on the backsplash, worktops, and colored furniture. I can use all of the different colors or stick to a color palette that I like. I can imagine myself rocking a variety of patterns and prints, such as a printed floor, countertop, or backsplash, as well as printed furniture. I can express myself and my personality by constructing a maximalist kitchen with bold decor and other items that speak of me."
Ingle's personal choice would be a boho-style kitchen with grey walls, light-stained cabinets, a red tile countertop, a red table with mismatched chairs, loads of art, and bohemian rugs.
Contrasting colors means also contrasting different elements, such as appliances, lighting fixtures, and wall decor, to make certain materials or patterns stand out in the room.
"One design feature we love is utilizing contrasting color palettes and materials that bring the space to life, and make it more present, than the kitchen that wants to blend in," Colberg said. "The contrasting palette can make the different elements in the kitchen visually stand out. We are not big fans of being splashy or creating a cacophony of too many elements; the key is to use a contrasting palette in an elegant and effective way."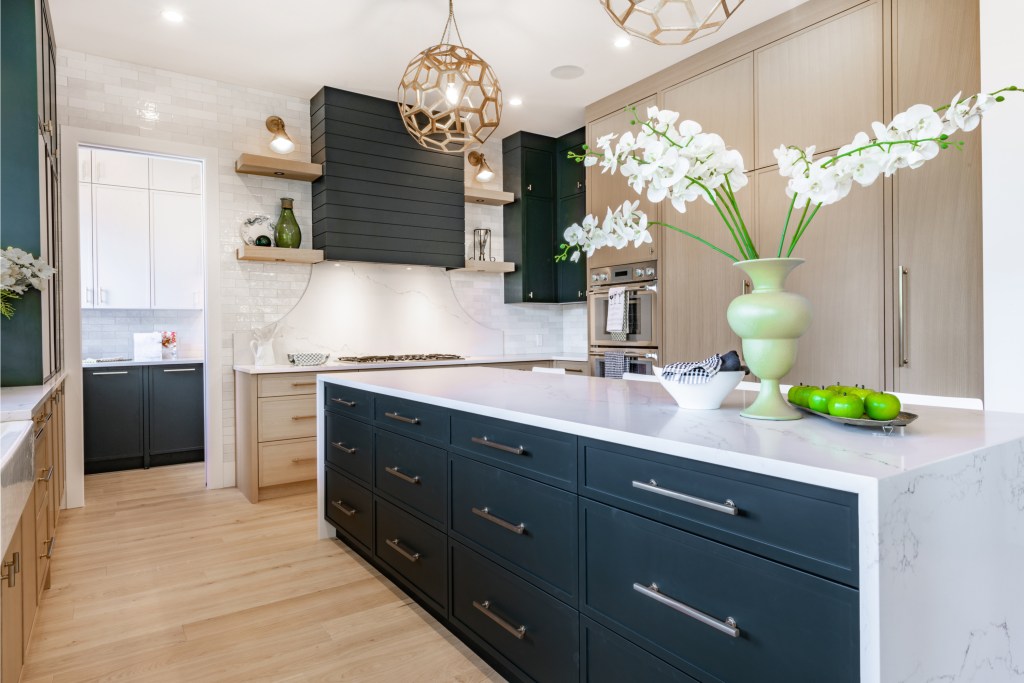 Choose lots of exciting decor
If you don't want to make too many drastic changes to your kitchen, such as painting or retiling floors or walls, then adding statement pieces is your best bet. This could include new lighting fixtures, wall art, rugs, and tchotchkes to display on shelves. Usually, maximalism is suggested for people who own a lot of things so that they can arrange them in a deliberate, organized way.
"The best way is to start with a small space and focus on collecting perfect pieces instead of clutter," Ingle said. "You can swap your simple lampshades for bolder options and add some extra rugs. There's a lot you can do without cluttering the space."
Maximalist design is a great way to turn a modest-size kitchen into the focal point of a home. Creating a maximalist kitchen also allows designers and homeowners to express themselves in a room that they spend lots of time in on a daily basis. When designing a maximalist kitchen, some things to keep in mind are contrasting color palettes, contrasting materials, creating an open floor concept, and incorporating items and decor that are eye-catching but don't clutter the room. If you do these things, your maximalist kitchen will come to life.
Editors' Recommendations