We all spend a good amount of time in our beds, and some more so than others. But at the end of a hard day, there is nothing quite like falling into your mattress and melting into dreamland. But how comfortable is your mattress these days? And how often should you replace your mattress? Is it starting to feel like your springs have sprung out the door? If you've been having sleepless or sleep-disrupted nights lately, you may want to start your investigation with your lackluster mattress as the possible culprit.
You might be wondering just when to replace your mattress. Experts agree that mattresses should be replaced every seven to 10 years. Some pinpoint that even further by saying they should be tossed after eight years. Either way, mattresses that are past their prime should be replaced. If your bed hasn't been upgraded lately, now might be the time to start searching for a deal. With so many new mattress styles on the market these days, the time for mattress upgrades couldn't be better or more in the consumer's favor.
Stick a fork in it, it's done
Have you noticed your bed talking back to you recently? While not in the literal sense, mattresses can start to give after being used for a while and may start making noises. This, coupled with lumps and bumps in the padding, could be signs that your mattress is ready to give up the ghost. Creaking, cracking, or any reactionary sounds that emit from your bedding when you slide into the sheets at night are telltale signs that it's time to throw in the towel and start looking for a new place to lay your head at night.
In addition to noises and bumps, stains and/or smells that cannot be removed from the fabric are also reasons to throw out your mattress. May it be pets, kids, natural disasters, or purely accidental, intense odors or stains on your mattress are causes for swift removal. In situations like this, it doesn't really matter how long a mattress should last. Not only are these unhealthy conditions to sleep in, but they will likely disrupt your sleep patterns. Due to only being able to clean its surface, stained mattresses are nearly impossible to deeply clean. Other big reasons to toss your mattress include:
Visible breakdown of the mattress.
Bed bugs or other parasitic insect

infestations.
Body aches or pain after waking.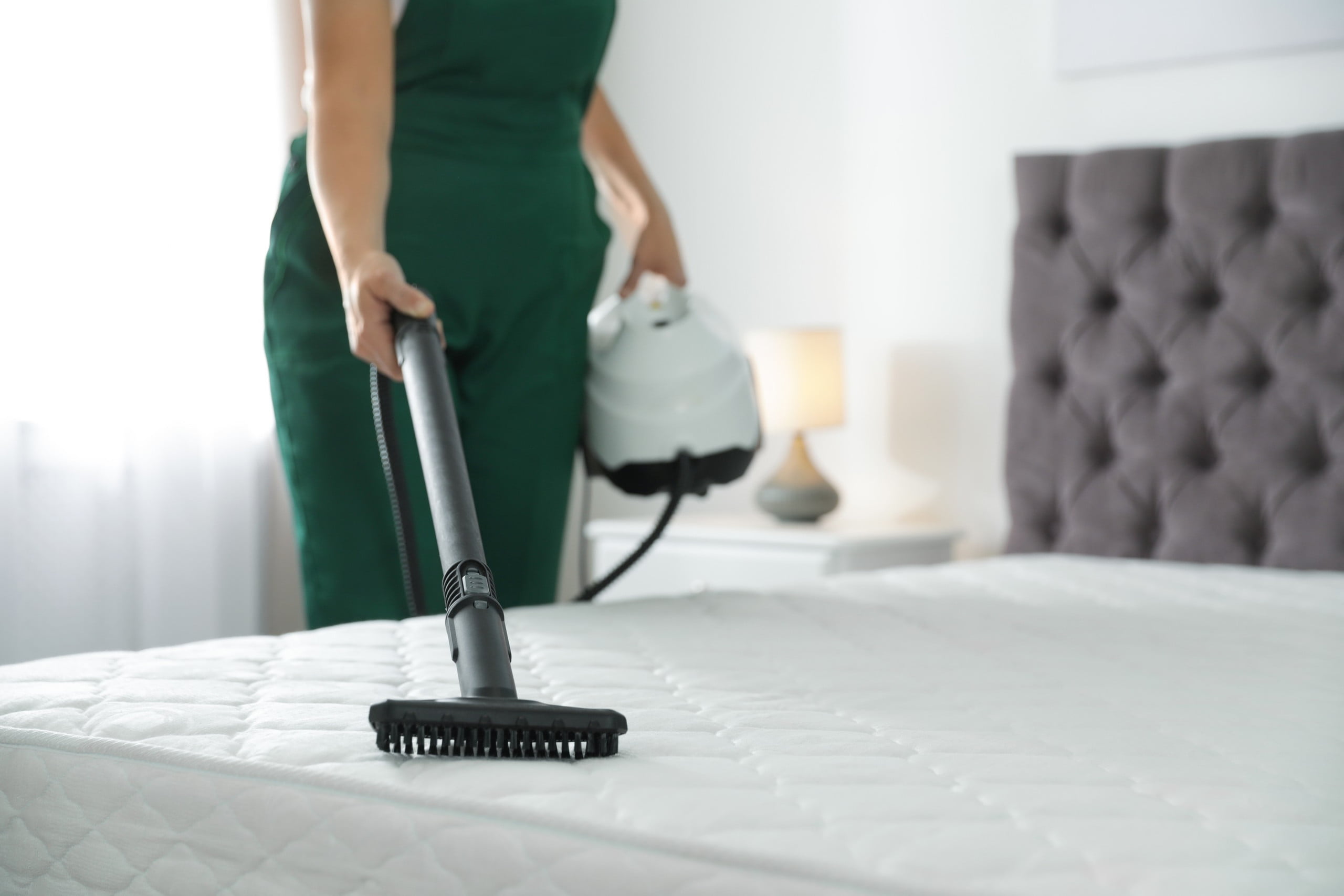 Give 'er a scrub if
ya
can
If your mattress hasn't started showing signs of being near the end of its lifecycle, now may be a good time to implement some maintenance cleaning and prevention. If it has been a while since you refreshed your pillow-top, consider this reminder to give your most well-lived-in piece of furniture the attention it deserves so it can continue to provide you with rest and relaxation.
One of the best ways to refresh your mattress is by simply sprinkling the top with baking soda and letting it sit on the mattress for several hours (if possible) or for as long as you're able. Human sweat is slightly acidic, which mixes with bacteria on the skin. This combination of acidic sweat and bacteria can hang out on the surface of your mattress for as long as it can, building up over time. Baking soda is slightly alkaline and is a natural odor neutralizer. The alkalinity in the baking soda reacts with the acidic makeup of the sweat and is naturally neutralized. Pretty neat, right? Once you've let the baking soda sit on the mattress and work its magic, grab your vacuum's hose attachment and quickly suck up all the baking soda quickly and without a huge mess.
You could also take that a step further by mixing in several drops of essential oils such as lavender, eucalyptus, or peppermint to help freshen the surface and leave behind a mellow, pleasant scent.
C'est
la vie and goodbye
If you've concluded that your mattress is beyond saving and is ready to be replaced, you're probably wondering what to do with it once you've found its successor. Consumers have several mattress removal options aside from just tossing it out with the trash (if your waste management company accepts this type of item at the curb). However, if you're of the mind to be more sustainable, there are several green options to help you rid yourself of your tired, old mattress.
These options depend on the condition of the mattress. If it is heavily soiled or infested with pests, please consider alternate options to those listed below:
Donate it! Lots of programs and charities accept mattress donations for homeless shelters or churches that double as community centers for the less fortunate.
Upcycle it! If you are a crafty person or enjoy a challenge of a good do-it-yourself (DIY) project, consider using parts from your old mattress in a craft or project for your home.
Scrap it! However, this will only work for inner-spring or metal-framed mattresses.
If your mattress has seen better days or you can't remember the last time it was cleaned or replaced, now could be the perfect time to give your bedroom and your body a breath of fresh air. Whether time hasn't been on your side and your mattress is past its prime or life happened and a new sleep station is necessary sooner rather than later, don't let it wait too long.
And, of course, if deep cleaning your mattress does little to lift stains or remove odors, it may be the time to consider a replacement. You rest your mind and your body here each night, after all.
Editors' Recommendations