When you're in the kitchen, you need something that's going to make your work a little easier or more convenient. What do we mean by that? Consider athletic wear that's typically designed for function first, style second. Of course, it may look great, but when you're in the middle of an intense run or workout, you want the apparel to be comfortable and convenient. Sweat-wicking fabric is an excellent example, and stretchy materials that give you room to flex and move are another worthy callout.
Compare this to other forms of clothing, which are often designed with the opposite approach — aesthetics first. Los Angeles-based Helt Studio understands this, which is why it provides quality functional apparel for the modern chef, whether you're cooking at home or away.
The problem is that most apparel brands don't offer clothing designed to hold up to the everyday experiences of the average kitchen. Helt Studio's gear does, namely its restaurant-quality aprons, which is why it says, "What you wear to work should work for you." And we tend to agree, even if you're baking something in your home kitchen. The last thing you want is for those eggs you spill or flour you rub off your hands to ruin your clothing and trendy aprons.
What's Helt Studio's story?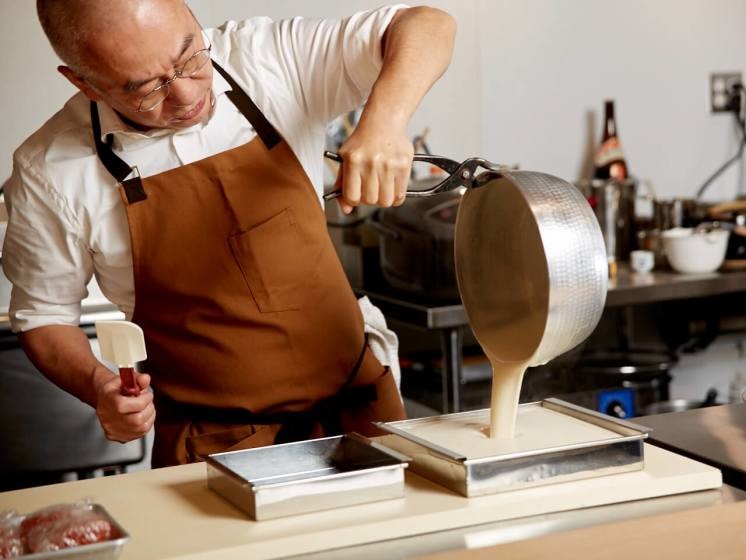 Athletic apparel is built with a clear goal in mind: to help athletes perform. Helt Studio has taken the same idea and applied it to the food and beverage industry. But don't make the mistake of thinking this professional wear is only for the practicing gourmet chefs out there — it's for everyone!
The Helt team has years of experience in the field. The core creators are once-practicing chefs, restaurant owners, and beyond — they know exactly what it takes to work in a fast-paced kitchen. They also know what goes into an incredibly useful apron.
Helt Studio's apparel espouses comfort, style, and functionality all in one, and that's made possible thanks to its "technologically advanced fabrics." Those advancements allow for a reliable degree of resistance to heat, fluids, spills, stains, and well, you get the idea. It covers pretty much everything you'd encounter in your average kitchen and so much more.
It's also worth noting that Helt stocks coats, shirts, and a variety of aprons, including standard bib, bistro, and water-repellent styles. All of them look and work great on the fast-paced kitchen floor or wherever that may be. The aprons are a great place to start, but just know there's more available if you want to dig a little deeper.
Aprons you can trust wherever you need them
Helt Studio offers a commendable selection of apparel, but none more useful than its chef-inspired aprons. They're professional, restaurant-quality aprons that are as comfortable to wear in a hot kitchen as they are functional. Chef, cook, or server — they're all supported in some very unique ways. Don't worry Dads, Moms, and culinary lovers of all kinds, these aprons are for you, too!
The chef apron, for example, has a plethora of pockets for storing utensils, recipe notepads, and whatever else you might need. The Raw Bar Denim style kicks it old-school, inspired by western keg bars and cowboys from the 1860s. Adjustable neck and waist straps make it easy to put on and take back off without putting too much stress on those areas of your body — ever tried to wear an apron around your waist that's too tight?
Conversely, an apron that's too loose falls off constantly, making your cooking sessions a bit more frustrating than they should be. You get none of that here, just a well-fitting and cozy apron that keeps your clothes and body clean while you prep or cook.
Server aprons, on the other hand, use a bistro design from the waist down and have extra large pockets for all your gear. These aprons work quite well for chefs, line cooks, dishwashers, and a host of other disciplines. But don't worry if none of those titles describe you, as the aprons are versatile and comfortable and work in many different settings.
They come in a variety of styles and colors, allowing you to choose your favorites. They'd fit in nicely inside any restaurant or kitchen. But honestly, because of how well they work, you could wear them for just about anything at home, too. Woodworking, gardening, cleaning, cooking, you name it, there are a lot of different activities that would benefit from Helt's aprons.
Let's talk about the innovative fabrics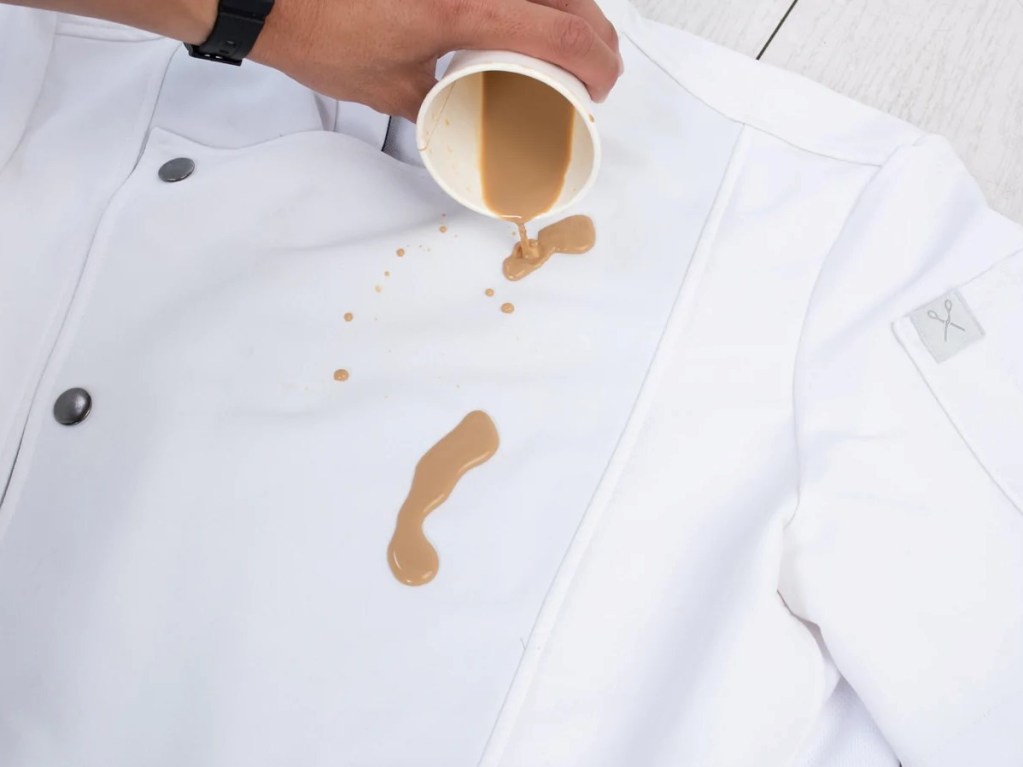 Helt offers antimicrobial, sweat-wicking, water-repellent, and breathable fabrics. They also have four-way stretch properties, which means the finished apparel is flexible and won't tear under intense use — like when you're on a mission in the kitchen. Many of these benefits are not something you'd typically see with kitchen wear for home use or professionally applied, for that matter.
Even when Helt gear is made of traditional materials, such as denim or cotton canvas, it benefits from a durable and reliable water-repellent coating that's applied through intuitive engineering. Spills, splashes, and pops — like when spaghetti sauce gets too hot — are no longer a problem. They won't stain or damage the clothing, and it makes greases or sauces easy to clean with no residues left behind.
Something like the Hidden Gem Bib Apron is perfect for bakeries and messy domains. No matter how much flour you spill on it, or any fluids, they'll come off easily and won't damage the fabrics. You can bake your cakes, pancakes, fried dough, or French toast without worrying about how much of a mess you make — they do say the messier the chef the better the food! And for all you parents out there, it's a great option when you're working with those little aspiring chefs! They can spill and have the time of their lives, and you don't have to worry about what's getting on the apron.
Helt's CrewTech fabric also helps you stay cool in a hot kitchen. It's highly breathable and sweat-wicking to keep you feeling clean and comfortable. There's no question the designers have pulled out all the stops here. Aprons with this material probably even work in a hot shop, a place where high temperatures really play a role since you're working with glass. But if you're at home, in this summer heat, with the oven or cooktop on, that cooling fabric is going to make a world of difference.
Helt Studio is starting a technical workwear revolution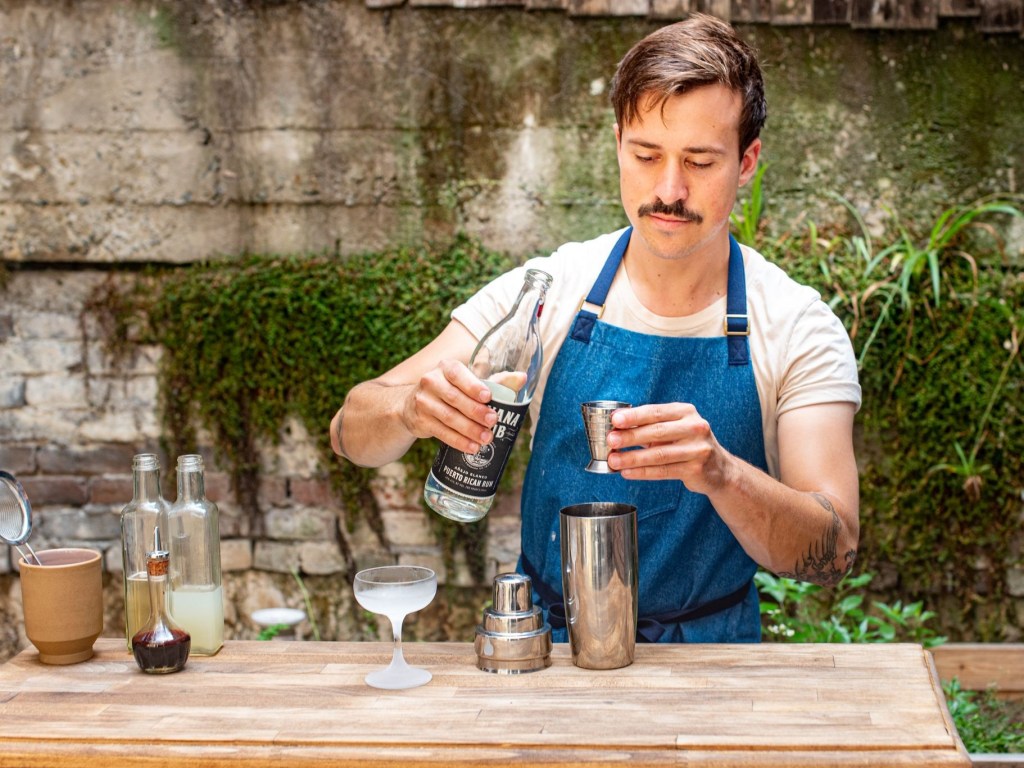 You should work smarter, not harder, but that doesn't mean you can't look good while doing it. It should always apply to wherever you're practicing, as well, and most of all, your home kitchen. Helt Studio is creating precisely the kind of technical workwear the average culinary enthusiast needs. It keeps you cool in a very hot space and gives you plenty of room to stay comfortable without being too baggy and getting in the way. That's true of all Helt's apparel, from shirts and coats to its multi-styled aprons.
You can order customized apparel, including Helt Studio's aprons and jackets. It's all part of Helt's uniform revolution, and you can customize them to your heart's content. Want to call out the fact that you're a proud Dad and a chef? Go for it! How about the fact that you love a glass of wine while you prep your dinners? No problem. Say what you want, or adorn the gear how you want — it's all up to you.
Helt is built for everybody, even business
While anyone can visit Helt Studio's website, customize a piece of apparel, and order, so too can a business for its employees and customers. A new T-shirt and hoodie merch program allows businesses to feature their designs and logos on the apparel and make them available to customers as official merchandise. The idea came about during the beginning of the pandemic, when restaurants and eateries were shut down and needed another source of revenue. Now, it's a mainstay, and you can take advantage of that customization, too.
Taking that a step further, resourceful managers can order customized gear for their team that leverages the unique designs and innovative fabrics at Helt's disposal. Let's not forget that if you want one of these amazing aprons to use in your kitchen at home, that's totally cool, too!