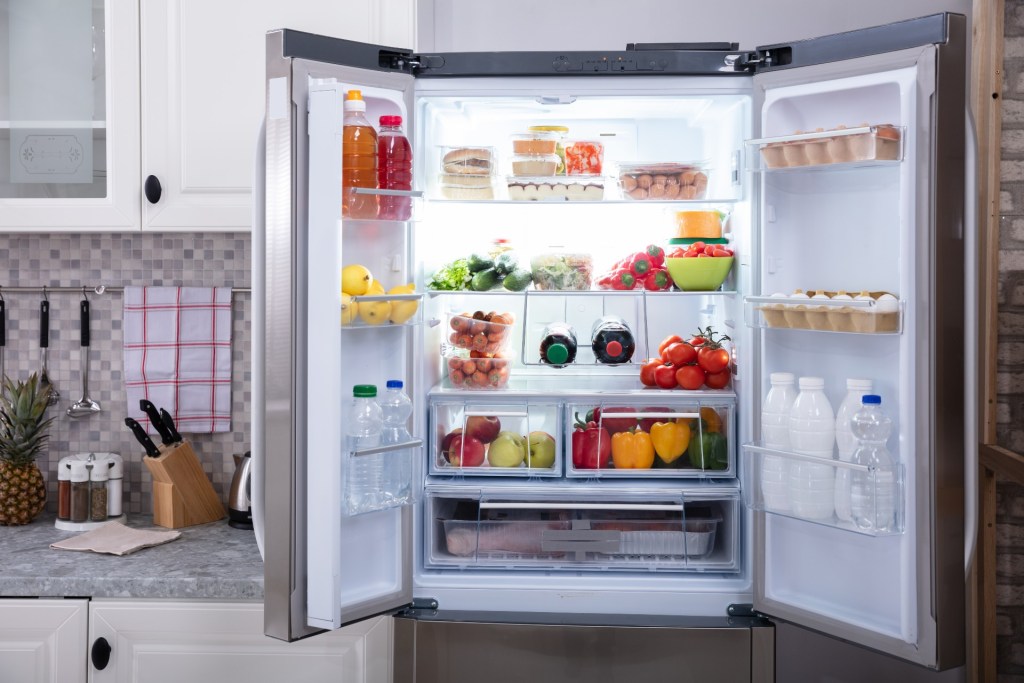 Be honest, how many times have you gone to the store and bought an item only to discover that the very same thing was hiding in the back of your fridge? Wouldn't it be nice to open your refrigerator and actually be able to see what was inside? It is time to tame the beast and get your fridge in order. With these easy solutions, yours will be well-organized and efficient in no time.
The first step in your fridge organization may be the hardest. Take out everything—yes, every single item—throw away anything expired, and sort out what is left. This will help determine what solutions will work best for you. What are the items you use the most? Do you need a place to store cans of seltzer? Are your vegetable and fruit drawers a chaotic mess? Consider what will fit your specific needs. Also, make sure to measure each section and calculate the dimensions to ensure the containers you select will fit.
Before adding anything back in, thoroughly clean your refrigerator. When it comes to organization, clear containers are always helpful because they allow you to see what is inside and how much of it you have left. Here are our Container Store picks:
These bins allow you to group similar items together in the refrigerator or freezer. Use them to store things like yogurt, condiments, and juice boxes. Simply organize what is inside by use or size. They come in narrow or wide widths and can be stacked.
Drink a lot of canned beverages? This clear container holds up to nine cans and includes a removable top tray that you can use for additional storage space. These also work well in a pantry for cans that you will not be refrigerating.
If you drink bottled beverages, this holder will keep nine bottles chilled in an organized fashion.
Never worry about your eggs getting cracked again with the iDesign egg holder. It keeps 14 eggs safe, and because it is translucent, you can always see how many you have left. It is even durable enough for you to store other items on top.
These divided bins are perfect for putting similar items together with separation. You can use them to keep different family member's snacks in order with one for each person. The front handle makes them easy to pull out and retrieve what is inside. We also love that they are stackable and can slide on top of one another.
Looking for fresh food ideas? Add endless drawers to the inside of your fridge. Keep carrots in one and apples in another. Stackable and translucent, these bins from The Home Edit are perfect for separating produce or storing bulk items.
Okay, we are adding one more for good measure. If you are looking for a one-and-done purchase, the iDesign Fridge Starter Kit is over $100, but it comes with a wide selection of items that will get your fridge in tip-top shape. It includes an array of bins, an egg holder, a can organizer, and a wine bottle holder.
Editors' Recommendations