If you're looking to remodel your home and are in search of new flooring for your living room, you're likely well-acquainted with the hundreds of options available to you. It can feel overwhelming when selecting something as big as flooring, especially since it can be quite an expensive project. Picking flooring doesn't have to be so stressful, though — you just have to know what you're looking for!
To inspire you, we pulled together seven fun flooring ideas that will transform your living room into the perfect entertaining space.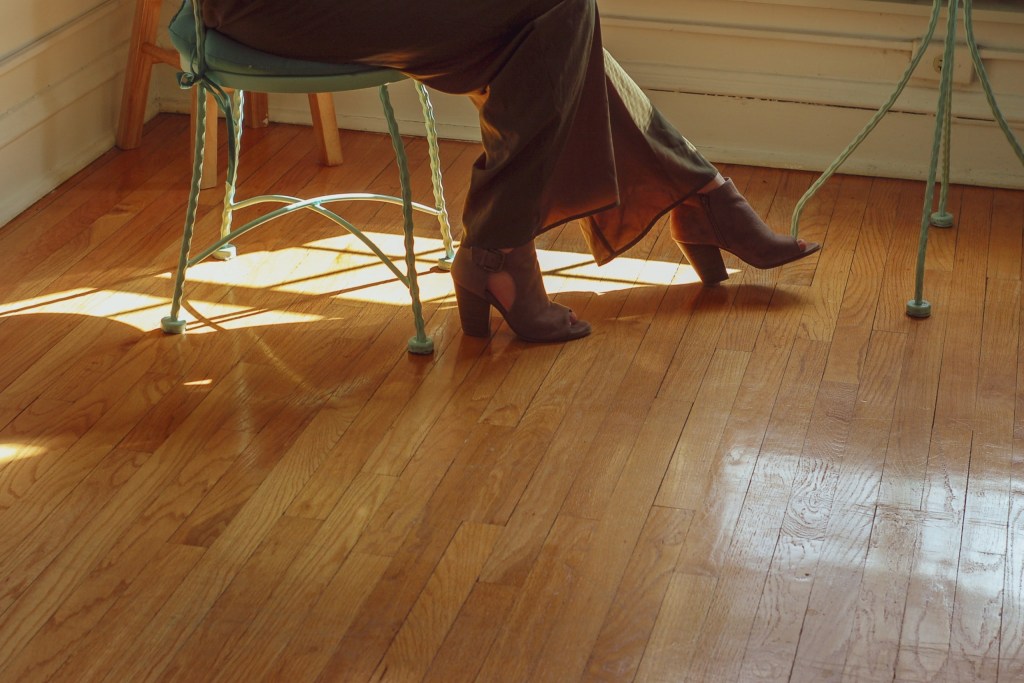 Hardwood
Hardwood floors are one of the most popular and classic choices for a living room (or any room for that matter). There are so many styles and colors to choose from, so you're just about guaranteed to find something that works with your home's existing design.
Pros: We can't say enough about the stunning beauty of hardwood floors. They work in any style of home, and they are easy to clean. Installation of hardwood floors also increases your home's value, so it's a great option for those considering selling or renting in the coming years.
Cons: This flooring can be expensive to buy and install — the average price for hardwood flooring is between $6 and $22 per square foot. Most homeowners spend between $2,500 to $6,700 on a new flooring project. To add insult to injury, they also scratch easily so you should be prepared to pay for regular buffing and upkeep.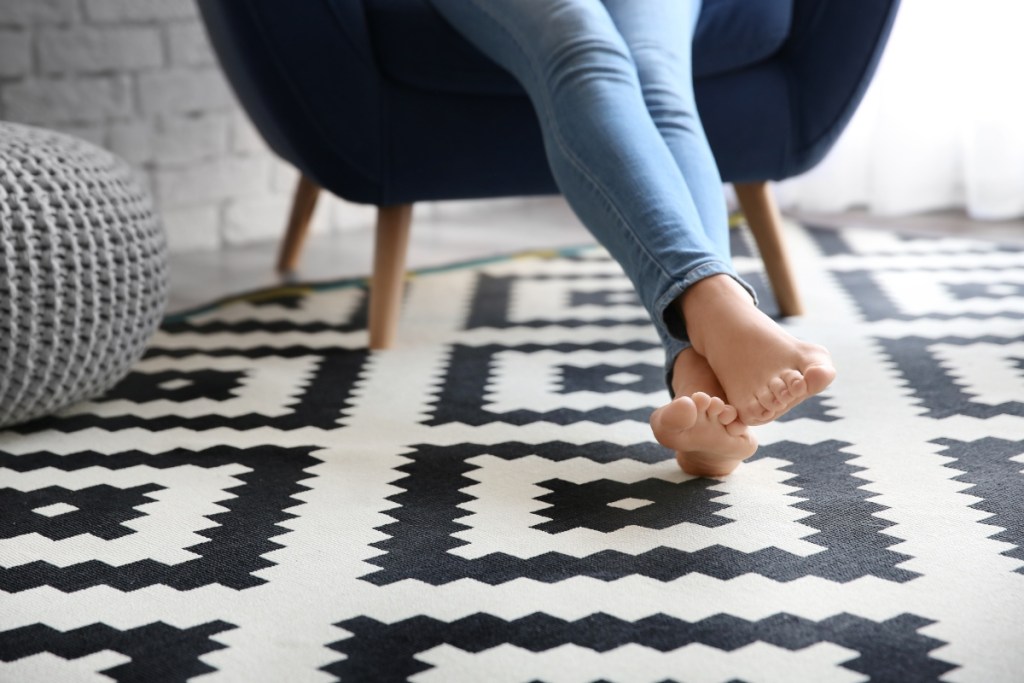 LVT
Luxury vinyl tile is becoming increasingly popular as a less expensive alternative to concrete and tile.
Pros: It's cheaper than hardwood and can look almost identical, so if you have a large living room to cover on a smaller budget, this is a great option. It also doesn't scratch and is much easier to clean than hardwood.
Cons: It likely won't do too much to increase the value of your home because it is fairly inexpensive. It is also more prone to water damage, so you must be extra vigilant in the event of spills or leaks.
Carpet
While many have sworn off carpet forever because the look can feel outdated, it's a lovely way to warm up a space and add a cozier feel.
Pros: Carpet is easier and cheaper to install than other flooring and it will last for years if you take care of it. It's also soft and will likely become the seating area of choice for young children watching a movie or playing cards.
Cons: Regular deep cleaning is necessary for those with carpeting. This material traps dirt and debris, and even regular vacuuming can't quite reach the deeper layers or remove stubborn dirt.
Ceramic tile
Ceramic tile is the flooring of choice for those in warm weather regions because it holds up well against extreme temperatures, mold, water, and mildew.
Pros: Tile is easy to clean, and most are stain-resistant (as long as the grout is sealed yearly). Tile is available in a wide range of colors, patterns, and styles so you can mix and match until you find a style that suits your home and personality.
Cons: Ceramic is also more sensitive to wear and tear, and it can even crack if you drop something heavy on it. Over time, individual tiles may need to be replaced, so it's always a good idea to keep extra in storage. This type of tile is also slippery, so we suggest putting down a large area rug for safety.
Porcelain tile
Similar pros and cons apply to porcelain, a type of ceramic tile, but porcelain is slightly stronger and harder. It's also more durable than standard ceramic tile, but it can be more expensive too.
Concrete
Concrete is very on-trend right now and for good reason: It's stunning, durable, and offers a contemporary look to any living room.
Pros: Concrete is low maintenance and easy to take care of. It also holds up over time and you cannot scratch or dent it.
Cons: Like tile, concrete is hard to walk on, especially if you don't have any living room rugs covering them up. While your pets may love the feel, it isn't comfortable for kids or guests to sit on.
Stone
Stone's natural beauty speaks for itself, and it can seriously upgrade the look of your home, transforming it into a desert oasis.
Pros: Stone is highly customizable, and it adds elegance and class to your living room. It also holds up well in high-traffic areas.
Cons: It can be expensive to install, and, if not done correctly, can easily chip and crack down the road.
As you pick out new flooring for your living room, first consider your budget, which will have the greatest impact on what types of materials you should looking for. Next, find a material that fits your lifestyle. Are you installing flooring in a formal living room or a more casual space where family and friends pile in daily? Once you pick a functional flooring option, you have the flexibility to mix and match the design until you're left with beautiful flooring that elevates the look of the entire home.
Editors' Recommendations