As summer (sadly) winds down to a close, you may be looking at your patio and considering closing up shop until next year. After all, when autumn rolls around, the nights get chillier and mosquitos come out to play. There is one easy solution to your fall-weather woes: a fire pit. With the warmth of the flames, you can enjoy your patio well through the fall and even early winter. You can still entertain outside, inviting family and friends over for a barbecue or to watch a football game, and when the air gets cold, everyone can cozy up next to a warm fire.
Nothing beats spending time outside, and a fire pit ensures you can do this comfortably, even when the temperature begins to drop. To make sure you're getting the most out of this feature, check out these tips for selecting, using, and caring for your fire pit to ensure it lasts for years to come.
What type should you choose?
Depending on the amount of outdoor space you have, there are several options available to you. You can stick with the classic and opt for a traditional wood-burning fire pit so you and your family can roast marshmallows, hot dogs, and other bonfire snacks. If you're on the hunt for an upgraded feature, we recommend fire pits that double as a table, so you can use them to serve food during the day and light a fire in the evening. To battle those increasingly chilly fall nights, check out fire pits that come with propane tanks that give off some serious heat.
The type you choose is up to your personal preference. As long as you know how to properly care for and clean your fire pit, you can enjoy it all season long. All of these options come in many shapes and sizes depending on how small or large you want them, so be sure to measure your outdoor space so you know how much space you're working with.
Considerations
If your goal is as much heat as possible, a pit with a propane tank is a must. These fire pits are super easy to use — hook them up the same way you would your gas grill and, before you know it, you'll have extra warm flames to keep you toasty. You can still roast marshmallows with a propane-fueled fire pit, just be sure to clean off any pieces that spill onto the rocks.
If you're a camper at heart, invest in a good old-fashioned wood-burning fire pit. You still have to buy wood and clean out the ashes regularly, but there's something especially cozy about sitting around a roaring fire that you built yourself.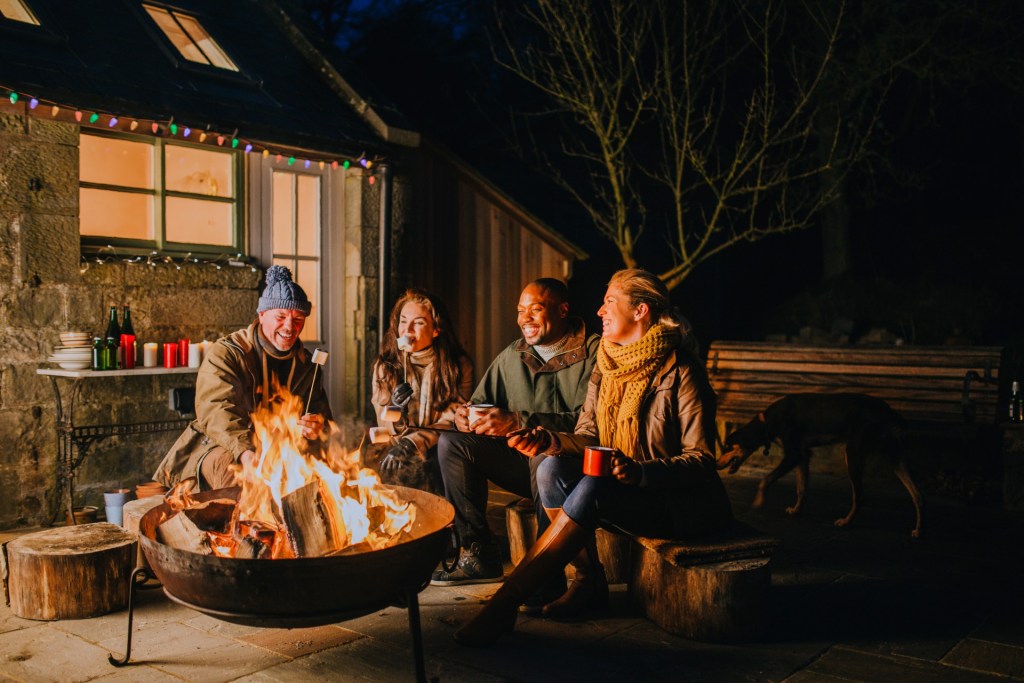 Maintenance
For any fire pit in your backyard, clear any brush, grasses, or tree overhang at least 10 feet in diameter around the fire pit to ensure any loose sparks or flames don't touch them.
If you're using a wood-burning fire pit, choose dry wood and don't burn garbage, as it can release harmful toxins.
To keep your fire pit in top condition, clean out ashes regularly and don't use accelerants, which can cause unnecessary wear and tear along the inside of the pit.
Also, keep the fire pit cover on whenever it's not in use so the outside elements don't cause rust or discoloration.
All of this will ensure your fire pit remains in good working order and looks sleek the next time you host a dinner or outdoor party.
If you've decided on a wood-burning fire pit, make sure you have the right tools for the job. You'll ideally have a poker, ash scooper (and tin bucket to store the ashes for several days before you dispose of them), and any fun accessories for roasting hot dogs, mini sandwiches, or marshmallows.
If you're using propane, keep all the burners clean and check the fuel lines regularly to ensure they remain in good working condition. Since you can't run into the woods and grab a propane tank the same way you can grab a bundle of sticks, check your fuel before guests arrive. You don't want to run out of propane just as guests are sitting down by the fire.
The fall is a perfect time to make use of an outdoor fire pit. It's not as hot as the summer months and makes for an ideal setting to host family and friends. Light the fire, grab some blankets, beverages, and candles, then prepare to get cozy for hours.
Editors' Recommendations