If you've got a small entryway, you know you have to be choosy (and creative) when adding heavy winter coats, keys, purses, umbrellas, and other items you may need before heading outdoors. It's also the first place your guests see when they walk through the door, so it has to be both functional and stylish. If you have a large entryway cloak closet or mudroom, it's much easier to tuck away all of these belongings in baskets or on shelves. A small entryway, however, will look much more cluttered, so you have to think more carefully about your storage solutions.
From small storage cabinets to hanging pegs and boards, we've scoured the internet to find the most innovative and fun ways to make the most of this space.

Vertical storage
You likely have more room on your walls than on the floors, so incorporate vertical coat racks with built-in shelving. This way, you have a place to hang jackets and purses, and you save even more floor space by setting a pair of shoes or two atop the shelves. We love this Carson Carrington narrow hall tree from Overstock because it's tall and thin, so it can fit well in tighter spaces. It also has nine hooks, a metal umbrella stand, and a sturdy shelf, so it's well equipped to handle whatever you throw at it.
If you have curious pets and need shoes and small items hidden away, check out that this tall storage locker from Wayfair. It comes in four bold colors including orange and bright yellow, and it can hide away all the winter hats, gloves, scarves, and other items from your guests' view. It's the perfect updated schoolhouse look that will be a bold conversation piece, perfect for contemporary homes.
Wall units
Hanging storage is the best option if you don't have a lot of floor space. It's efficient, and many organizers are stylish enough to double as wall decor. This Radcliffe wall organizer, for example, is designed to hold your keys, wallet, phone, mail and so much more. It comes complete with multiple hooks to hang coats or purses, and the solid wood material complements a modern farmhouse style perfectly. For a more industrial look, check out this Belrose two-tiered wall shelf. You can fill it with small baskets to house easy-to-loose items like keys, headphones, or sunglasses, or you can add a little life to your entryway and rest a small vase of flowers on the shelf to welcome your guests.
Adding wall units to smaller spaces can create the illusion of a larger room since it draws the eye up the wall, encouraging guests to take in the entire space from floor to ceiling. While hanging shelves and covered storage containers are functional, they should be decorative too. Small rooms need multiuse pieces that double as storage and decor, so play around with different colors, styles, and materials to find one that fits your personal style.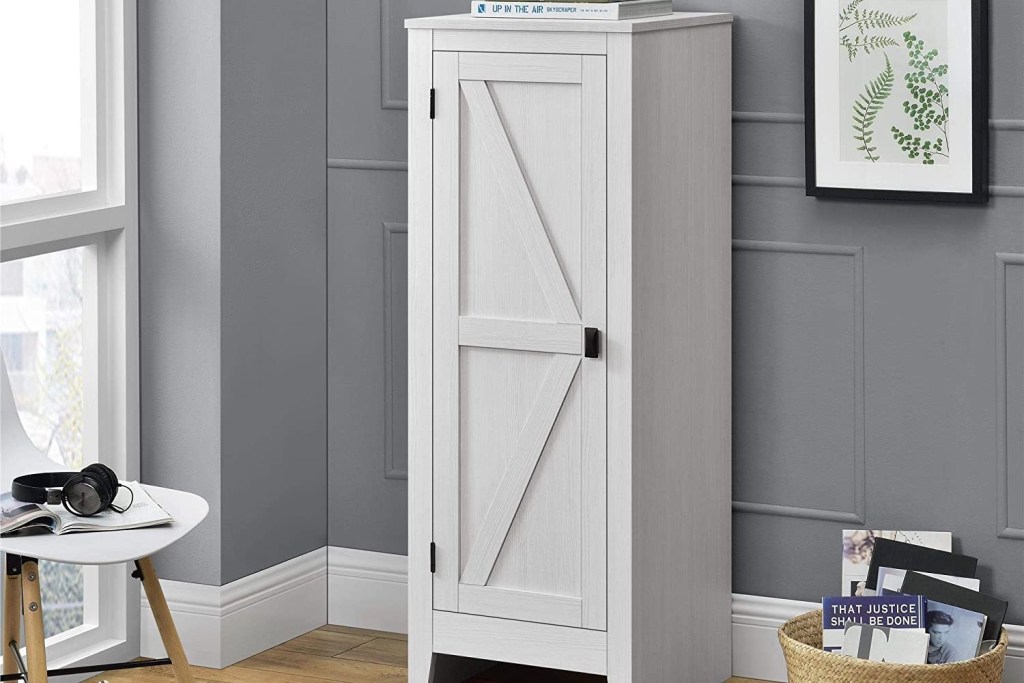 Dual-purpose storage
Finally, if you've got a little more space and want a unit that does it all, this Mercury hall tree from Wayfair may be your best bet. This midcentury-modern piece has an open section on one side with hooks and a small cubbyhole to store coats, hats, and other outdoor essential items. On the other side are closed cabinets with multiple shelves to keep shoes and other knick-knacks that you don't want to be visible to your guests. The top of the cubbyhole also doubles as a small bench so you can sit down to take off or put on your shoes. On the whole, this modern wooden design is a stunning piece on its own, so be prepared to field multiple questions about where you got it.
Your entryway is a gateway into your home, offering guests a sneak peek at the interior design and setting expectations for the rest of your space. Make sure this area is inviting and warm with enough storage options so your guests don't need to carry around their coats or drape them over the back of chairs.
For the final touches, just add in a textured rug, a statement light fixture, and bold paint or wallpaper, and you can completely transform the energy of your entryway in just a couple of days.
Editors' Recommendations