Fall is right around the corner and that means dusting off all the decor that's been in storage for a year and making some new purchases to keep your home up-to-date and on-trend. There are so many ways to infuse the season into your home, and the entryway is a perfect place to start. It's where you welcome friends and family, and it gives them a sense of your style and design.
The great news is you can't really go wrong with fall decor. Simply incorporate warm colors, vibrant tones, and natural textures to make your home's foyer reminiscent of all the best things about fall like flannel blankets, nights around the fireplace, and, of course, harvest feasts. To bring all the joys of autumn into your entryway, check out these five easy tips.
Use fresh elements from the season
Fall is known as the harvest season for a reason — plenty of fruits, vegetables, and plants are ready for picking. Celebrate autumn and incorporate pumpkins, chrysanthemums, apples, gourds, and other festive fall treats in your entryway in one way or another. Find pumpkins in hues of orange, white, and green and place them on your entryway table. Grab a bag of cranberries and put them in a mason jar with a candle nestled inside. Make a wreath out of fall flowers, straw, ribbon, and straw and hang it on your front door.
If it gets really cold before Halloween, you can also bring your carved pumpkins into the house and light them with candles when you're entertaining. With gourds or fresh fall flowers on the side table, your guests will walk into a house that smells like it was made for the season. These quick and inexpensive DIY decorations will certainly set the autumn mood visually, but their aromas will also welcome guests with open arms.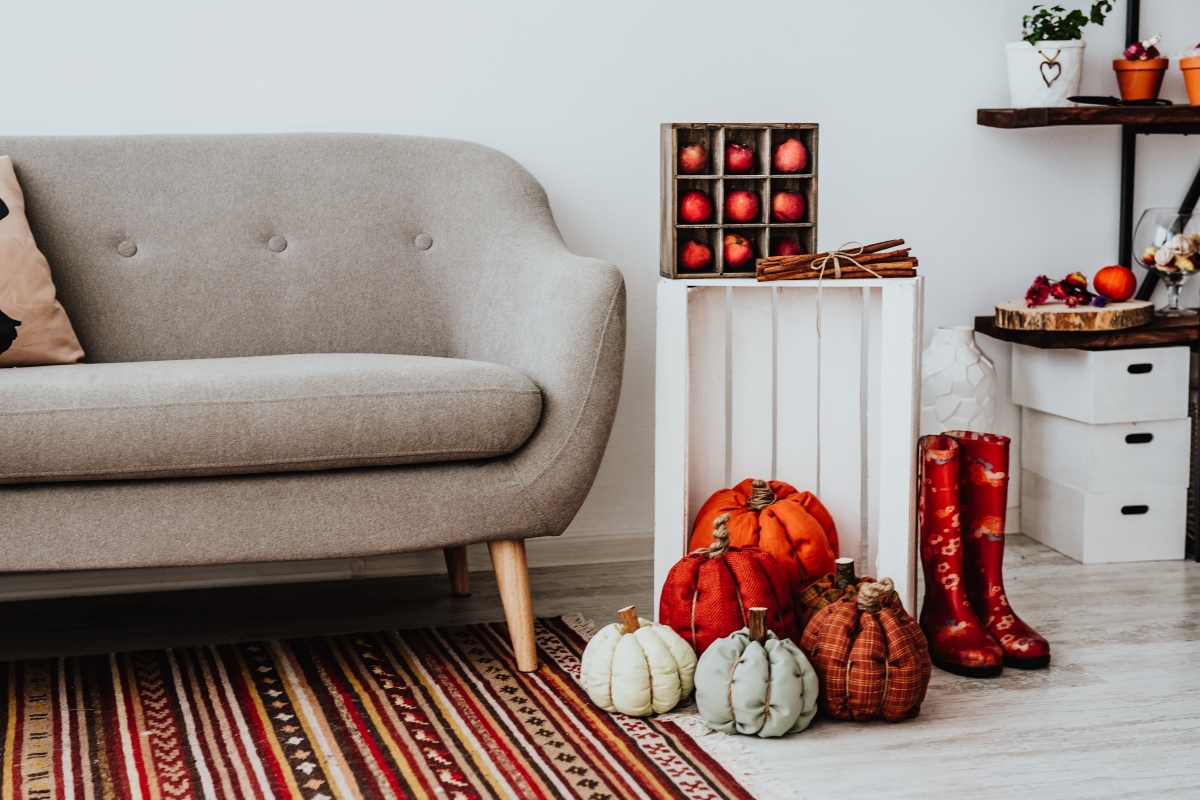 Bring in fall textiles
The entryway is a perfect spot to put colorful pillows on benches or rocking chairs, a new fall rug beyond the front door, or a runner on the entryway side table. If you have room for a small chair or bench, drape a throw blanket over it to add even more texture. When selecting decor, take a look at these Cozy Pumpkin pillows from Pottery Barn for their whimsical yet classic feel. They make a great alternative to real pumpkins since you don't have to throw them away after a month or two. All these additions bring a layer of warmth to the space and make your guests feel welcomed as soon as they step inside.
Bring on the light
Adding soft light to your entryway will illuminate it with a soft glow in the evenings, making for a much more relaxing atmosphere than overhead lights can provide. We recommend placing a seasonal candle inside a floor lantern or stringing lights around an entryway table or stairway banister. To spice things up for Halloween, switch out your classic lightbulbs for orange lights to create a spooky effect for trick-or-treaters.
Slip-proof your floors
With fall comes a bit more rain and, eventually, mushy snow, so finding a slip-free rug that will stay in place as people come in and out is crucial, especially if you have wood or tile floors. No one wants to slip and slide across the foyer, so make sure your guests are safe coming and going. Pick a durable, easy-to-clean rug that can withstand a season of snowy and muddy boots. For affordable, high-quality options, check out the range of products from Ruggable.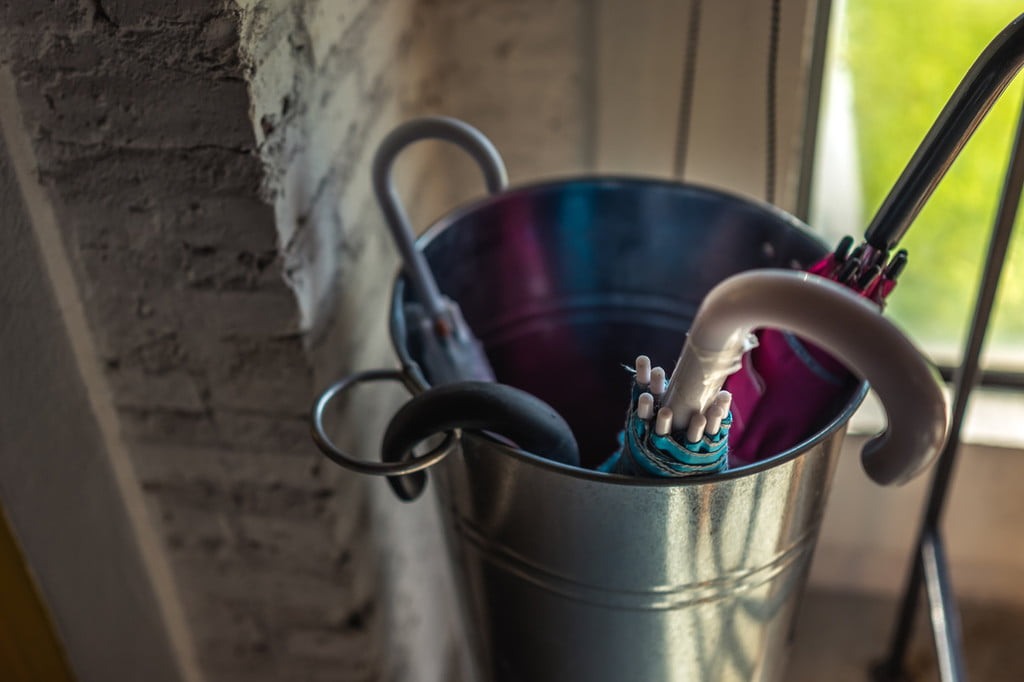 Find a vintage umbrella stand
Umbrella stands are both practical and decorative pieces. A simple, elegant stand can keep wet items from coming into your home and also serve as a reminder to grab an umbrella on the way out. While you can certainly use it to store umbrellas when it's snowy or rainy, take it a step further and enhance the decorative element, mixing in old antique canes and, for Halloween, a witch's broom. This Blacksmith stand from Pottery Barn has a simple, industrial look that can pair well with any existing decor.
Redecorating the home, for any season or occasion, starts with designing your guests' first impressions. We encourage you to take these ideas as inspiration and add in your own personal touches, whether it's homemade art, centerpieces, or produce from your own garden. Even if your entryway is small, you can add small elements throughout to show you're prepared for the season and excited to show off your personality.
Editors' Recommendations