It's a design dream. You strip your kitchen or dining table down to reveal the gorgeous wood grain underneath layers of grime and refinish it to restore it to its former glory. So your excitement rises and your creativity peaks – and you go on and pursue those centerpiece inspirations for your table. But hold on just a second. Not all kitchen tables are made of wood that's designed to be shown off.
Before you decide to refinish your kitchen table, know that unless you purchased that table from a craftsman woodworker, you'll more than likely be disappointed in the result. Refinishing a table requires so much work, but you can paint your table instead for a fresh look that highlights its design. Here's what you need to know.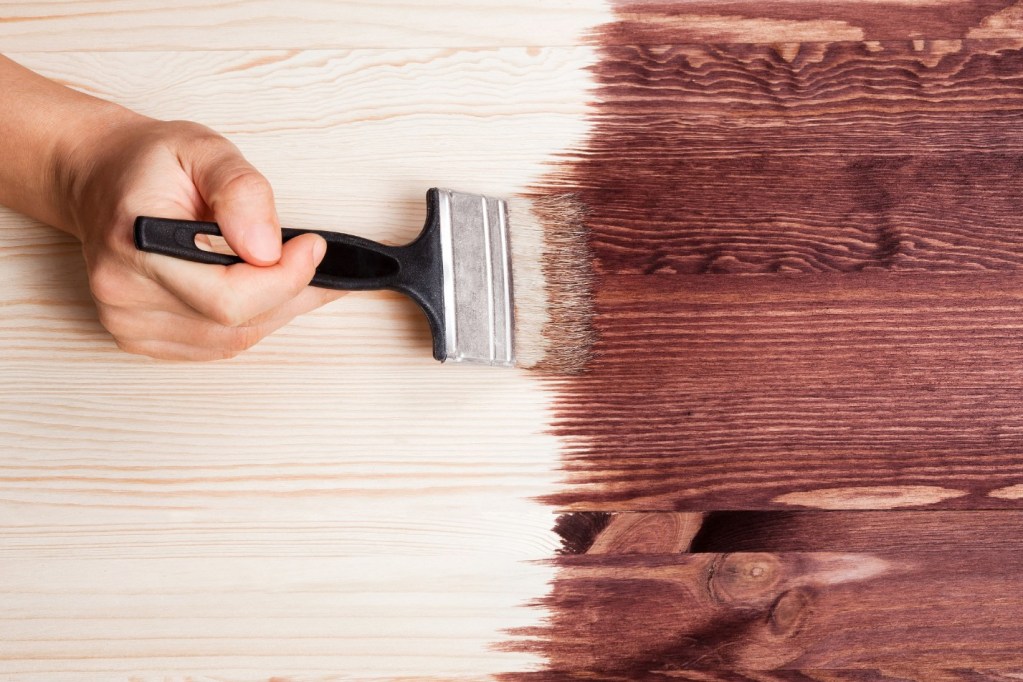 Why can't I refinish my table?
Refinishing is a process designed to bring out the natural grain of your wood. If you have an ornate table, you'll need to sand down each small detail to remove old finishes and reveal the natural grain. Quicken Loans says, "It might seem simple, but refinishing wood requires the proper tools, time and patience to get the job done right."
All that blood, sweat, and tears won't help much if your table uses wood with less-attractive grain or that doesn't have a pretty, natural look. You might spend all weekend trying to sand out imperfections only to highlight them once you've applied the finish and the sealant.
If you've invested in a handmade table made from a type of wood that you can identify, it's safe to refinish it to bring out the natural beauty. However, if you purchased your table from a big box store, it may not be all solid wood.
Painting is a fresh alternative
That doesn't mean you can't refresh your dining room table with a beautiful coat of paint. You can transform the look of your dining room by just finding a brand-new color. Look at your table closely to decide what it is that you want to change.
Hiding imperfections? — Use a darker color with a slight gloss to help disguise imperfections and create a uniform look for the surface. You could also gently age the table using shabby-chic painting and scuffing techniques.
Looking for something different? — Choose the opposite color of what you have now. If your table is dark, go light. If it's white, paint it a neutral, dark color. This can give you a thrill and change the look of your dining room in just a few hours.
Making a statement? — Go with a bright, bold color to help make your dining room table the center of attention. Use a color you might not consider like yellow or a deep green for a modern take on the dining room.
Ensure the best paint job
Make sure you take the time to prep your table first and use the proper finishing techniques.
Sand down the surface — Paint will only adhere to a slightly roughened surface, so sand away. Ensure that no varnish or glossy finishes remain, or you could have chips soon after you finish.
Apply a primer — It will help ensure even coloring and to keep the color true over time. Match your primer type to your paint type.
Use a sprayer if you can — Brushes will only leave you with streaks and brush marks on the surface. Use brushes to apply fine details, but a sprayer will leave you with a flawless finish you want for your tabletop.
Apply multiple coats — This isn't a wall you're painting. Furniture needs many different layers of paint to ensure that the table can withstand usage.
Load on the clear coat — Don't skip or skimp on this last step. You'll need at least three coats of clear coat to protect the paint and make it easier for you to clean the surface off as regularly as a dining table needs.
Give it time to cure — We cannot stress this enough. The table may feel dry, but it needs days to cure to ensure you don't end up with marks in the paint. Look at your paint and clear coat cans to find out how long to leave the table to cure. This can take up to eight days, depending on what you use.
Following these steps will help ensure that your paint color lasts and that you won't have to baby the surface of your table. A dining table must withstand heavy usage, so use those layers and give it the time it needs to finish properly.
Taking the time to paint your table
The biggest factor in painting your table is allowing the time to do it right. You'll need to spend time sanding and roughing the surface, priming, painting, and sealing. Once that's done, you'll also need the patience to ensure it dries thoroughly.
ImproveNet says, "If you're looking for a new way to redecorate your kitchen but don't want to spend a lot of money on new furniture, look at what you can do with what you have. Painting your kitchen table and chairs is a great way to refresh your look and can be done in less than a week."
Follow these steps to paint your table, and you'll be able to highlight the natural shape of it with paint. You may not be able to showcase a natural wood grain, but you can have a stunning, well-designed table with time and the right paint. It's time to make a change, but remember to take the time to do it right.
Editors' Recommendations