There are many ways to showcase your personality in your home. The dining room is the perfect place to experiment with your sense of style because it can range from formal, informal, or multipurpose.
Brightening up your dining room with fun paint colors or bringing in light can help energize the feeling of your whole living space, creating a place where your friends and family can gather. Whether you experiment with color or add in light, a bright dining room could become your favorite area.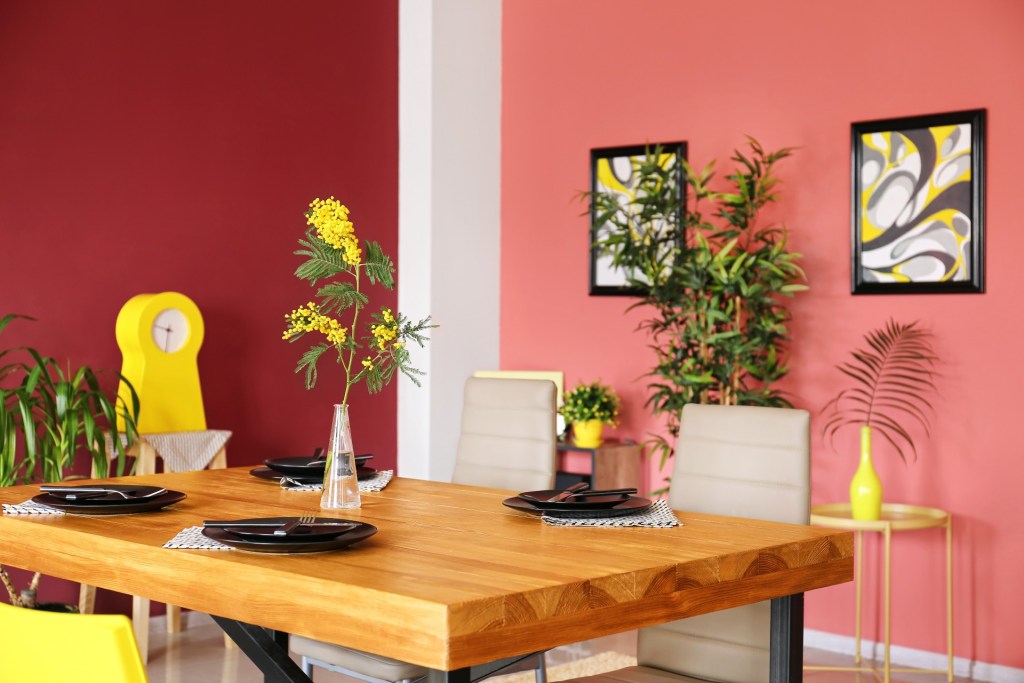 Using color to brighten spaces
Color is an excellent way to help brighten a space. Below are a few effective ways to use colors that would make this possible.
Brighten with bold colors
One way to create a dramatic and striking dining room is to go bold. If you have a smaller dining room, using a bright blue or a fun yellow can instantly create visual interest and bring the entire room together.
Bold colors help train the eye to see the entire space as one unit, helping create a cohesive look to the area. If you choose this route, stick with one bright color on all the walls and keep furnishings to a minimum.
Brighten with light colors
Using shades of white can also help move light around in a space, creating a flowing, relaxed look on the eyes. You aren't limited to shades of white, but white can be an excellent place to start. Take a look at the light currently in your room and choose a shade of white that highlights it. Cool whites look great with natural light, while warm whites help liven up rooms when paired with fluorescent fixtures.
Take the time to take a look at the way light flows through your dining room. You can expand to silvery grays or ultralight blues that will highlight the space. With a generous amount of natural light, your room will look even brighter.
Use two colors
A two-toned dining room can also create a bright, dramatic space. Using a bold color on the bottom half of your walls can create an expansive feeling, while using an accent wall helps anchor a room.
You could also paint the ceiling for a pop of color. Using a bright, primary, or secondary color on the ceiling with white walls helps create visual interest in any sized room. Use a glossy finish to give the illusion of height.
Using light to brighten dining rooms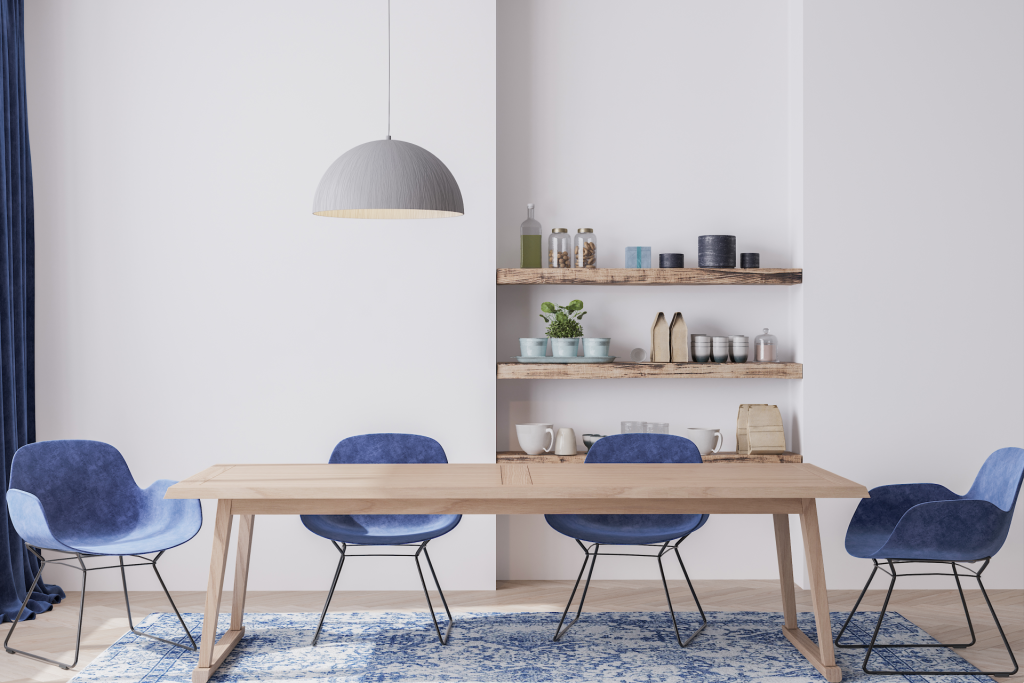 You can also create visual interest by using methods for increasing and reflecting light. Here are a few ideas for brightening your dining room up this way (and showing off that bold color choice!).
Letting in natural light
Allowing more natural light into your space can do wonders for brightening your dining room. Switch to a sheer curtain instead of heavy drapes for an instant facelift to your space.
You could also install mini blinds and remove curtains altogether. This option can reduce the room's visual weight and allow you to adjust the amount of light that comes in.
If you're able to do more extensive renovations, adding skylights is another way to improve the overall brightness in your dining room. While this is a significant undertaking, you'd be amazed at what some well-placed skylights can do for the look and feel of it.
Reflect the light that you have
Mirrors and mirrored accessories are an excellent way to bounce light around a room. Mirrors reflect light and give the illusion of space, something that automatically brightens a small room.
If you're using lighter colors and you've opened the curtains, well-placed mirrors can bounce any light that flows in, giving the appearance that the room is bigger and brighter.
Experimenting with bright tones and a lot of light can open up your dining room. It could become a lively center of your home, providing a wonderful space for eating or entertaining. Combining paint colors with natural or reflected light is one way to liven up your entire home.
Whether you choose brightly colored dining rooms or a combination of both light and color, you may find that this area becomes your favorite space. Keep in mind the function of your furnishings and the flow of the design, but there's always room to experiment and play.
Your dining room could be the heart of your home. Give it the attention it deserves with some of these ideas and ensure that your formal, informal, or multipurpose dining room has a personality all its own.
Editors' Recommendations